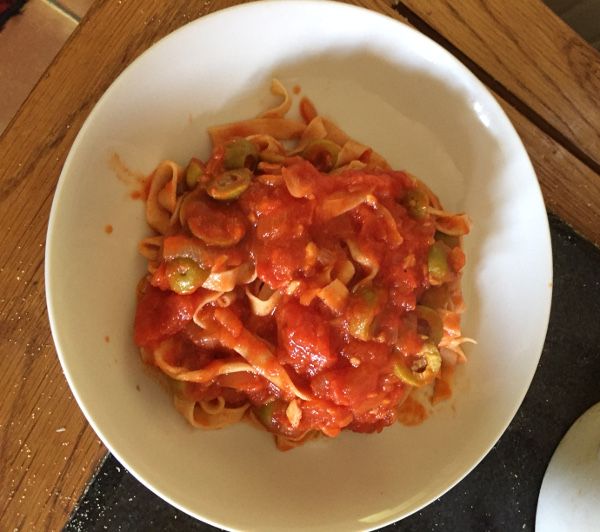 We have made the pasta, cooked, and served it, coated in a really lovely rich tomato sauce.  As I am sat here writing this to you all, I can still taste it.....oh it was so good!
Did you know though, this tomato sauce is used in so many other ways?  I now want to introduce you to the wonders of Italian cooking.
Firstly, meat sauce (Bolognaise) is really simple to do.  Every region of Italy has their own version of 'Ragout'; as has every family!  So put in what you want.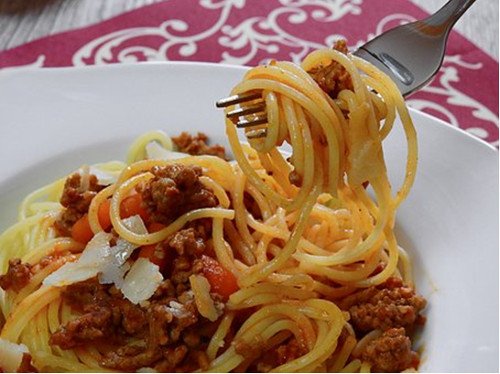 When I make Ragout I .......
Sauté a little onion, garlic, diced carrot, mushrooms, celery, and peppers; until everything begins to soften.  
Meanwhile brown the minced beef in a shallow pan.  
Then all you have to do is put them all together including...... the tomato sauce, salt, loads of black pepper, and oregano (or basil if you prefer). 
Stir well, then pour everything into an oven proof dish; place in a moderate oven and let all those lovely flavours develop for the next two hours.  
Yes I really do mean two hours....the longer this dish cooks the better it will be.  Serve as usual over pasta (home made of course); with loads of my cheats garlic bread....mmmmm.
Lets also not forget Lasagne with this lovely Ragout Sauce.  Layers of pasta, sauce and cheese, yummy.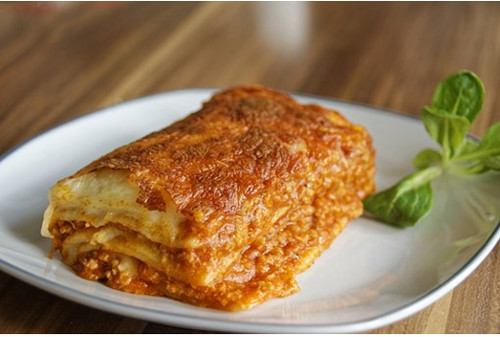 Meatballs are a particular favourite too;  I use minced pork, as I love sage as an addition to the dish. It goes so well with pork: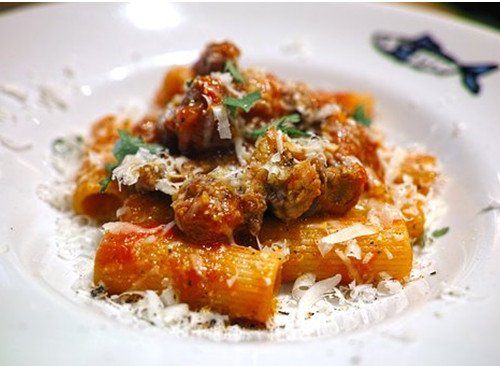 Raw minced pork, onions, garlic, soft white breadcrumbs, a little milk to moisten the bread, an egg to bind; and lots of freshly chopped sage, and .....masses of black pepper.
Sauté the onions and garlic with the chopped sage until soft.  Leave to cool.
Meanwhile, put milk on the breadcrumbs until they are well moistened, but not soggy.  (Failure to do this and your meatballs will be bullets - very dense.  The breadcrumbs lighten the mixture.  About 1/3 breadcrumbs to 2/3 meat).
Put everything in a bowl with the raw egg.  Don't forget salt!
Get your clean hands in there and mix it all together well.
Rinse off your hands but keep them wet as this will stop the mixture from sticking to them while you roll them into balls; or use flour if you prefer.
Roll into balls as big as you want.  (I prefer about the size of a walnut then I can have more in my portion...up to you though)!
Chill the balls for a bit to set up, before frying them until golden brown.
Add to the tomato sauce and into the oven for an hour to exchange flavours.
Traditionally serve the meatballs on spaghetti, but other types of pasta can be used too. 
To serve the tomato sauce on pasta you could just add sliced olives, simple but oh so effective.  It doesn't even require the addition of cheese - this is my favourite combination for pasta.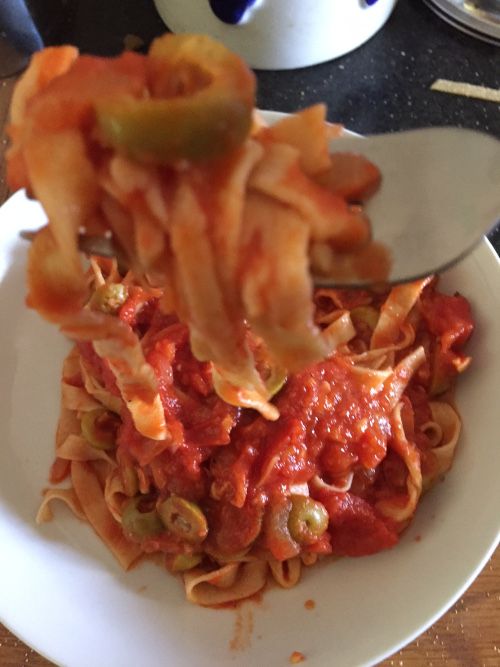 Add capers, garlic, anchovies and olives to the tomato sauce; if you want a taste bud frenzy....magnificent!
You could add cooked chicken, bacon, sliced cooked sausages, tuna, prawns, there is no end of combinations to be tried; even just cheese!  It is up to you and what you fancy at the time.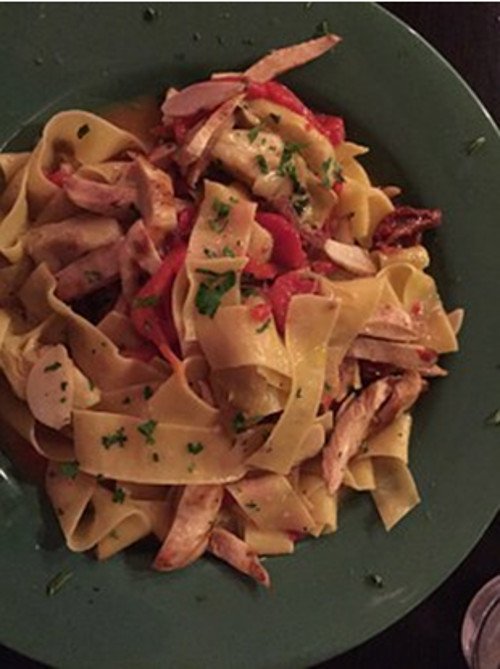 One of my favourite ways of using the sauce is to add some double (heavy) cream to the sauce before tossing in the pasta....OMG, fantastic!
The sauce can be used to top a pizza dough before the addition of the other ingredients.  Sprinkle oregano on before cooking, it is so much better than basil!
Enough for now I think, as there is plenty for you to try.  I will do further posts giving complete recipes for the dishes shown in the very near future.
For now though my Dear Steemit Friends, please........

As I would love to know what you think? :)X