[Escaping the hunger] The Process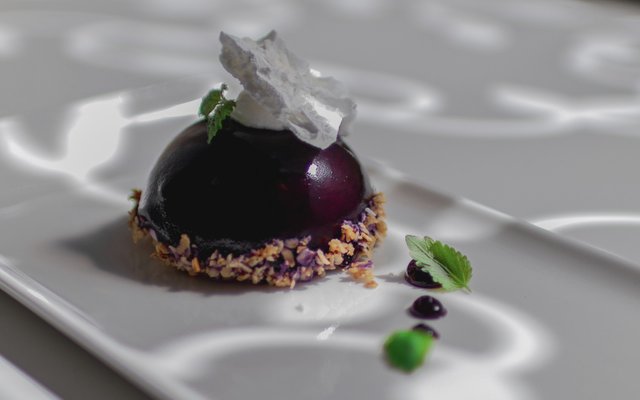 When it comes to cooking, and baking I rarely do anything by the book. I like to create my own path and follow my own instinct. The process of creation is a little different every time but main points still are there. I don't work by force. But I can force my self to work.
Inspiration

---
The first thing I need to get is inspiration. You really can't force inspiration, can you? You can lure it, but if it appears is totally up to movements of the moon and how planets are in lined. You can't predict that. There are ways to sensitize the mind to feel inspired about things but inspiration comes and goes like gypsies.
Inspiration can be basically anything, ingredient, taste, smell, feeling, texture or something visual like color or shape. Usually something that combines several of these factors. The stimulus defines the direction for creation process, does that stimulant inspire me to create pastry? Or dish? Sweet or savory?
I like to work with feelings, because more often than we like to admit food goes hand in hand with feelings. Inspiration is the hardest one of the states of creation process to explain. It is very personal experience and it has a lot to do with my personal history and how I am as a person and chef.
The important factor is that inspiration makes an idea. Idea is something workable and something that is more concrete and easier to explain than just feeling of something. It really is hard to explain how did summer rain inspired the creation process of pastry, as there is nothing common there….
The Idea

---
Idea is already something that is much more close the final product. Inspiration I might ignore also and not act because of it. But if there is something I can start to work with, there is idea. The idea of final product. How is the final product going to look like, what I want it to say? How I want it to taste like and what kind of feelings I want to cause with it.
The "wow"-factor is something I always want to achieve, but there is different ways to achieve it. When you create something technically amazing and visually pleasing that is one, but then there is the factor of memory, nostalgia. The best "wow"-factor there is for me, is that something you taste brings sweet memories into your mind and drags you right through that memory lane.
That one summer in countryside we ate wild bilberries from a straw of hay waiting anxiously because there was bilberry pie baking in oven. The first bite of that crispy crust, warm and sweet bilberry filling and cold and creamy ice-cream on a side. The smile of our grandma when she wiped your mouths and laughed what a mess we were.
It might not being the best pie you ever ate, but the feeling of care and love was enormous, the anticipation, and then fulfilling it. The memory makes it taste better. For me this is also the factor when talking about making food with love. Love doesn't really taste in the food, the sweet memory warm ups your heart while having something that made you feel loved. The food made with love makes you feel loved.
AAAANYWAYS!
With my creating process I want to cut that feeling and memory into pieces, what were the things that mattered most, how can I make them still matter, but in a new way. How can I recreate that feeling of love and anticipation?
After getting an idea, that idea need to be cut into smaller peaces so it becomes workable. So, I want to capture that end of summer feeling and the perfection of bilberry pie, in order to recreate that pie I need to separate all the elements: crust, filling, and side ice-cream. I don't want to make another pie, that would be just boring to me.
I want to create entremet pastry out of the same elements used in classical pie. Sounds unnecessarily difficult way of doing things? Don't worry, you are pretty much right! I could just make a pie, it would be easy and it would make the trick. But it wouldn't be interesting for me to make so I can't see I would have any kind of passion for making that. Pie is a pie, even if its really good pie, it still is a pie.
The sketch

---
When I start to ensemble the idea into final pastry I play mind games. The sketching isn't all about how the final product looks like, though it is a lot about it too. But it is about how the final product works as a whole. Here comes to under consideration those sweet sweet textures you all have heard me rant about, isn't that so @celestal!
How do I capture that crunchiness of piecrust in the pastry? How about the softness of filling? I want it to be still runny as it would be when you take the pie from the oven and the filling haven't had time to set properly before you cut the pie. And what about ice-cream? Do I want it to be cold element in my pastry, or do I take only creaminess of it and work with that? As you see there is infernal amount of Why's and How's when it comes to my creation process. As everything I do, I want to have those answers ready so I can justify my decisions. Not like I usually have to, but that is just something I do. I need to have a reason for my decisions, in every sector of my life.
As I said the sketch is also a lot about how the final product looks like. What kind of shape I want it to take, how about color? To this particular pastry I want to go half circle like a little half cut ball. And as an element of surprise I want it to be liquified in the center. No biggie.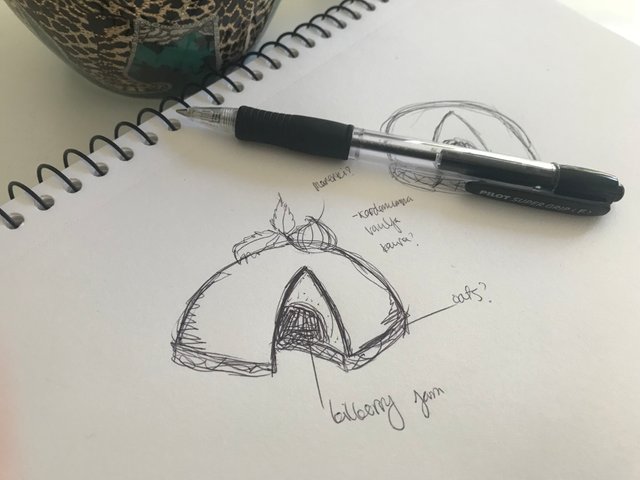 My sketchs are just horrible doodles usually, but it is okay because i'm the only one who needs to figure them out.
Test

---
Testing is the best part of creating a new pastry! (Or dish, or what ever) Testing is where the actual cooking starts and just thinking and drawing stuff ends. Usually I just try out different part of the pastry first. Like only the filling. Trying to get it as close to it how I think it should be.
I've been chef for 12 years so my flavor palette is used to "imagine" how things work together. It is more about experience than actually tasting thing together. I remember how things taste, so I can restore that even if I don't actually eat it at that very moment.
I know what things compliment each others and what factors argue between each other, it is all about finding that perfect balance. I wanted to play with traditional flavors and just boost a bit the appearance. So, some roasted oat, cardamom, vanilla and bilberry, and it should turn out quite nice combo.
The final product

---
This is what all this nonsense was about. Turned out pretty nice and needs only slight improvement before I consider it ready. The texture balance was a bit off, in my opinion, so it needs a little bit more that crunchiness of roasted oat and it is quite good.
Flavor-vise it hit the target. There is that sweetness and fruitiness of bilberry filling balanced nicely with creaminess of cardamom and vanilla mousse. Not bad at all.