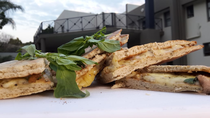 ↑↑↑↑↑↑↑↑↑↑ Click to view video ↑↑↑↑↑↑↑↑↑↑

---
First Up: If you're viewing this from a Facebook or Twitter link, and you haven't joined Steemit yet, then please do so now... and subscribe to my @dtube channel.
A "Ferrari Broodjie" you say?
Let's start with "broodjie" ... that's Afrikaans for "sandwich". So yes, in this episode of BraaiBoy TV I'm making a Ferrari Sandwich ;-)
The inspiration for the episode came to me when @lizelle entered @jaybird's Steemit Sandwich Contest with an Italian twist on a South African BraaiBroodjie. Thank Lizelle... I'm so glad I came across your post.

Check this video if you'd like to know what a traditional BraaiBroodjie looks like.
How do you make a Ferrari Broodjie?
Focaccia Ingredients
2 1/2 cups all-purpose flour
1 tsp salt
1 tsp white sugar
1 tbsp active dry yeast
1 tsp garlic powder
1 tsp dried oregano
1 tsp dried thyme
1/2 tsp dried basil
Pinch black pepper (ground)
2 tbsp olive oil
1 cup water
Filling Ingredients
Cheese (Mozzarella for stringy goodness and a touch of parmesan for some flavour)
Onion
Tomato
Fresh Basil
Chutney
Like with any other braaibroodjie recipe, you can pretty much put whatever you want inside.... I decided to keep it simple so that the effect of the focaccia vs regular bread would not be overshadowed by the filling
It's REALLY easy to make your own bread, I wish more people would do it, and this flat bread is no different.




BLIKSEM! That was yummy!



Please check out the video and let me know what you think of the recipe (and my butchering of the Italian accent).
Do you have any recipes or ideas that you would like to see me try out? Let me know in the comments below and if I use your idea there will be a reward in it for you. I don't know what that reward is just yet... but there will be a reward, and it will be cool (public high-5's are cool, right?) ;-)
---
Liked the video/Recipe? Maybe you thought it was crap?
Either way, let me know in the comments below.
UpVotes & ReSteems are held in high (e)steem :P
If this post is older than 7 days please support by upvoting my latest post
---
All my @dtube videos here:
Play Dice for free and win SBD and @SteemBasicIncome shares:
Connect with me on Social:
Steemit: https://steemit.com/@braaiboy
Facebook: https://www.facebook.com/BraaiBoy
Twitter: https://twitter.com/BraaiBoy
Instagram: https://www.instagram.com/BraaiBoy
View Printable Recipes on my website:
http://braaiboy.co.za/braai-recipes/


footer by @bearone for #TeamSouthAfrica



animation by @zord189 for #SteemitBloggers
---
▶️ DTube
▶️ IPFS