QUICK MEAL IDEA: Healthy Pasta And Creamy Sauce From Spinach 🌱🍝 [VEGAN]
Hey guys! It's pasta time! Yasssss! 🍝🤤
Do you guys love pasta? Today I'm bringing to you a great recipe for lunch, which you can do in 15 minutes! Great, huh? Because lately, I don't want to stay in the kitchen through a long time, I started preparing quick meals(Don't worry not that ugly processed quick meals). And one of these meals is exactly this yummy-looking, creamy pasta!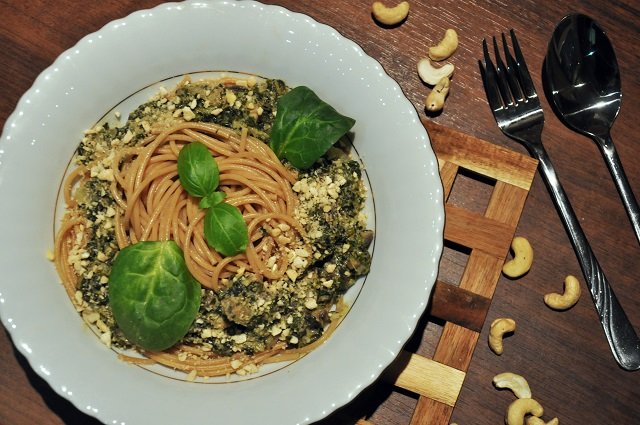 This is the combination of spinach, mushrooms, coconut cream and moooooore! I'm using mushrooms and spinach on my menu almost every day, and because I had rest of coconut cream and some durum spaghetti left, I made this for my yesterday's dinner. Thanks to coconut cream in combination with nutritional yeast, spinach was soo creamy and it has a little taste of cheese. 😉
I remember, when I wasn't vegan yet, I loved penne with spinach, or crepes with spinach, or any casserole with spinach... Okay, I loved everthing with spinach, lol! Hmmm okay, I'm still loving everyting with spinach😆And honestly, through long time I haven't prepared it, as a cream to pasta or filling to crepes. So without blablablabla... time for pasta now!🤩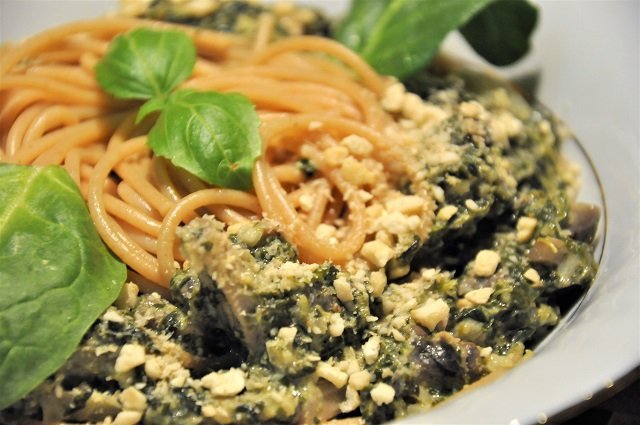 ---
For preparing you will need:
for two servings
150g of spaghetti from durum wheat
150g of frozen, shredded spinach
one little onion
one big garlic clove
6-7 mushrooms
five tbsp of coconut cream (I'm using cooled coconut milk always)
two tbsp of lime/lemon juice
1/2 tsp of refined coconut oil
one tbsp of nutritional yeast
salt&pepper
a bit of herbal pepper to taste
mix of Italian spices
*if you like spicy taste, fell free to add chilli powder of cayenne pepper 😉
---
Preparing:
on hot pan with coconut oil and fry a bit chopped onion
then add defrosted spinach, mix and cook under cover about 1-2 minutes
add coconut cream, juice and mix it well
add chopped mushrooms (not in too small pieces), spices, nutritional yeast and mix
into pot add hot water, add a bit of oil, boil spaghetti according to package
*combine spaghetti with sauce and enjoy the taste! 😋
I also added on top Vegan Parmesan from cashews, yum yum!🤗











It's simple way for delicious and nutritious lunch/dinner. Just imagine, how tasty it is, drop everthing and run into your kitchen! This recipe can't wait! Let me know in comment, how do you like it! Any feedback is welcome! And it gives me motivation to do more 😉
Wish you all beautiful and sunnyday! Finally, sun visited Poland also, horeeey!💓 ☀️