Salmon and Veggies in Foil Packet RECIPE
Hey guys, I'm here again with a great new recipe. Spring is almost here so the fresh and light, veggie loaded meals time has come.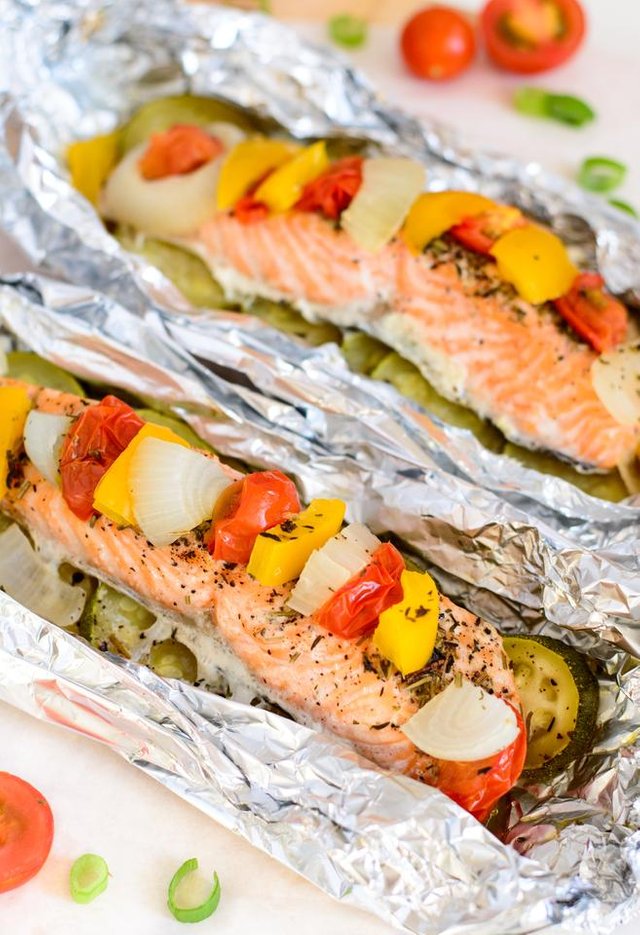 My new recipe contains salmon and veggies again, but this time all these healthy and tasty ingredients are baked in a tin foil packet.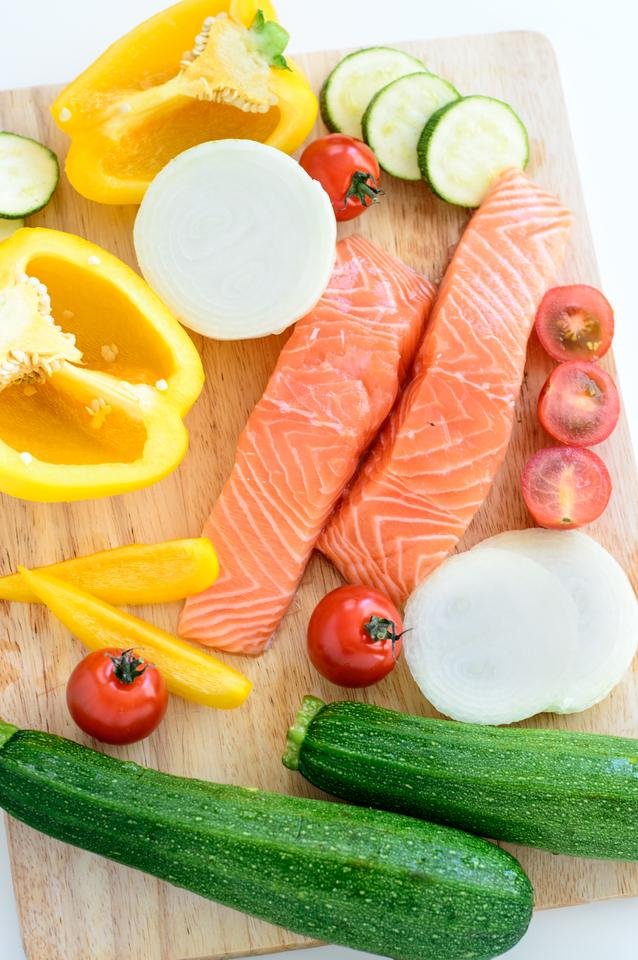 The flavors in the foil packet will come together perfectly, making a delish meal in one. One more great thing about foil packets is that they can be baked in oven, grilled or cooked over a campfire. So you should save this recipe for summer grilling!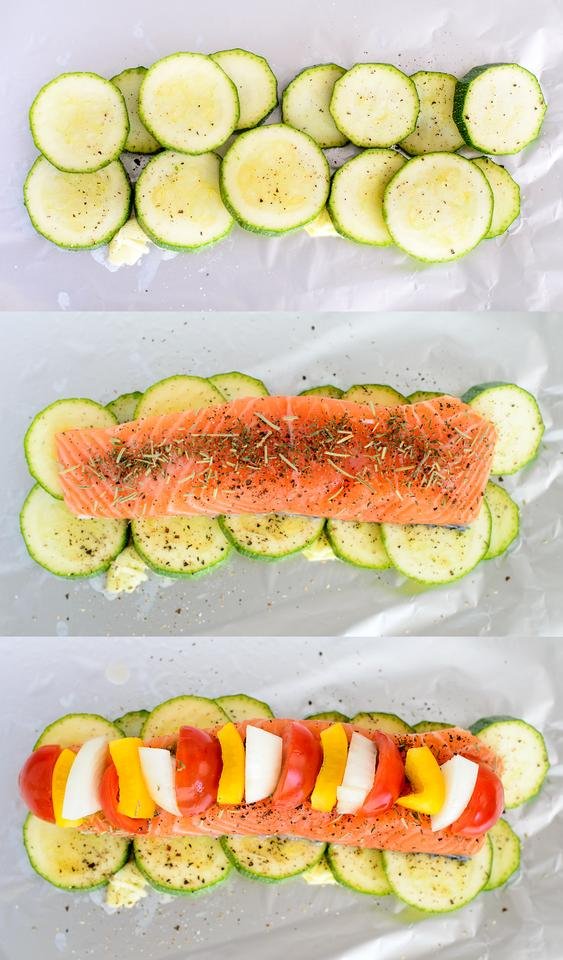 Grab your chopped veggies, arrange the zucchini first on a prepared tin foil, place the salmon slices, season them with fresh herbs, top them with butter and the rest of the chopped vegetables. Seal your foil packet and place them on a large baking sheet and bake for 35 minutes until everything inside is cooked. Carefully open the packets and serve this delicious meal immediately.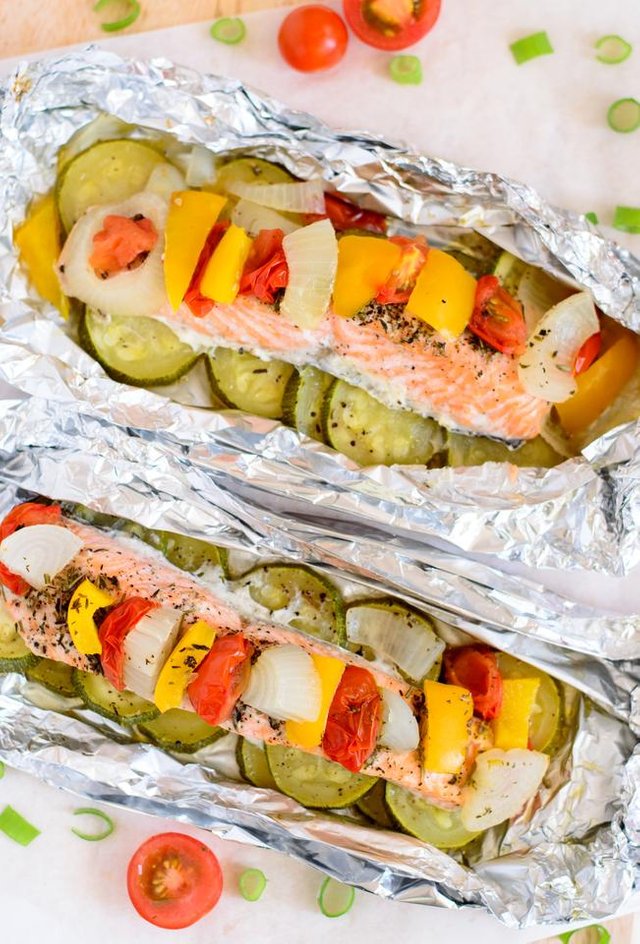 This recipe is ready in 35 minutes, requires just a few whole ingredients and it's super-duper healthy: these foil packs are low in carbs, high in protein and healthy fats (thank God for salmons), also this recipe is gluten and sugar free, paleo freindly and keto. And it's super easy to make and so satisfying! Do I need to say more? I don't think so! Enjoy!
---
Salmon and Veggies in Foil Packet
Prep time: 10 mins | Baking time: 25 mins
Ingredients:
2 salmon slices
1 large zucchini
4-5 cherry tomatoes
1/2 yellow bell pepper
1/2 red onion
1/2 tbsp butter (or coconut oil for paleo/dairy free)
thyme
rosemary
sea salt
+black pepper
Method:
Preheat the oven to 180°C/350℉.
Cut 2 sheets of aluminum foil.
Slice the vegetables.
First, arrange the zucchini slices on tin foil. Season with salt and pepper.
Place the salmon fillet on top of the zucchini slices. Sprinkle the salmon with thyme, rosemary, salt and pepper. Cut the butter into little cubes, place on top of the salmon.
Divide the rest of the chopped veggies over the fish.
Wrap the salmon and the veggies with the foil, make sure the packet is sealed.
Bake the packets on a baking sheet for 25 minutes.
Open the foil packet carefully.
Diet: gluten free, low carb, paleo friendly, clean eating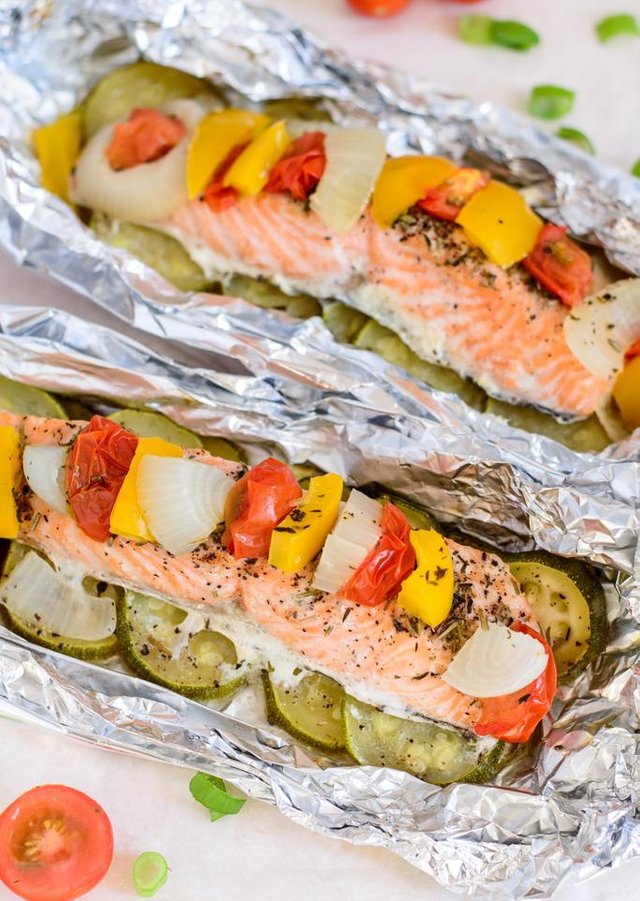 ---
Note:
The recipe and pictures are all mine!
Check out my other recipes!
Love,
Anna ♡

Find me on social media!
Twitter | Facebook | Pinterest | Instagram
---
Copyright © 2018 | Anna - My Zucchini Recipes