I prepared some chicken with nacho cheese flavored Doritos the other day. I got the idea from a video my favorite Steemit BBQologist, @braaiboy, shared in his post on Steemit, here. Thank you for the great idea!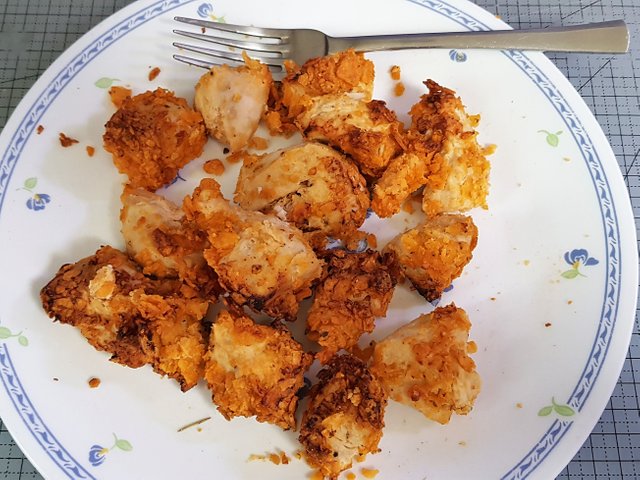 It turned out alright for a first try. It tasted like Doritos nachos and non-oily breaded chicken. I am going to have to try a few more times until I perfect it. I've got a few more ideas in mind that I'll get into.
For those who learn quickly, basically, you just crush up some Doritos, roll around some raw wet chicken into it, then cook the chicken.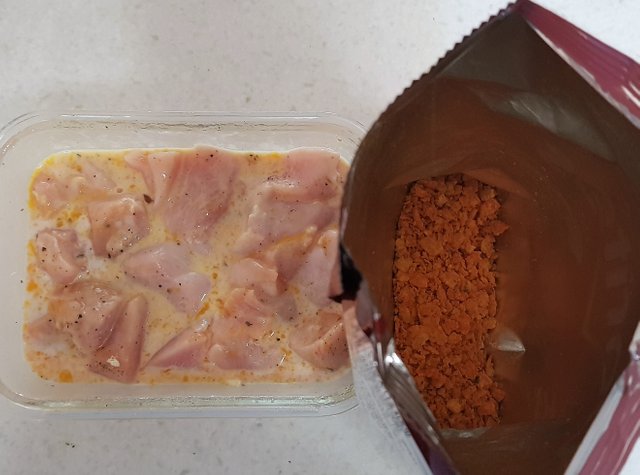 If you open your bag and accidentally see that, you have a lunch box letdown
Preparation method
Get the raw chicken and coat it in something to make more of the crumbs stick.
I put my chicken breasts in the fridge with some lemon juice, crushed garlic, and salt. This helps the chicken defrost, adds flavor, and keeps bacteria at bay. Win! Win! Win!
Next, I went to the store and selected a medium sized bag of Doritos. I got home and crushed it up nice and good. I crushed while the bag was closed to avoid over crushing. You don't want powder, you want crumbs. Also, if you open the bag, you will need to use it very quickly before they lose their crisp. Win! Win!
Then, I took my chicken out of the fridge, drained a little of the liquid, cubed it, then added some milk, an egg, pepper and really spicy sauce (this stuff is all fire no flavor). I left this to sit for about 20 minutes.
After, I poured half the crushed nachos into a bowl and left the rest in a bag. I put the chicken pieces into the bag one at a time and did a little shake and bake. After I put them in the bowl of Doritos to make sure they were covered.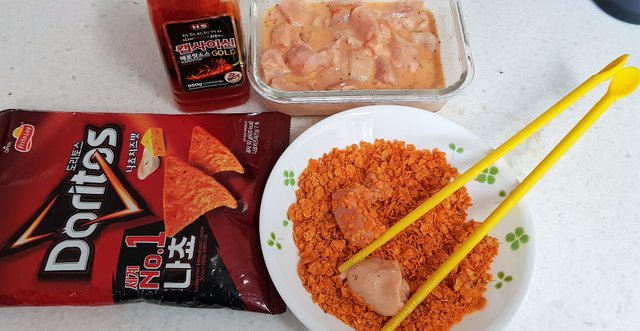 Finally, I put them into my airfryer. I packed them at 200C for around 12 minutes, gave it a shake and another 5 minutes.
I put them on a plate and ate them a la carte, I had waaaayy to much for one sitting.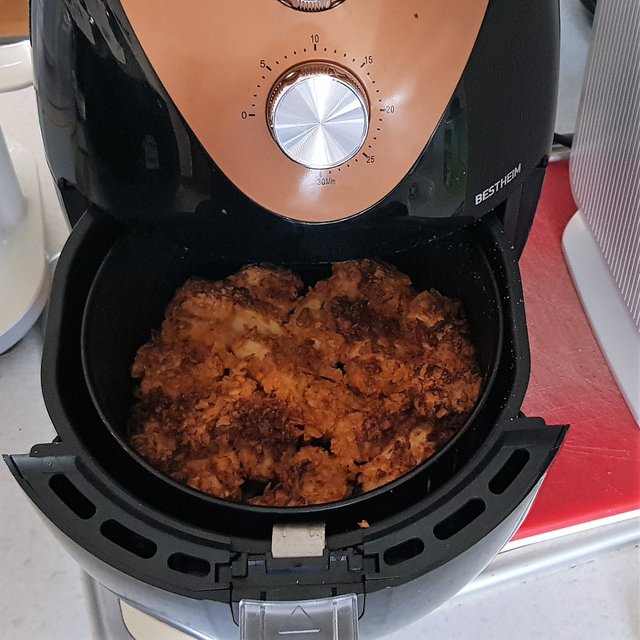 My thoughts
As I mentioned, they tasted alright. So what went wrong and how to Improve?
I don't know if the airfryer was the best way to go, perhaps baking or frying would be better, but then again the frozen chicken fingers taste awesome in the airfryer
I definitely should have put a little oil in there, maybe after a couple of minutes of cooking
I dumped the extra chips in there, putting them on a bed of extra chips would be nice if baked, but probably a bad idea for more dynamic cooking methods
Doritos absorb a lot of moisture, maybe I'll try chips or something with a different texture
The nacho cheese Doritos aren't all that exotic when it comes to flavors, although maybe using plain nachos or chips would be interesting
I wonder if I can use kettle chips, popcorn, cheeseballs or my favorite sugarfree breakfast cereal?
I'm glad I came across this idea. I was getting bored of breading my own chicken for the air fryer. Honestly, never found a recipe that tastes as good as the pre-breaded frozen ones. Maybe I am just awful at making them, or maybe I am too conservative and health conscious to go down the route of using enough sticky ingredients and breading to get the same effect.
If you have better luck than me or can identify what I am doing wrong or offer some tips I would love to hear them.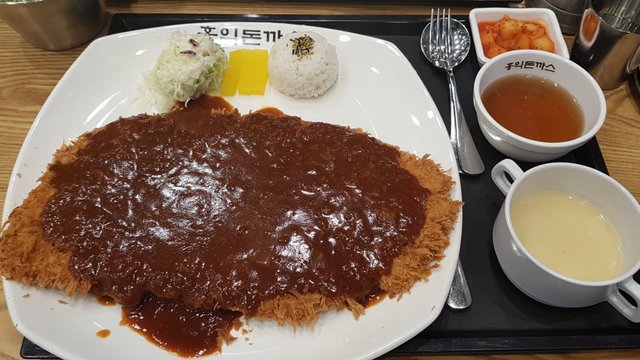 As a final note, here is some dinner I ate (well shared). It's a breaded pork cutlet, or Donkkasu [돈까스], which is a Korean fusion cuisine based on Japanese Tonkatsu (which is probably a fusion cuisine based on German Snizel or something). This is Hongik Donkkasu which is famous for making huge ones. I want to try to make one with a bag of crushed chips. Again thanks for the good idea Braaiboy.