Main Reasons Why You Are Unable to Save All-Year Round
The first quarter of year 2018 is almost over. Does New Year feel like it happened yesterday? No, it has been nearly three months already. Well, I didn't realize that as well until I came across a Facebook post asking about the progress of the sworn savings and investments that will be made this year. I know, you are already having deep thoughts like:
"I should have saved part of my 13th month pay"
"I regret spending all my bonus to splurges"
"I should have invested part of my Steemit cashouts to other assets"
Those statements may be the effects of the financial mindset that you were able to exercise through constantly saying the following things to yourself:
"I don't have enough money, I will just start saving later"
"Yes, I have money but this is just enough for me and for my expenses. I promise to allocate some savings in the next payday"
Sounds familiar? Well, I know most of you can relate to the abovementioned statements of guilts and regrets. But if we will dig deeper, there are commonly practiced monthly financial excuses, the main reasons why most of us are unable to save all-year round.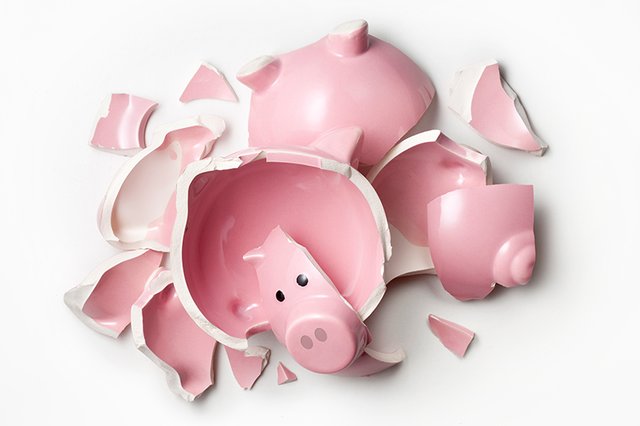 source
January. Almost all of your 13th-month pay and company bonuses are spent during the Christmas season. And now, you are going back to that poor old self. But don't you worry, you still have eleven long months to save.
February. Oops Valentine's Day is fast approaching! What should be the perfect Valentine's gift for your lover, your parents, your dog, your cat, your cockroach, etc? Savings? Nah, it can wait.
March. Time runs really fast! Your son/ daughter/ brother/ sister/ neighbor's cousin is already graduating! You should throw a big party that everyone will never forget. You know, graduating in a preschool is one of life's greatest milestones.
April. Hey! Grab those airfare promos for your summer vacation before anyone does! Okay, this time, you have to save for your YOLO trip next month.
May. This is it! YOLO! Yet you realized that your savings last month isn't enough for your travel expenses. But hey! Don't you worry, you can always borrow some money from your friends, family members, and co-workers.
June. Darn! School days are about to start! Are you prepared for the tuition, books, and miscellaneous fees?
July. The past few months made a blast on your wallet! You should pamper yourself! When was the last time you bought yourself a new bag, clothes, shoes? Last month? Nah, maybe it's time to go shopping! Haven't you heard about that new restaurant across the town? Invite your friends there, and never forget to pay their bills. After all, you are the one who invited them. How about your savings? Nah, it can wait. You still have plenty of paydays for that.
August. Have you heard about the ghost month? According to Chinese traditions, this may bring bad luck to investments and businesses. You must delay building your savings as well! It is definitely not a good time to start to save this month. Anyway, there are still remaining months to save. No pressure.
September. It's the start of ber months! Time to buy Christmas decorations!
October. Your neighbors are expecting you to throw a big celebration during your town's annual festival. Yep, you have no choice but to prepare for a scrumptious buffet. Whether you like it or you like it very much, your neighbors will just show up in front of your door just like the previous years. They have to follow their annual eating celebration at your abode.
November. Halloween Parties? You don't want to miss that, do you? Start looking for the best outfit from your favorite Halloween costume store. Make sure to spend for that best get-up! Your friends, workmates, and other ghosts are expecting you to defend your "Best Halloween Costume" title this year. Stay undefeated.
December. At last! Christmas Parties and Gift Givings are about to start. You might need a greater amount this time since there are two huge celebrations that you have to prepare: Christmas and New Year. Thankfully, you have your 13th month pay and company bonus. Wait, what happened to your promises to start saving and investing this year? No need to worry, there is still next year. Just keep reviving those New Year resolutions you've made from the previous years.
---
Keep these financial excuses all the time and you'll end up looking forward to the New Year with new promises to save. Truth is, you'll never run out of reasons not to save. Daily expenditures, special occasions, splurges, guilty pleasures, and spontaneous vacations are always there, but you should never use such excuses not to have something your future self would thank for. Some of you may have worked for years already but are still wondering why you weren't able to save for that dream business or for the investments that you would like to participate.
Want to hear the bitter truth? It is simply because Saving was and never will be your priority. It is needless to say that all of us are chained with different financial responsibilities. But if you continuously procrastinate in paying yourself first, there is a great chance that you will still have to work for the rest of your life to make your ends meet all the time.