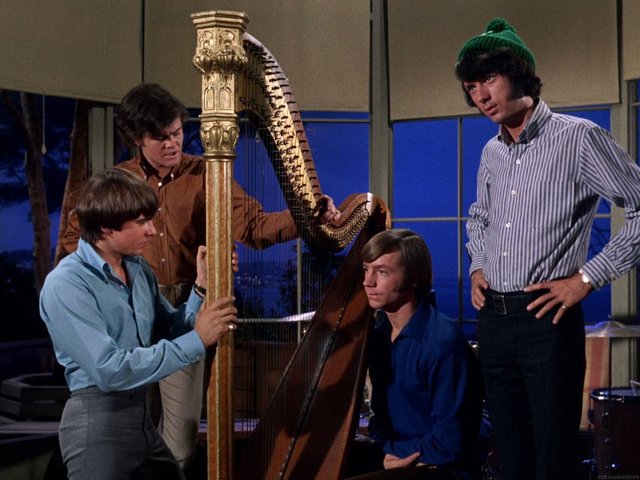 Peter Tork (seated) wanted to play the harp so bad he dealt with Ol Scratch in an episode of The Monkees television series.
So Peter Tork died on February 21.
Tork was famous for being "the dumb one" in the late 60s television series, The Monkees. For people who may not know, The Monkees was a hit TV series a half a century ago; it was about four early twentysomething guys who lived in a goofy beach house near LA and played in a band.
The Monkees as a group also recorded albums and released singles IRL, which they played on their show. Several of their songs became top 40 hits, such as I'm a Believer, Last Train to Clarksville, and Daydream Believer. The show and the band fell apart after about three years, for a variety of reasons. One of them was that group member Mike Nesmith, who was independently wealthy because his mother invented Liquid Paper, wanted to do less commercial and more experimental music. Years later, as the show played in syndicated reruns for a new generation of fans, the series was hailed as the forerunner of MTV and its music videos.
The Monkees show debuted when I was six. I usually watched the show every week and Peter Tork was my favorite band member. Everybody else swooned over Davy Jones, "the cute one," but I had a crush on "the dumb one." I always had to be "different," even as a tiny tot.
I remember most of the songs that were played on the show. But I only recall the actual plot of a single, solitary episode. That was an episode where Peter Tork sells his soul to the devil in exchange for the ability to play the standing harp. The Devil and Peter Tork from 1968 is the only episode that stuck with me all these years.
Proof that I was always a horror fan.