Ren du Lot, the shit lawyer
To the readers: Do not hesitate to indicate spelling and/or style mistakes.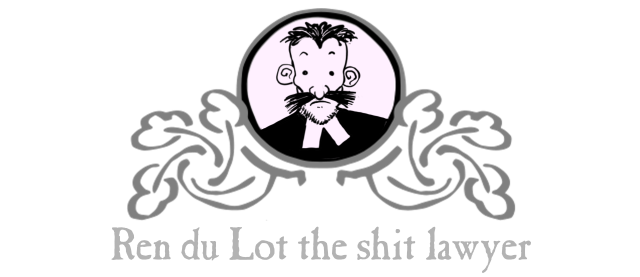 I
Ren du Lot said the name. "Torundel".
This was the shitty person that his client, Count Branleur, wanted to sue.
He could not understand why the Count had chosen him, Ren du Lot, as his personal lawyer. Was it because his name sounds French nobility? The truth was that his great grandfather had changed his name from "Dullot" to "du Lot", so he really did not belong to a noble family.
And in any case, there was nothing really noble in being noble. He knew one guy who had refused to meet his father for 20 years. Neither his father nor his paternal grandfather was calling themselves Counts. But, because his great grandfather was allegedly a Count, the guy has decided that he should also call himself a Count.
Count B wanted to sue Torundel because he was going to shitpost.
He knew that it was not the real reason, or at least the only reason. The whole town knew that Torundel's wife was Count B's mistress.
"Count, this is not really my specialty, I am only a country lawyer, mostly in real estate and wills. I can refer you to one of my colleagues in the city."
"What is the name of this lawyer?"
Ren du Lot said the name.

Ren du Lot, the shit lawyer, a serial shitposting fiction inspired by Torundel the Shitposter! by @katharsisdrill.
Rules are:
211 words - Starting with the words "Ren du Lot" - First and last sentence are identical.