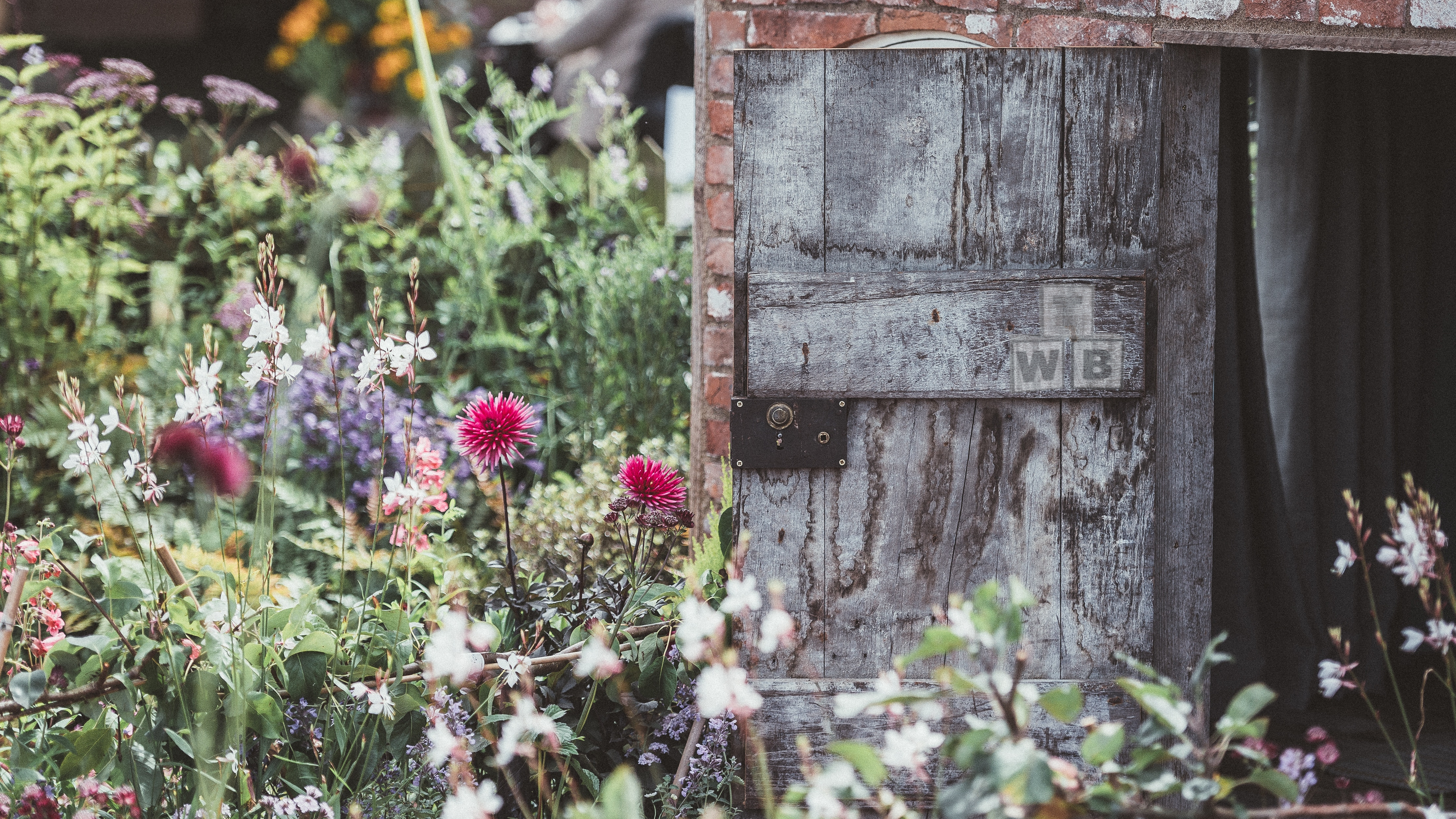 Photo by Annie Spratt on Unsplash
The sun began to dip towards the horizon when Liesl came upon a little brick house. In the window stood an an old lady. The hair peeping out from under her white bonnet was as grey as a winter sky. The story of her life might be read from the wrinkles lining her skin. But her teeth… Her teeth were so large that Liesl couldn't stop herself from backing away.
She was about to turn and flee when the woman opened the window. "Why do you look so scared, my child?" Smiling, she extended a hand to Liesl. "If you're willing to stay here and help me with the housework, you could be quite happy and content here."
Liesl looked down at the ground. What should she do? Stay here or go home. Could she even find her way back home? "I guess I can stay on. For a while at least."
"Excellent." The old woman closed the window and disappeared inside. The door opened and she walked out. Her straight posture and purposeful steps didn't seem to match her wrinkled, paper-thin skin as she approached Liesl. "I'm Frau Holle. What's your name, dear?"
"I'm Liesl, Frau Holle."
"Well, Liesl, you've arrived just in time for dinner. Won't you come in?"
Liesl wrung her hands. "But don't you have chores for me to do first?" She'd just agreed to earn her keep and here she was, about to walk inside the house and accept a meal without having worked for it. Maybe the old woman was testing her--trying to find out whether she was as lazy as Mama always claimed. If Frau Holle punished her with a strap too, she'd leave. She could find another place to work. Couldn't she?
Smiling, Frau Holle turned back. "Nonsense, my dear. It's getting cold and it will be dark soon. Plenty of time for work tomorrow. Let's enjoy the meal and worry about work when the sun comes up."
"But I can't just take your food like that. I--"
"You look pale and more than half starved. I can't possibly allow you to work without a decent meal and a good night's sleep." She stood by the doorway, beckoning Liesl inside.
To the door
through flowers and grass
welcome home, child.
After dinner, Frau Holle showed Liesl her room. Underneath the window stood a feather bed so thick, Liesl feared she might lose herself in its folds.
---
The rising sun flooded Liesl's room with cheerful light. Birds sang outside as she looked at the cherry tree by the window. It was the strangest thing she'd ever seen.
Blossoms and fruits
Share the same branches
Seasons frozen in time
She got up out of bed and rushed to wash her face and put on her clothes. No time to wonder about the tree. She hadn't slept this late in years and she needed to get breakfast started before Frau Holle woke up. Time to start earning her keep.
As she stirred the porridge, Liesl kept looking outside. The mysterious tree was on the other side of the house--out of sight but not far from her thoughts. The same phenomenon was apparent in every corner of the garden. Tulips and snowdrops were sprinkled among the grass. A small witch hazel bloomed bright yellow, right next to the kitchen window. But between these flowers of spring, grew big, luscious dahlias and pale, shy asters. Autumn plants.
Flowers of spring
between those of the fall
What is this place?
"Good morning, Liesl." Smiling her big-toothed smile, Frau Holle walked up to a cupboard to pull out two bowls. "That porridge smells quite nice."
"Good morning, Frau Holle."
"After breakfast, could you make the beds and and shake out the pillows?" Frau Holle put a jar of honey on the table. "Then later, perhaps, we can weed the garden together."
"Oh, but I can do that, Frau Holle! I"ll get started now so I have enough time before nightfall. I'll--"
"Liesl."
"Yes, Frau Holle?"
"I have no doubt that you could finish all those tasks before nightfall. But I invited you to stay here and help me with the housework. I never asked you to do all of it on your own." She reached for Liesl's hand. "These old bones have some work left in them yet. Besides, I'd be bored out of my mind if I just sat around and let you do all the work."
Blinking away tears, Liesl walked over to the table. All these years at home with Mama and Else, and they had never lifted a finger to help her with the chores. And here was this stranger, not only taking her in, but feeding her and now offering to help with the work Liesl had agreed to do.
She finished her breakfast, scoured out the bowls and teacups, and cleared up the kitchen before going upstairs. She replaced the sheets on the bed and shook out the pillows through the window until the air around her filled with feathers.
White lazy dreams
drift down to earth
it snows
As the feathers floated to the ground, they turned into snowflakes. Beneath the window, Frau Holle looked up at her, smiling. Snowflakes clung to her grey eyelashes and settled down on her shoulders. "Well done, my dear."
---
Click here to keep reading. If you missed one of the previous chapters, You can find them here.
Part 1 | Part 2
---
Today's companion post is about fairy tales and how they came to be.
Companion posts
1 | 2 | 3 | 4 | 5
Dear reader, I hope you haven't gotten tired of Liesl yet. We have a little further to go in her journey.
Hugs
Tiny
---
My stories have all found a home on my Fiction Steemshelf. Feel free to pay them a visit.
If you would like to read more of my work, feel free to have a look around on my off-Steem blog page by clicking the banner. My library there contains all of the pieces I've written since starting my blockchain adventure.

---
The Writer's Block is a home to writers from every corner of the world, and from every discipline that involves the written word. I consider myself lucky to have found this amazing community. Not only have I found help, support and encouragement there, but I've found people who feel the same way I do about writing. I've found a second family there. Do you write? Would you love to be a part of a community that can help you learn and improve your writing skill? Our door is always open for kindred spirits. Come and pay us a visit by pointing your pointy thingie at the animation below and clicking.