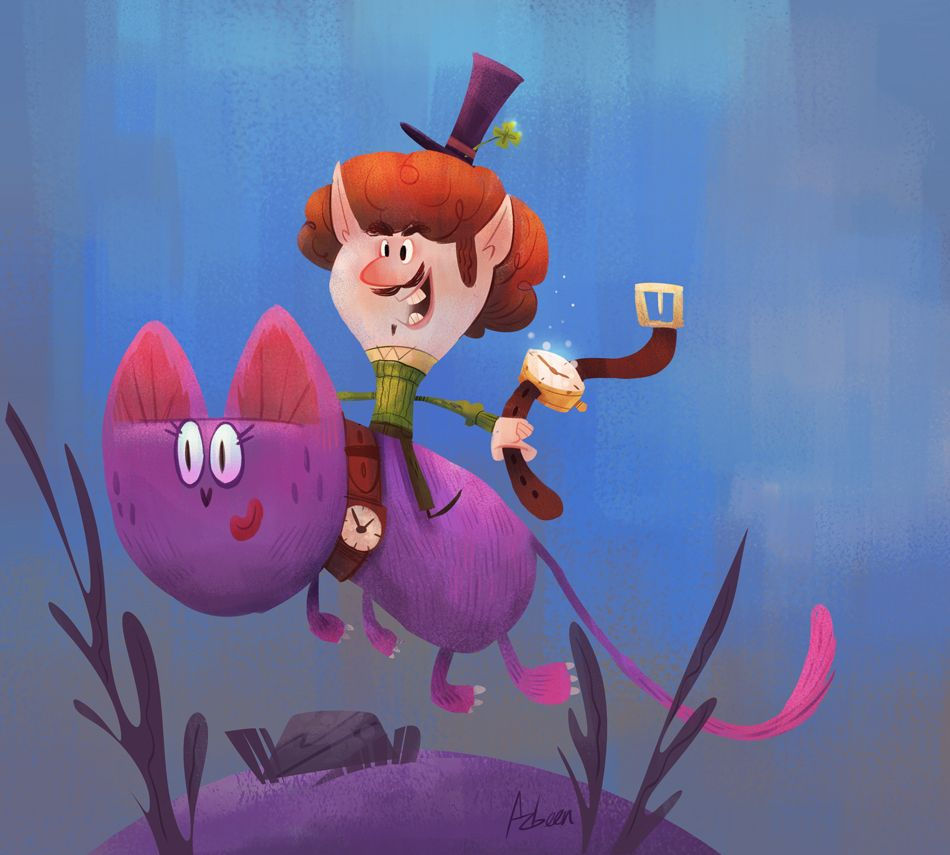 artwork by @azbeen
The Watch
by @therosepatch
"When will you be home? Jamie wants to show you his report card. He's really excited about it."
Holding the cell phone to his ear with one hand, Andrew spun the steering wheel with the other, pulling into the parking spot. "I've just got this last stop to make, then I'll be home."
"The watch place?"
"Yeah." He put the car in park and looked through the windshield. Rain splattered against the glass and the wipers worked double-time, but he could still make out the name of the store. "Everlasting Watches and Clocks." He looked down at the picture on the business card again: a purple cat wearing a watch for a collar, with a strange-looking man on his back. The man had reddish-brown curly hair, and wore a green sweater. A thin purple hat sat on the top of his head with a four-leaf clover stuck in it. In his hand he carried a watch much like the one the cat wore. It looked like something you would see in a child's cartoon. Not a business card.
Dishes clinked in the background as Amy prepared dinner. "I think you should just throw that watch away and get one that works."
He moved the phone to his other ear and pulled the watch out of his shirt pocket. It had arrived in the mail unexpectedly a few days ago, the business card along with it. It looked similar to the watches in the drawing. Simple, with a standard face. Nothing too special or flashy about it. Except it didn't work. Not a single tick or tock. There wasn't even a way to take it apart to replace the battery. "I don't know, there seems something different about this watch." He slid the watch back into his shirt pocket. "Like I'm somehow meant to have it."
"Whatever. Come home as soon as you're done. I love you."
"Love you, too." Andrew shoved the phone in his pants pocket, grabbed his keys, and rushed inside, catching just a few drops of rain on his clothes. The bell jingled over his head as the door shut behind him, and a smiling, elderly gentleman greeted him.
"Hello! Welcome to Everlasting Watches and Clocks. My name is Charles. How may I be of service to you?"
"I was hoping you could help me." Andrew removed the watch from his pocket and showed it to the man. "I received this a few days ago, and it's a great watch. Except it doesn't work."
The old man's grin vanished and his hands shook as he took the watch from Andrew's outstretched hand. He shuffled over to a nearby chair. With a sigh he lowered himself onto it, his eyes still fixated on Andrew's watch. "Oh my...could it be? Has my shift ended at last?"
"Your shift?" Andrew looked around at the clocks in the room. Four o'clock. "I thought you didn't close till five?"
"Son, I've been living in this shop for over fifty years. I eat, sleep, and breathe here. I'm almost eighty years old and had begun to wonder if I was going to die here."
"Why didn't you just retire?"
"Retire? Hah! Don't you understand?" He pointed towards the front door of the store. "I haven't been outside those doors since the day I came in, just like you, with a watch that wouldn't work."
"What do you mean? You're not restrained, there's no locks on the door. Why can't you leave?"
He held up Andrew's watch. "It's this watch. Once you put it on and accept your shift, it becomes your restraint and your lock. It keeps you here."
"Have you tried to escape?"
He pulled back his sleeve, revealing a watch, very similar to Andrew's, surrounded by burn scars. "Many times, my son."
"So, what, I'm supposed to be next?"
Charles nodded. "And as soon as your shift starts, I'll be free."
Andrew stepped back, shaking his head. "No. I have a family to get back to. My wife...my son." He turned and stormed towards the door. This was a mistake.
"You can't leave!"
Andrew kept walking. "Watch me!" He grabbed the doorknob and a burning sensation filled his palm. Inhaling through gritted teeth, he released the handle and inspected his hand. Thin trails of smoke lifted from the seared flesh.
Andrew spun to face the old man. "What is the meaning of this? I haven't accepted the damn shift! Why can't I leave?"
"I'm so sorry, son." Charles stood and leaned closer to Andrew, again holding out the watch to him. "The owner has strict rules about employment here. You either accept your shift, or you die."
Die? There had to be a way out! "Who's the owner? How can he do business like this?"
"Did you receive a business card with your watch?"
Andrew nodded. "The leprechaun riding the Cheshire cat? Yeah, I got that."
"The 'leprechaun', as you call him, is the owner."
"But how can he imprison people to work here? How can he kill them if they don't? How does he get away with this as a legitimate business?"
Charles shook his head. "I don't know, son."
Andrew's mind raced. There had to be a way out. There had to be! He ran through the store, checking the back door, the windows, even looking for secret passages. Each attempt resulted in more burns.
He cycled back to the front of the store, where Charles waited. Out of breath, his skin on fire, he sank down to the floor beside the chair. This had to be a dream. He slapped himself. Wake up! Wake up!
The old man sat down. "I know what you're thinking. Fifty years ago, I thought the same thing. You're not dreaming."
Andrew lifted his head and met Charles' gaze. "There's really no way out?"
The old man shook his head.
He wiped at the tears that filled his eyes. "What about my wife? My son, Jamie?" With trembling fingers he freed his cell phone from his pocket. He pressed the power button but nothing happened. No! He had just charged this!
"No contact with the outside world, except the customers who come inside."
"What kind of monster is this guy?" Andrew hung his head and entwined his fingers in his hair, hot tears running down his cheeks. He sat there for what seemed like an eternity when a gentle hand touched his shoulder.
"Son. I have not seen my family in over fifty years. Please. Please take your shift so I can go home."
Andrew sighed. "On one condition." He handed his cell phone to Charles. "Find my wife and son and tell them what happened. Tell them to wait for me?"
The old man smiled as he closed his hand around the phone. "I'll do my best." Charles gave the watch to Andrew, then rose from his seat and walked to the front door, his gait a little less burdened than before.
Andrew fastened the watch to his wrist. For the first time since he received it, the hands began to move. His shift had begun.
He looked over at Charles. The old man pulled at his own watch with shaking fingers. The watchband gave way, disintegrating as though it never existed, and the front door sprang open. Tears flowed down his wrinkled cheeks and his face contorted. He looked up at Andrew and smiled. "Thank you." Charles turned away and walked through the doors, his shift finally over.
---
This is my entry for @gmuxx's Art Prompt Writing Contest! Thank you for reading! I hope you enjoyed it!
A huge thank you to @nobyeni and @damianjayclay for their critiques. I wouldn't have been able to finish this without your suggestions!
---