I Killed Someone. Prt 1.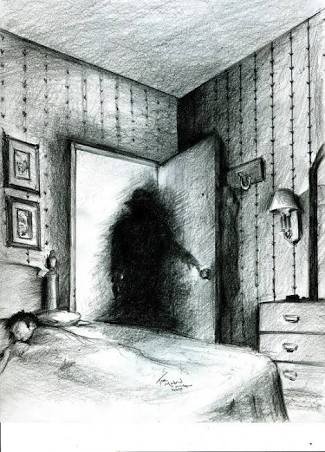 photocredit: Exemplore
Something roused me from sleep.
I keened my ears and listened, with my breath held and fear balled in my throat.
One, Two, Three seconds...There was nothing. Absolute silence except for the rustling of leaves outside and the whistling of the soft evening breeze. I let out the breath i had been subconsciously holding. Being alone at home made me paranoid. Mum and Dad were miles away celebrating their anniversary.
I willed myself to relax and tried to ease my nerves. I took Slow deep breaths, trying to enjoy the calming harmony of the evening breeze accompanied by the rustling leaves.
I closed my eyes again...and there it was!
soft shuffling in my room. My heart lurched in my chest and a chill ran up my spine. There was no way i was imagining this...but i remained still, hoping i was.
One, two, three seconds later. The serenity had been restored but my senses were heightened...I could feel heat...body heat... hovering just over me. I curled my toes under the sheets in an effort to remain calm, suppressing the urge to press my eyelids shut tightly or else HE would know.
How did i know it was a He?
Quickly, i dismissed the trivial thought remaining completely still.
And then, I could feel it. Sharp low breaths against the nape of my neck! bumps raised on my skin and i pressed my toes into the bed, willing myself not to scream!
The breaths trailed, from my neck, down and over my bare back living a hot trail, making my muscles ripple with fear and something else I could not describe!
Then it stopped
I couldn't feel his presence any longer. I couldn't feel his heat or hear his shuffling but i dared not move! My thoughts raced!
What should i do?
My cellphone was on the bedside drawer just a meter from reach but if i moved...He would see me.
---
Quickly, i remembered i had a baseball bat in my closet. Could i leap off the bed and make it halfway across the room before he could react?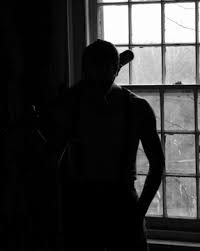 photocredit: Natalia Kuna
Then a dark mass loomed before me blocking out the moonlight coming in from the window. He was standing right in front of me! My breath caught in my throat and my body tensed and urine pool in my groin as fear oozed off me.
I clamped my teeth, willing myself to not move or give in to the argonizing urge to pee.
Mistakenly, I shut my eyes tight. It was something i had been willing myself NOT TO DO.
"Hehehehe" It was a low sinister laugh. A mocking undertone that was almost a whisper.
He had seen me! He knew I was Awake
My heart stopped for an interminable moment. It felt like the cosmos had slowed in those few seconds as i leaped from the bed, in a dash for the door...
But then my head yanked backwards with a painful force that almost severed my head as something grabbed me by the hair.
I fell back down into the bed , dazed by the excruciating pain but i only had a few seconds to recover as he loomed over me, his weight pressing me into the mattress as i felt steel-like fingers clasp around my neck, shutting off the air circulation to my head!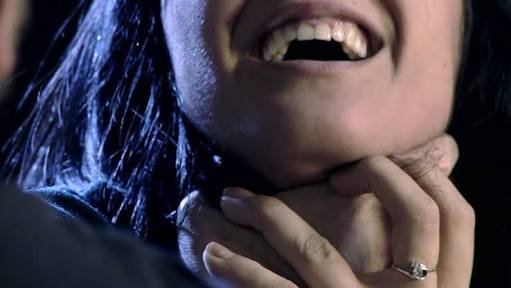 photocredit: Shutterstock
his other hand trailed down my body over my stomach and further down with nothing but my thin night gown as a barrier between my skin and those scrawny fingers!
My senses screamed in realization of what he was about to do!
Fear and Flight kicked in and I began to thrash wildly, writhing , kicking and
punching in a fury with all the energy i could muster, disrupting him. I felt my knee connect with something soft and for a second he flinched, letting out a loud incomprehensible curse as he lifted himself off me!
I seized the opportunity!
I rolled off the bed, landing hard on my back but i couldn't feel the pain. I sprung to my feet and hurtled for the door!
To Be Continued...