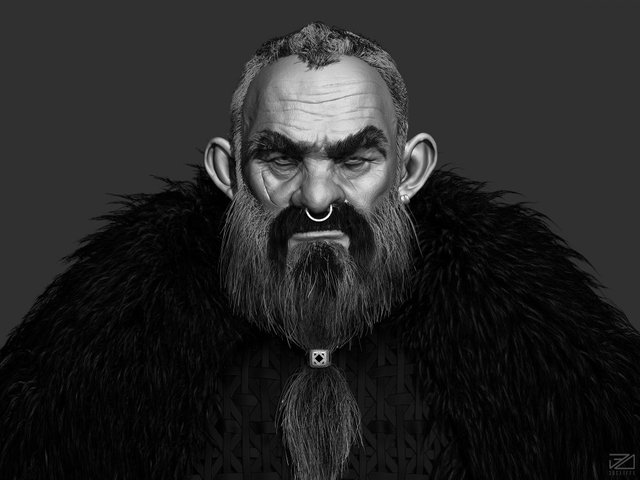 Source - Yeah I know, this dude doesn´t look like the ones that I describe in the story, but is really cool!
---
Suddenly there was silence. The light sneaked in as the door opened and a group of silhouettes were cut out at the threshold. Many of us turned our heads to see the newcomers.
It was strange to see the group coming in, all of them serious as they chain mail tinkled to the rhythm of their footsteps. They walked in next to each other, corpulent, with their braided beards adorned with a thousand rings, walking proud and secure.
The first entered solemnly, was middle-aged, still strong despite the gray beard and the bald head. The well-groomed beard was braided with dozens of bronze rings and perhaps hundreds of steel, he looked like a great general studying the terrain before entering combat. He crossed the threshold, stopped a few steps from the door as his eyes adjusted to the half-light, looked to either side before choosing a table in the background, heading his steps that way.
Immediately after him, came another, this time fat and gaunt, also with a long but messy beard. His flabby body, his clumsy movements, his hair and the enormous blonde beard gave him the appearance of a sleepy fat lion advancing after its leader. He wore a coat of mesh, an overdress of green dyed wool and huge studded boots.
Next to him, walking with firm, aggressive steps, another with a beard, hair and black eyes, dangerous face, furrowed by some thin tattoos on his cheeks. His beard, braided and combed with great care, shone with the reflections of countless steel rings as his eyes looked suspiciously around. His massive, tense, action-ready body advanced with feline elegance, every few steps, his hand landed unconsciously where the hilt of his sword should be, searching for it, used to wield it at the slightest provocation.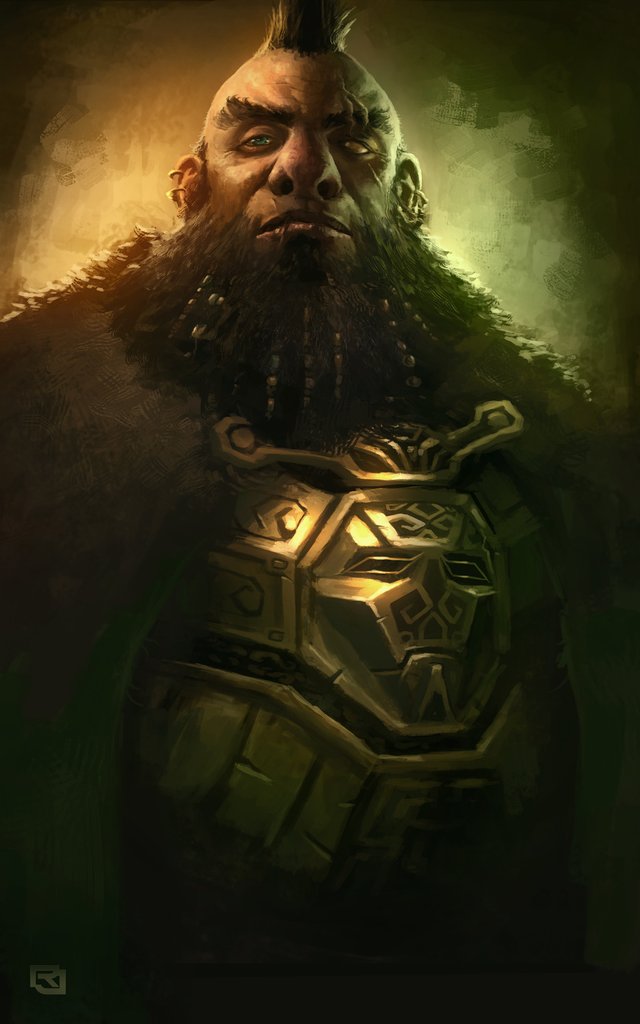 Source - Of course this isn't the guy, I wasn't going to take a picture of him so I googled a guy as scary as the one who came in.
---
Fortunately, they entered unarmed. They walked to the table in the corner, the one furthest from the hustle and bustle, and sat in a semi circle, with their backs to the wall. They ordered food and beer.
I looked at them from my seat at the bar, curious. I had never seen such strange people in this place. Their striking entrance seemed to contradict the secrecy of their meeting, I thought that if their intention was not to attract attention they would never have made it, they fitted in here as well as wolves in a henhouse.
I saw them whisper among themselves, the disturbance did not allow me to hear any word of what they were saying but even so, they captured all my intention. I imagined strange reasons for their presence. What were those three in armor doing there? Where are they going? Where do they come from?
I tried to be very cautious. I took a sip of my beer looking at them over the edge of the beer when the one with suspicious eyes discovered me. His eyes rested for a moment on mine before I managed to turn my gaze away. I broke the contact, looking away but the damage was already done. He got up and walked in my direction. Slowly, premeditated.
I considered to get up and escape, but that would only provoke him even more, so I trusted to apologize for my impertinence and avoid worse consequences than a bad time. I took another sip of my beer, it tasted bitter from fear.
I looked at my glass, trying to hide my fear when his steps stopped by my side. I felt his heavy breathing, a little accelerated. He cleared his throat.
—Did you know that it is very impolite to spy on people? —he said in a restrained tone. I was looking at the bottom of my glass, unable to lift my gaze. —Did you know that it is polite to look at who is talking to you?
—Excuse me, sir, I didn't mean to bother you. —I said, looking up to see a sinister face studying me with angry eyes— Yours is a strange group and it was impossible for me to control my curiosity. Please, excuse me.
—Curiosity killed the cat. —He said, looking at me as he rubbed his bruised knuckles.— Are you a cat?
—No, sir, of course I'm not a cat. —I replied to the moment, intimacy— You can be sure that I am not.
—You look like a cat to me, yes, I'm pretty sure you are a cat. You know, curiosity is really bad for cats like you —he said, standing even closer to me, his mole irradiating aggressiveness.
—I swear I'm not a cat, do cats drink beer? —It didn't make much sense what I said but I was alone, a corpulent stranger in armor was by my side threatening me while two of his friends watched us carefully from their table.
—I've seen cats drink beer, in fact I think I can see one right now.
—No sir, I can prove to you that I am not a cat. Have you seen a cat eat peanuts? —I said, while with a trembling hand I took a handful of the bowl at the bar, chewed and swallowed the peanuts.
—Oh, of course I've seen them eat peanuts. Waffle the cat is famous for eating peanuts while drinking beer. Isn't your name Waffle?
—No sir, my name is John. Have you ever heard a cat bark? It is well known that no cat can bark,and I can! —I said, sweating as I waited for the first blow of a beating.
—Woof! Woof! —I barked, ashamed.
—Oh, excuse me sir, now I see that you are not a cat. I must have been confused, but I recommend you not to stare at strangers, you might get confused with a cat and you know what happened to the curious cat, don´t you? —he said, aware of my discomfort and enjoying being its cause.
—Oh, I'm glad the doubt has been cleared up. —I said, while my breath calmed down a little and the stranger returned to his table.
He reached the corner, I saw him sit down and shout with his comrades, I saw him gesticulate by imitating me, I heard the laughter of the group while the one with the black hair howled like a dog. I paid and was getting ready to go out when they got up. I decided to wait for them to leave in order to avoid any possibility of stumbling with them at the door, or worse, on the street.
They left. I took a deep breath, suddenly the place was nice again and I asked for another beer. The waiter came up to me with my jar and I asked him:
—Do you know them?
—Oh, the dwarves?
—They didn't look like dwarves, in fact they were all much bigger than me.
—Well, of course they're not dwarves, but they've been coming for two days and they say they're dwarves. But those aren't the worst, if you stay a while longer you'll see the orcs coming. You won't believe how many lunatics the Middle-earth Conference attracted.
I paid for my beer and ran away.
---
Posted from my blog with SteemPress : http://jcalero.vornix.blog/2018/11/08/dwarfs/
---