Each week I write a micro-fiction story based on the current 50-word short story contest prompt. (I run the contest, and just participate for fun.) It's a great exercise in writing succinctly, and it challenges me every time!
This week I really struggled. The prompt word I issued in the contest for the week was "clean." We're just past the holidays and preparing for the New Year. It seemed appropriate.
My idea for a story was to explore how emotionally trying the holidays can be if you have to spend time with difficult relatives or in-laws. The holidays are over, so the "conflict" of the story is internal: the character is trying to figure out how to cleanse the residual angst from her mind after her mother-in-law leaves. I think I wrote about 10 versions of this story, trying to get it right!
I'm going to share two visions of the story, and then provide some discussion after. What do you think? Which version is better?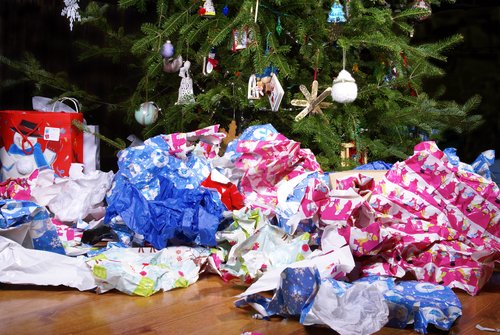 Image source: Shutterstock

Holiday clean-up (version 1)
Marta vacuumed up the Christmas tree pine needles, cleaned up boxes and bows, and scoured the guest bedroom. Nothing could wash away the whispered admonishment of her mother-in-law. "You don't deserve my son." Finally, with her husband gone to work, she turned to her little helpers in the liquor cabinet.
Holiday clean-up (version 2)
Marta washed, swept, boxed up the Christmas tree and cleaned the guest bedroom. Still, her mother-in-law's whispered message echoed. "You don't deserve my son."
Handsome Michael. Clueless, remote.
He patted her shoulder and left for work.
When his car pulled away, she poured vodka on ice to cleanse her mind.
---
---
Discussion
I struggled with this story because the first version just didn't have the impact I wanted. There was no real story "arc," which is a critical component of quality fiction. Therefore, the story's resolution —Marta's choice to turn to drink to clear away the voice of her mother-in-law — felt flat.
The second version of the story (which is actually many iterations later) works better, it seems to me, because I managed to work in another layer that she can't really talk to her husband. He has no idea his mother torments his wife, and is actually too clueless to care.
Finding no way to rid her mind of the hurt dealt by her mother-in-law, she makes a dysfunctional choice.
I'm still not sure my story achieved what I was after, but I did enjoy the process. I would love your feedback.
Thanks for reading!

---
Posted from my blog with SteemPress : https://jaynalocke.com/2018/12/30/holiday-clean-up-micro-fiction-who-wore-it-better/
---