Bitch (freewrite)
Firm grip. Still hands on her bony thighs, steeped in blood. Glance down, she would, except her eyes have grown all sleepy now and so, she follows the music, drifts away into the realm of darkness and dreams and lets the hands on her knees do as they will.
When she wakes, the hands are no longer there, having forsaken her for other, more comfortable abodes. Deep down, the girl knows, and deep down, she's pleased. Her frame too skinny, her body too... too angled for them to like, too off-putting. The man with the hands has told her many times, and still, he tries, as if he hopes each time that she's grown into a whole new girl. Opens her eyes and she is alone in the room again. Slow, too slow, she gathers herself up from the divan and comes to stand before the fogged-up mirror with its' smears of red lipstick and its' unmistakable stains of hands. Pressed up against the mirror, women, though not her. Never her.
She lets the clothes fall off her bony shoulders and looks at the sallow skin below. Old woman's skin, although the girl is not old. As she does every morning, she traces her silhouette on the glass and guesses her future. In the past, her hands have guessed a baby, an old crone and a sack full of skin and bones. The flashings of the dead, she knows and eagerly waits to see what the mirror will guess her now.
A wedding, black and bathed in blood, though perhaps that's not right. From time to time, the girl guesses. Perhaps what she sees before her is nothing more than a silly mirror after all. You make your own future, Ethel used to say, but then Ethel went and died and had a future no longer, and so now, the girl is wary about listening to the warnings of the dead.
Fingers cold, she brings them to her cracked lips and, as with every morning, she leaves a stale wine-kiss on the mirror frame.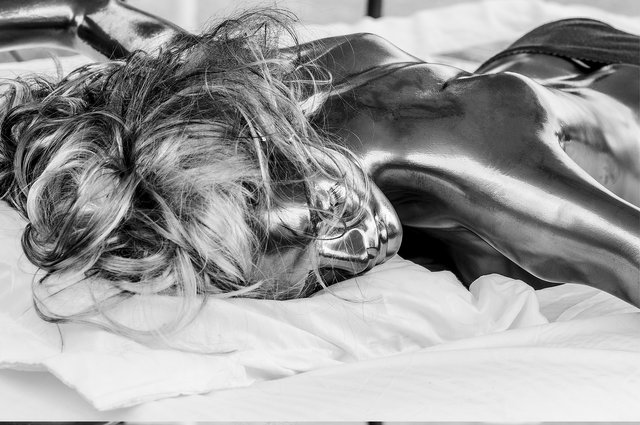 The girl lies. In truth, she knows nothing, whether it be night or day, whether the man with the hands is still in the building, perhaps enjoying the folds and curves of some other girl. It's a frequent happening, so much so that the blonde across the hall has come to complain. The blonde across the hall is nothing but a bully, albeit a clever one. She likes to dig her sharpened, pink-polish claws into the girl's back and make her whimper, make her worry that she will be kicked out into the skin, should she keep up this game.
That's what she calls it. This game, even though the girl has no idea what game that might be. She knows, however, that they have words for women like her. Frigid. Cold. Bitter. Or just a simple bitch.
Lucky that Mrs. Myers has a soft spot for her, or she'd be out on her ear, no questions asked. The fact is, the girl hasn't satisfied a customer in weeks. Or at least, not in the sense one would expect. Through her distance (as Madame Myers quaintly calls it), she's managed, in time, to attract her own clientele, though never the man with the hands. There are men who delight in the chase, who thrill in the opposition. Of course, Madame never objects, why would she?
As for the girl, she's too poor for her opinion to matter and it's not so bad when the hands roam her ice cold skin, when their dirty nails dig into her flesh. Sometimes, she even gets the impression she can feel something again. Almost. Once or twice, she's almost cried out, not so much with pleasure, but with the shock of still being alive. Caught herself on the very last step, for she knows such a thing wouldn't do. Her specific customers wouldn't care about her worries that she might never feel again, and so the girl has learned to guard her feelings, only show them to the woman in the mirror.
Naked and strong, the woman in the mirror smiles, self-assured, not thinking of the grubby fingers on her calves, but of the day she'll run away. It is a distant day and in her heart, the girl knows it is a lie, for she will never run away from here, not because of the money and not because of Madame, but simply because she wouldn't know what to do with herself and her new-found freedom.
In the corridor, she hears footsteps. A soft hesitation outside her door, just enough for her to take her position on her bed. Limp and motionless, her eyes on the ceiling, in her mind, thoughts of freedom, as a new man enters the room, a different hand settles on her thigh.