Redeem and Forfeit - A Steemit Story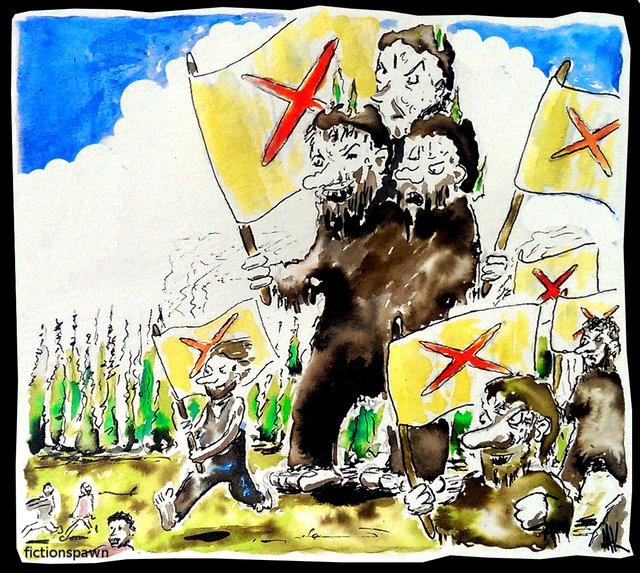 In the Valley of Redeem everybody owned a magic wand, created to do good. When you liked what someone had done, you could bless them with the wand. The wand created Redeem, a valuable substance only found in the valley. The more Redeem you owned, the more you could give to others, and the best part was you gave without losing. Everybody won.
On the day the valley was created, another tool had been created as well. It was a magic flag, a weapon of destruction with the power to take away the Redeem of others and make their work invisible. The more Redeem one owned, the more damage the flag would do.
Anton had moved to the valley many years ago. He was an artist, and had heard about the Redeem of the Valley. He had moved in, and started creating. New people came every day, and thanks to the hard work and creativity of its citizens, the Valley became more and more wealthy.
Anton built statues, and he was doing great in the new valley. Other Redeemers came by, waved their little wands and rewarded him for his work. It felt good, and it made him happy.
One day a little troll came by. It appeared out of nowhere, waved its little flag and ran laughing into the woods. It didn't really matter, the troll was poor and insignificant, but it didn't make Anton feel good. It didn't make him feel good at all.
He kept creating, and his friends came by and rewarded him. Soon others came as well, people he didn't know, even elves and dwarfs. The elves had a lot of magic power, and Redeemed him well. It felt good.
With fame came the trolls. Most of them couldn't hurt him, but some had invested their troll gold in Magic Power, and he could see his fundings weaken. He felt horrible, and it worried him. Late at night he lay awake worrying that the trolls would come and take his earnings away.
He created a statue. It was more beautiful than anything he'd ever made before. It was a sculpture of a mean troll, flagging an artist making a statue. He put it out for people to see.
People came from far away to see the new piece.
-Extraordinary, one said. -You really captured the essence of violence.
-Such a beautiful composition, said another. -I appreciate your work a lot.
It felt good to listen to the words they said, and even better to see them reward him with their magic. He had made it, he thought. Finally he could make a living from his art, finally he had become someone, even though his father told him he would never make it.
Some little trolls came by.
-Hey, stop! Anton said, but he knew there was nothing he could do. The rules were the rules, and the creators had given them the right to use their flag whenever they wanted. They waved their them over his sculpture. His funds were still there, but it didn't feel good.
Other trolls came by, a bit more powerful. He could see some of his hard earned Redeem disappear into nothing, but he still had a good earning left. He just ignored them, waited for them to go away.
He sat down on a rock, watching his masterpiece. The Redeem of his fans was a lot larger than the forfeit of the trolls, and soon he forgot all about them.
The ground shook. It shook again. He could hear a noise each time, and it was coming closer. He looked towards the horizon. Something was coming. Something big. He stood up. He could feel his heart beat faster, sweat running down his neck
A three headed troll was moving towards him. He could see its faces now. One had a vicious glare, a smile of bloodlust and evil. The second looked angry as if the world had not treated him right, and the third one looked plain old stupid.
They moved in his direction. Slowly, with heavy steps. Anton wanted to run, to fight, but he was powerless. The troll looked down at him. It was a troll king who had moved all its riches into Redeem valley to be the most powerful troll of them all. It had a flag in each hand, and waved them over Anton's sculpture.
-Please, don't! Anton pleaded. The first head laughed. The other brawled. The third drooled as if it didn't even know where it was.
The Redeem of his sculpture vanished before his eyes. His statue sunk in the ground. A horde of trolls came following their king, taking away what was left. His statue could no longer be seen at all.
Sad and disappointed Anton packed his things and left. The Valley had not been what he thought it would be, and he moved on to find other places to show people his art.
Walking long and far, he found another valley. The rules were different there, they had magic wands just like in Redeem, but the flags had no power. Everyone was equipped to give, and no one had the right to destroy. Soon the word spread in the valley of Redeem. People, sick and tired of the trolls' harassment, started migrating to the other valley, moving on to the paradise where everyone were friends. The value of Redeem fell down into worthlessness, and the trolls were left behind to starve. Redeem could not be eaten.