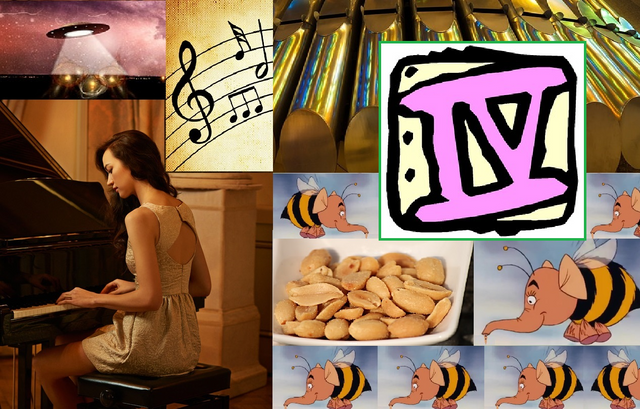 This is Part 4 of 6. If you have not done so yet, please read the first parts of this story (see my blog) before proceeding. This story is a work of fiction. If you like bad B movies, this is the next best thing. I'll return with my customary non-fiction blog posts as soon as this beast has been slain.
---
Our strange saga continued. There we were, hiding in a tight space under the pipe organ in a church that had been ravaged by bloody Heffalump bees. I was sitting next to Miss Nicaragua (I'll forgive her runner up status), a talented piano player. And I was stripped down to my underwear in the humid heat, rubbing the bruise on my head where she had hit me earlier, originally mistaking me for "one of them."
Just a few minutes earlier, the police had arrived at the church. But the Heffabees had opened the outer door, let in the police officers, and proceeded to attack them in the same way they had attacked the audience members at the concert in the church. There was blood. It was ugly. And by the end of their ordeal, these police officers would be Heffabees themselves for the remainder of the New Moon cycle (a few more nights). We heard more of it than we saw, since we were hiding just off the clergy room at the back of the church.
Fortunately, the arrival of the police had diverted the attention of the one Heffabee who had almost found our hiding spot. The bee had buzzed out and was now participating in the same blood orgy as the others. Hopefully, he or she would forget to resume the search for us. I had a lot on my mind, but not for the first time, I wondered what had happened to my uncle. Was he "one of them" now, too?
Christela had made sure my bruise was okay in the spot where she had clubbed me with a broom handle. But neither of us had any ice to hold down the swelling. I had a bump on my head. But I was in the arms of a beautiful maiden. For the first time, I realized that even though we had both awoken from our short sleep, we were still holding one another as we sat on the bench in the small, cramped room the organ player used to play the church's pipe organ.
"So how did you come to know so much about Heffalump bees?" I asked, recalling Christela's earlier statement that those who are bitten by one of these hypodermic snorkels turns into a creature for five nights at the time of a New Moon.
She was silent in response. And then, she did her best to stand up in our small space, unbuttoned the top of her dress, and let it fall to her waist. Turning away, she let me see the single brown welt at the base of her back.
"I was almost one of them," she said as she sat down next to me, replacing her dress.
I tried to avert my eyes out of respect for this young woman, though it wasn't for lack of desire. To my delight, she returned to my arms once she had re-buttoned her dress. Somehow, holding her, I felt whole. But I had to learn more about this hole that a Heffabee had left in her.
"They think I am one of them, but I did not get enough of the pachyvenom. Most of the bitten have at least five or six bites on their back. I have only one because the bite was interrupted. I was not turned, though the bite changed me. Being bitten gave me...strong appetites."
"But your other two trio members were bitten, right? I saw the violinist's shoulders when you were playing earlier. She had two rows of welts, maybe six in total."
"Joanna lied to me," said Christela. "She was bitten at the same time as I was, and she distracted the bee so that I did not suffer the same fate. But Johanna told me that took the anti-venom last month. I believed that she was cured. I never would have agreed to play this concert together at the time of the New Moon. And I did not know that our cellist had been turned."
As morning dawned, the activity level decreased in the church. Daytime seemed to be a low point for these Heffalump bees. We still heard a lot of them swarming out there, but we had talked about opening our little door to reach the restroom. By now, we both needed water and the toilet. I could imagine urinating into one of these organ pipes, but if we didn't get drinking water, then we would die just as surely as if we were caught by the Heffabees. Plus, it was hot and sweaty in here.
I was ready to go first. "Stay here, Christela. I'm going to make a break for it."
I quietly eased the small door open. Seeing no Heffabees in the clergy room, I slowly crept toward the door, holding my body flat to the wall. I reached the mop, raised the handle slowly up to the level of the door. Using the handle, I softly closed the door until it blocked most of the doorway.
Now the door also blocked the view of any bees outside in the church. If we couldn't see them, they couldn't see us! There remained a hole in the door where one pachydermic had punched through it, but if Christela and I kept the lights off in the clergy office, I hoped that no one would suspect we were in here.
After attending to our urgent needs, washing our faces, and re-hydrating our parched throats with water from the faucet in the restroom, I focused on securing the room even more. We could not lock ourselves in, for fear that doing so would make noise and give away our position. So I took the three chairs from the office and wedged them behind the door. Opening it would not be so easy now.
When I turned around, Miss Nicaragua stood before me, wearing very little. She had taken off her dress while I had been stacking chairs. Had she finally succumbed to the heat and humidity? Or did she feel sorry for me, underdressed as I was? For a moment, I was frozen in place at the sight of this very attractive woman clad only in her undergarments.
I could see a smile lift the corners of her mouth as she recognized the effect she was having on me. In fact, I briefly considered retrieving my jeans as a chastity barrier to preserve my self-imposed vow against pre-marital relations. But perhaps the time was not right for such a vow. Here was a gorgeous woman, facing me in her undergarments. Should I really be concerned with my dignity at a time like this?
Christela held up a jar of something. "I hope you like peanuts," she said.
This was Part 4 of 6. Please tune in again soon for another riveting installment.
---
The rights to this work are held by the author, who created the montage image with public domain and/or properly licensed stock images. The Heffalump bee image was adapted from an old Winnie the Pooh video, the rights to which are held by Disney. If you're not familiar with the Dark and Stormy Night branch of fine literature (let me spread that sarcasm a little thicker), please consult this page: https://en.wikipedia.org/wiki/It_was_a_dark_and_stormy_night . This is, of course, my own take on it and not strictly Purple Prose.