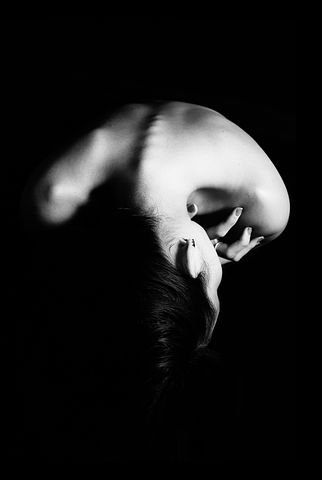 ---
"Come closer," he said.
Her sore arms and back stung as she tried to move. She had been standing for more than an hour, her head bowed, staring at her feet, her arms wrapped around her naked body. She looked up then. The man who stood before her looked nothing like her brother. His soft laughing eyes were stone hard, his jaw pulled in a tight line. He stared at her, like she wasn't really there. She shuddered and tried moving again.
"What are we going to do with her?" a voice asked.
She winced as she recognised it. She refused to look behind her brother to the voice, to the man she married less than a year ago. Like her brother, she barely recognised him as she was pushed into the room, her clothes stripped from her, her body covered in bruises from the beatings.
"The same we do to everyone else. She has to die."
--
"Kiss me."
She stopped mid motion and stared. She shook her head and continued loading the laundry into the machine, then the laughter came. She laughed long and hard but stopped when she realised she was laughing alone.
"You're serious," she said in disbelief.
"I am."
"Well, that's insane."
"Is it? Do you want to kiss me or not?"
"Stop."
The brown eyes before her was watching her intensely. She lowered her own dark eyes, unsure of what to do or say. This was the person she had loved for a long time, but the suggestion was pretty preposterous. She was married. She shouldn't kiss another, wouldn't kiss another.
"We've had a thing for each other for a long time. You can't deny it."
She swallowed and averted her eyes. She shoved her fingers under the pile of clothes to hide the nerves. Her heart was racing. She wanted so much to do it, to feel what it'd be like. She closed her eyes and exhaled slowly.
"I can't."
"Why not?"
"I'm married."
She knew the excuse was lame but she couldn't think of anything else.
"You know that's hardly a reason. You don't want to be married."
"I don't but I am. I intend to honour that."
"Because your family said so? You don't love him."
The accusation threatened to shame her but she pushed against it. She had married for convenience to please her family. It was a price she was willing to pay to give them a better life.
"Still. I'm married."
"Do you love me?"
"You know the answer to that question."
"Then kiss me. Please."
She hesitated, then sighed in resignation and turned off the machine. The embrace was awkward at first, almost childish but they held. It brought back memories. Everything changed that day. Everything also fell apart.
--
The welts on her back burned like fire. She knew what faith awaited her. She understood what would happen. It was the same reason she had stayed away all these years. She hid it so well she was convinced it was over, that she could live with it. But Melly had walked into her home that afternoon and her defenses had shattered. The beautiful Amelia. She had always been Melly to her. They had loved each other since childhood. They had hidden in her room at her parent's house and touched themselves as children. They hardly knew what they were doing, not until they were older. Even then they understood that it'd never be. Culture would never accept. Their families would turn a blind eye. So they stayed away from each other. Melly left for college and she stayed back to look after her younger brothers when their mother passed.
When Ambrose proposed, it was almost natural. He always liked her. She had known him all her life. She couldn't tell Melly, not that way. She wanted to do it face to face, to explain. She believed Melly would understand but she had been wrong. Seeing her made everything seem impossible. They couldn't keep their hands off each other. She might have been stupid for letting it happen in the house but she wasn't thinking. With Melly, it had always been difficult to think. Then Ambrose had walked in on them. Now she had to pay the price. She would never see Melly again. Funnily enough, she didn't regret it. She found love and that was all that mattered.
"Say your last prayers."

---
Figured I could do something new. I used the image as prompt.