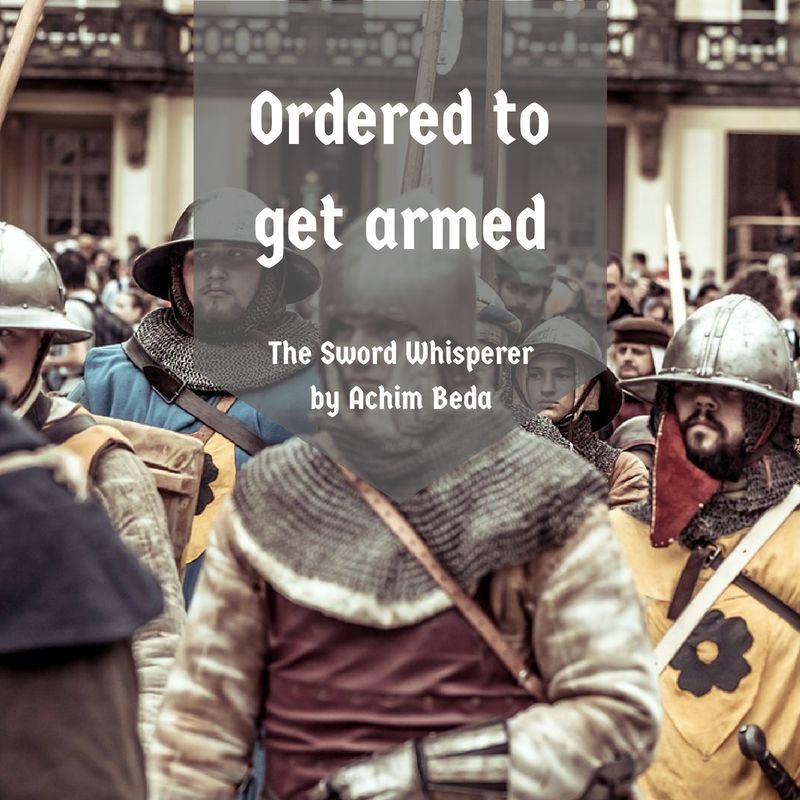 image source: pixabay
What happended so far:
How it all began
Growing up was hard for Eric and Ivan. Ulf was a good man and he cared as good as he could for the two boys. The village was very poor and people were mean. Instead of helping each other out, they made sure that they got more than their neighbors. The Lord of the village, Sir Lekton, contributed very actively to the hard life in Halmsborough. Having only two soldiers under his orders, he was constantly bullied by his peers. Whenever he made deals with them, he got the worst possible part. This meant that his coffers were always empty and his mood foul. He tended to take his frustration out on the villagers and made their lives miserable.
In Halmsborough as in the rest of the realm, children had to work hard from an early age on. Eric and Ivan helped Ulf with his smithy. Ulf was far from being prosperous but he made things that the other villagers and even Sir Lekton and his soldiers needed. There was almost always food on the table. To make the smithy work, the boys had to collect big amount of wood which was transformed into charcoal used to heat the oven of the smithy. They had also just started to help work the metal. It was a dangerous task and Ulf tried his best to teach the boys the elements of his skill without putting them in harms way. The boys were very eager to learn and Ulf considered them good apprentices.
At the age of ten, Ivan had developed faster than his twin brother. He was bigger and stronger. Eric would be the more handsome of the two. In Halmsborough, the twins were disliked, especially by the other kids who were all children of farmers. Being brought up in a smithy made them different for the narrow minded village boys. They were frequently the victims of pranks and jokes. As a consequence, Eric and Ivan tended to stick together and to avoid the other kids.
Ulf's work was often limited by the scarceness of metal. Nobody had money in Halmsborough, so it was impossible for Ulf to come by coins that would allow him to buy metal from merchants. People payed him in wheat, bread, beer or sometimes even in meat. The metal he worked with came from broken tools or nails. It was therefore very uncommon when one day Master Tiroc, one of the two soldiers serving Sir Lekton, came to the smithy and asked Ulf to make a sword and arrow heads from new steel.
"Lord Lekton requires you to make a long sword and 50 arrow heads Ulf" he ordered. "You will get the necessary steel from the Lord himself as soon as a merchant passes by".
"I'm very honored Master Tiroc. Can you tell me whether the arrow heads are meant for hunting? I'd like to make them suitable for the task" Ulf asked
"We will hunt indeed but not animals. We will kill those bloody northern Seasmamen. The King has ordered us to get armed. By the way, have you trained your kids with sticks to defend themselves?"
"Yes Master Tiroc, they are as good with sticks as any other kid but for the moment being I will need them to help me to finish my Lords' task".
It took several weeks till Ulf got the promised steel. Since the whole realm was under orders to get armed, the price for metal was very high and the merchants had few to sell. Ulf had never forged a long sword but he was looking forward to the task. He tasked Ivan and Eric to work on the arrow heads. The two boys also resumed their spear training which was now lead every evening by Master Tiroc himself in the square in front of the tower.
***
I hope you liked this chapter of the Sword Whisperer. You can read the rest of the story soon. Upvote and Resteem if you liked it and follow
@achim03
if you want to know what will happen to Ivan, Eric and Ulf.