Lemon Blueberry Cake w/ Lemon Zest Coconut Frosting: food fight friday ya'll
It's another Food Fight Friday and I'm super excited to share this recipe with you. I made this for a very special persons birthday and in addition to celebrating their life, this, along with a hand written card, was the birthday present. Remember, I don't have any special mixers or cake pans so if I could make this in my humble kitchen so can you.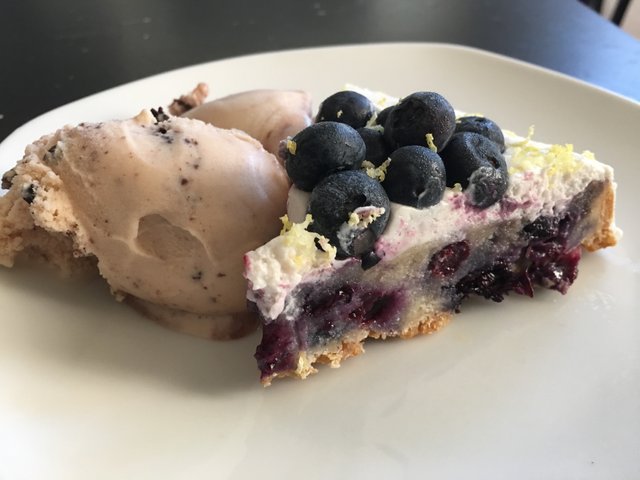 Lemon Blueberry Cake With Lemon Zest Coconut Frosting
I set out to create my personal baking masterpiece and although there were some uncertainties during the process I think it turned out spectacular. I have never attempted to bake such a cake before so there was a tiny bit of concern with my lack of tools. I mean I didn't even have a cake pan let alone an electric mixer for the frosting. I forged ahead anyway…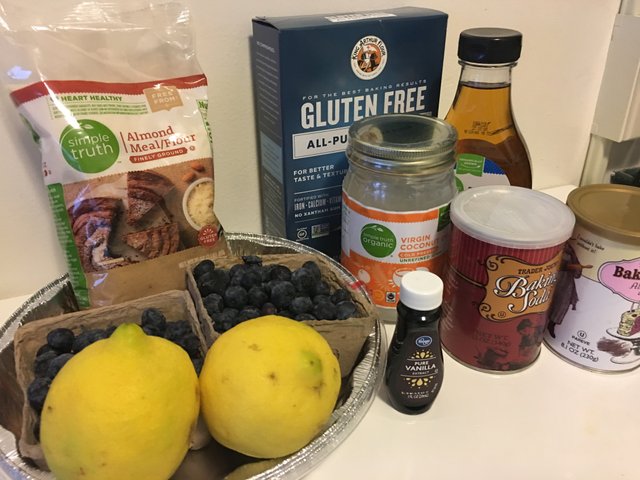 Lemon Blueberry Cake Ingredients:
1/3 Cup Coconut Oil
200 ml Almond Milk (or a lil over 3/4 C)
4 Tbsp. Lemon Juice
2 Tbsp. Lemon Zest
8 Tbsp. Agave
1 Tsp. Vanilla Extract
3/4 Cup Almond Meal
3/4 Cup Gluten Free Flour Blend
2 Tsp. Baking Powder
1/4 Tsp. Baking Soda
1 Cup Blueberries
I also purchased a couple tin cake pans because I didn't have a cake pan.
Lemon Zest Coconut Frosting:
1 Can Coconut Milk (make sure it is FULL FAT)
2 Tbsp. Lemon Juice
2 Tbsp. Agave (plus a tad extra for good measure)
1/2 Tsp. Vanilla Extract
I used an additional cup of blueberries and zest from a full lemon to decorate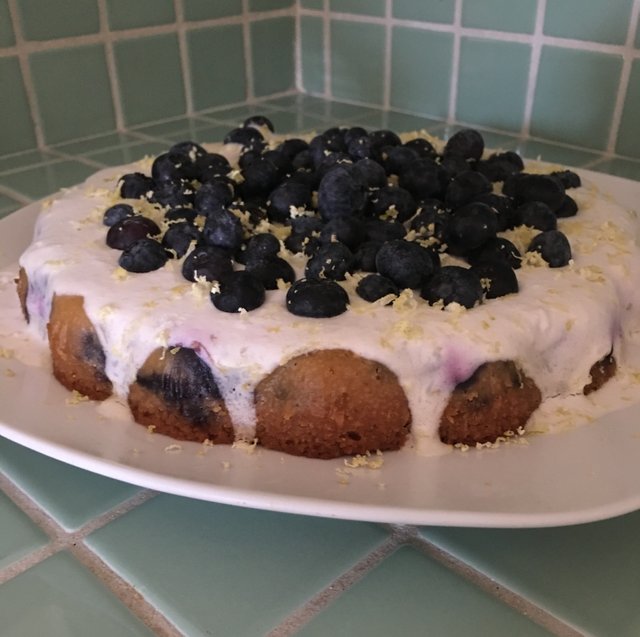 So as this special birthday person is hanging at the house I'm trying to make, bake and create this cake without too much commotion. All the while keeping it a semi-surprise because it is supposed to be a present.
It's about 9:00am on a Friday morning and once the cake is made we plan to head towards the beach on our bicycles fully equipped with games and snacks like dominoes, smash ball, frisbee, water and delicious grapes from the farmers market. That means I have to hold him off for a good hour and a half.
First, I quietly begin zesting my lemons with my multi functioning grater. I think the lemon zest was so refreshing and beautiful that I made quite a bit more than I needed but that was okay because I added some to my morning smoothie. Super invigorating!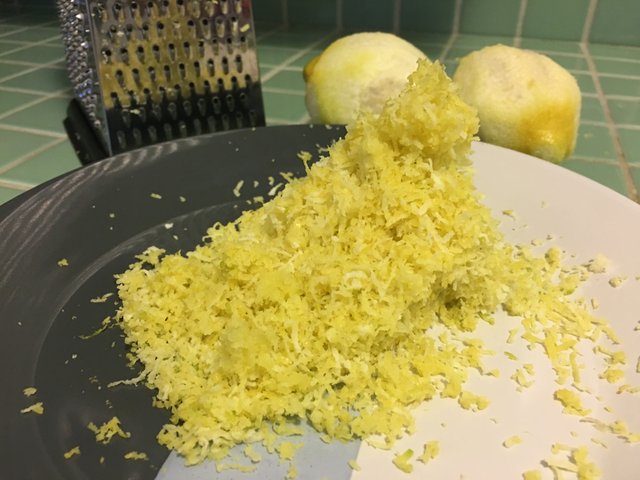 DISCLAIMER: Keep the coconut milk in the refrigerator over night so the meat separates from the water- this is imperative for the frosting to work.
Now back to what I was saying… add the coconut oil, almond milk, lemon juice, lemon zest, agave, vanilla extract, sea salt and almond meal together in a bowl. If you have a whisk then go ahead and break it out here. I do not have a whisk so got to work using a common fork.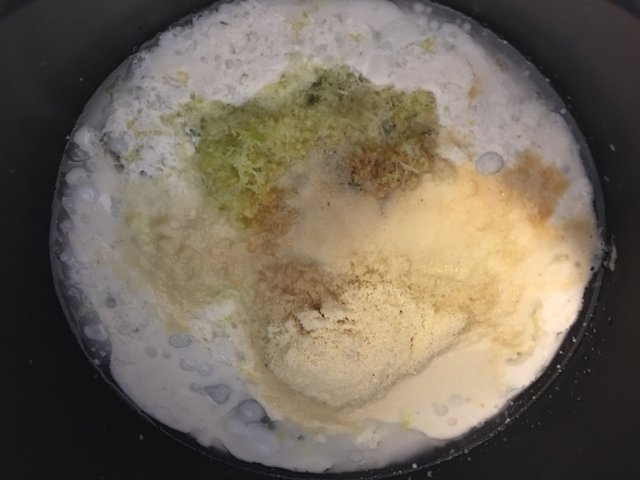 Then sift in the flour, baking powder and baking soda whisking everything together.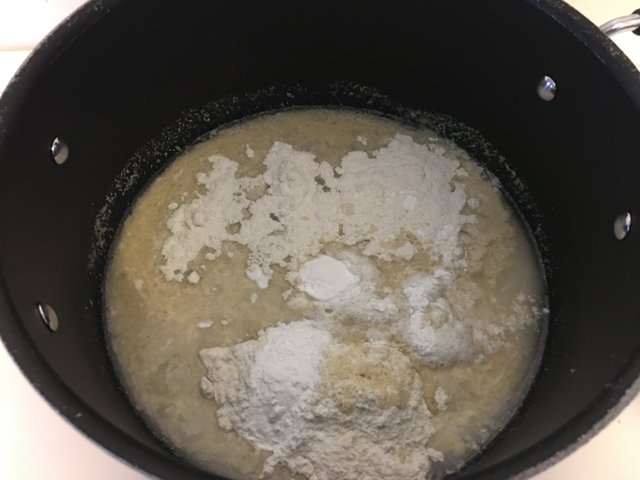 Right about now my mix looked a little curdled and I wasn't sure if I had combined everything in the right order or in the right way. I also do not have a sifter so this may have been the problem too, but I continued to forge ahead.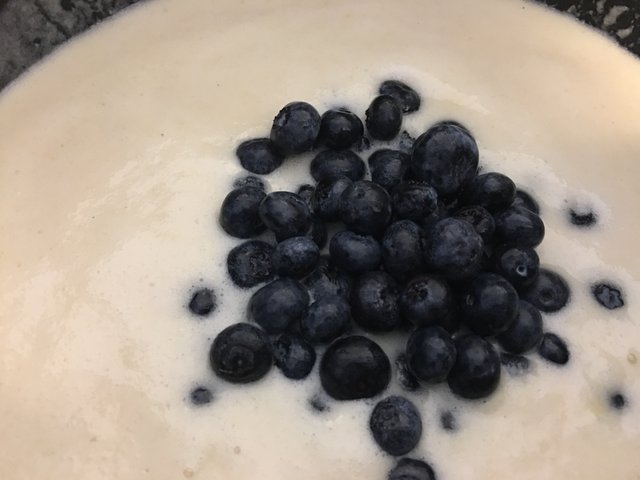 Throw in that cup of fresh blueberries (I probably added a tad more because why not) and gently fold the berries into the batter.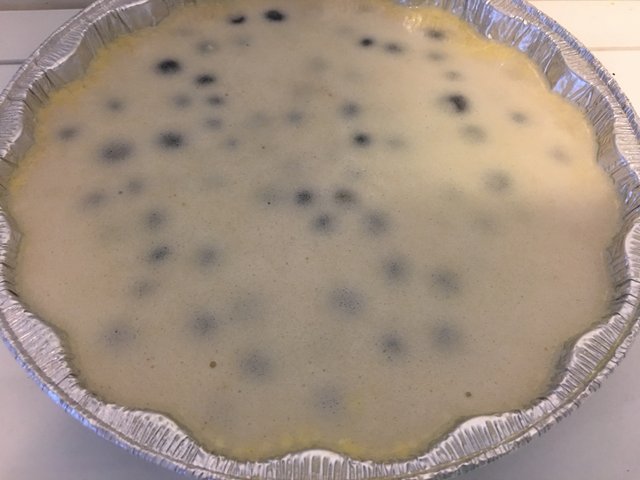 With your oven pre-heated at 350 and your cake pan nice and greased, go ahead and pour the batter into your cake dish. Set your timer for 30 minutes or until the cake is golden brown!
So, again, here I was a little concerned that the cake would rise and volcano over the pan flooding my oven. I placed the cake on the center rack of my oven with a cookie sheet underneath acting as a cake batter diaper. This later proved to be unnecessary.
With the cake safely baking I turned my attention to the mess I had made.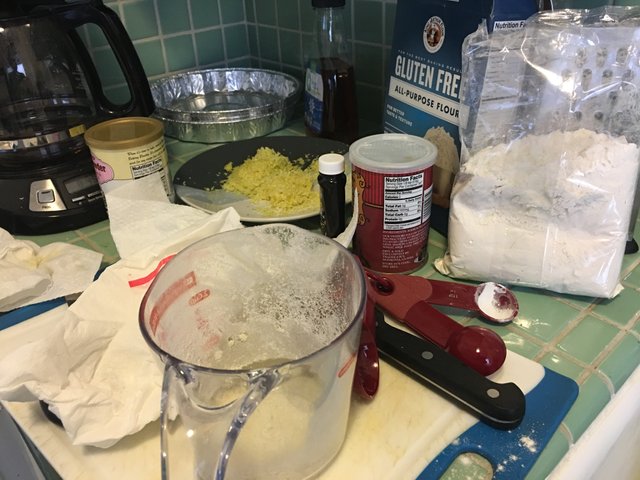 Does anyone else's kitchen look like this when they cook? Maybe I channel the Tasmanian devil while creating food… 🤷🏼‍♀️
Once cleanup is done I hear the very special birthday person say something about being hungry. This reminded me of my hunger as well so I got to work on some organic rainbow breakfast potatoes.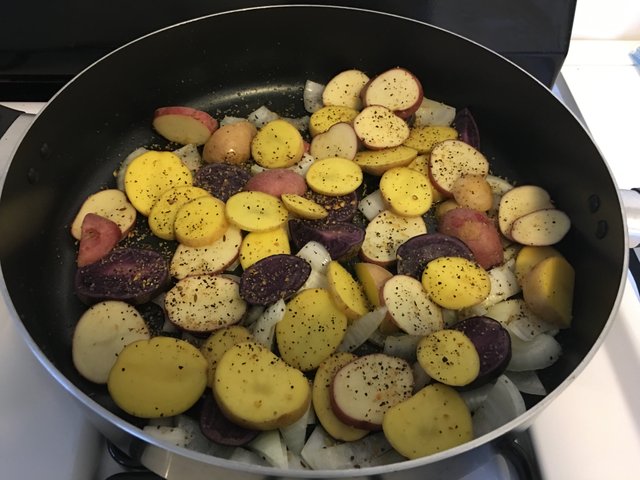 The purple ones were my fave and this feeding of the birthday person bought me some more time in the kitchen.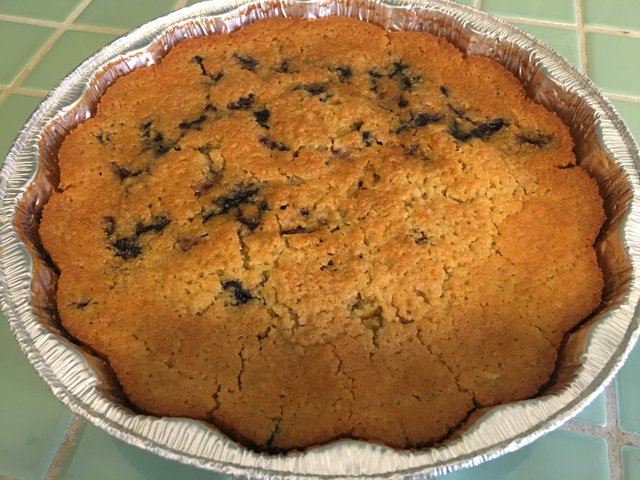 Once you check your cake with a tooth pick or with a knife like me, let it cool all the way down to room temp. This part takes a lot of self restraint and even more skill to keep your very special birthday person away from it.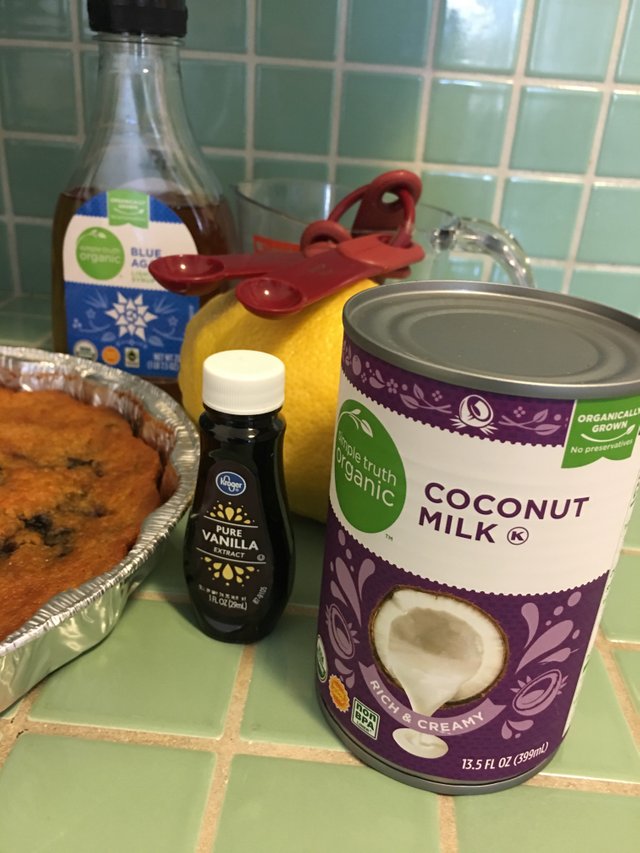 So if you have an electric mixer now is the time to bust it out. I don't have a mixer of any kind and had to get creative with my whipping (more on that in a minute).
Start by taking that can of coconut milk out of the refrigerator. Remember the Disclaimer I wrote up towards the beginning… I hope you paid attention because if you didn't then your frosting has already failed. Open the can of coconut milk upside down so the water will now be at the top (you can save this for smoothies).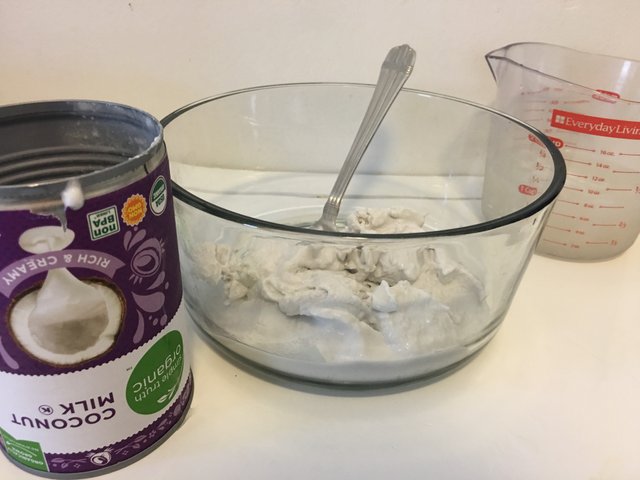 Add the vanilla and lemon to the coconut, then the agave and beat with a mixer, if you have one (should be pretty fluffy).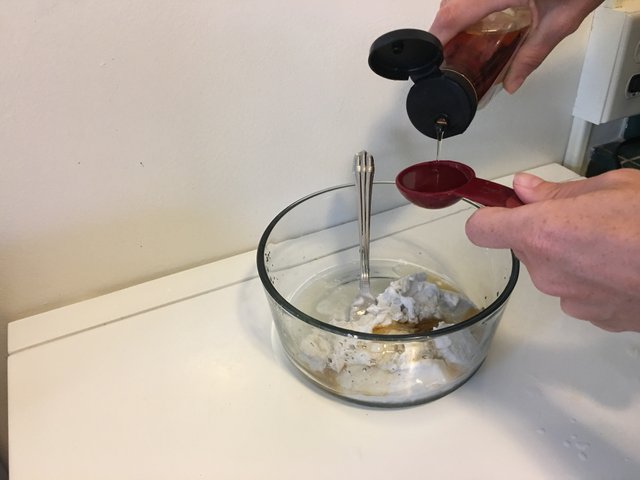 If you don't have one then grab two forks and warm your elbow up because we are about to get serious.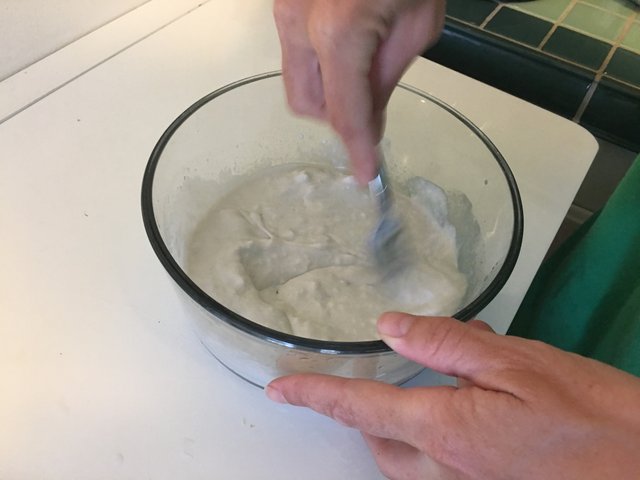 Whisk, whip, mix and beat that cream up into a beautiful fluffy frosting (or do your best with what you have and have faith in the confection gods).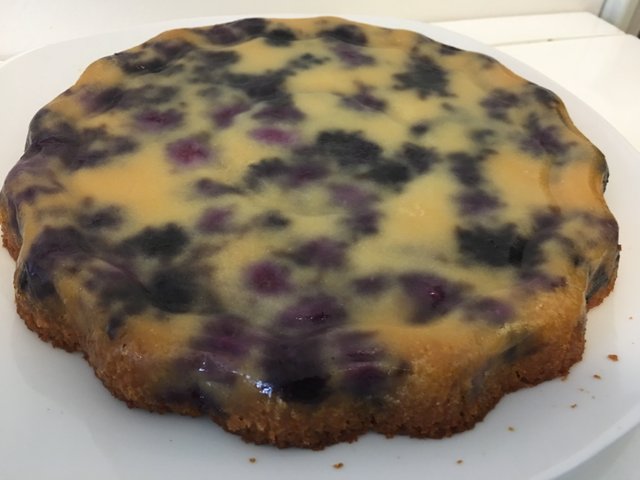 Removing the cake from its pan was such a treat. Look at all of this gorgeous marbling of the blueberries. Only do this when the cake is 100% cooled or else you risk the cake crumbling.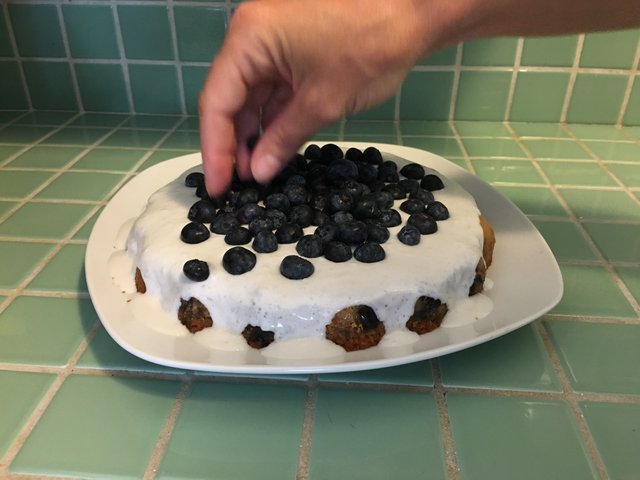 I just poured my not so fluffy frosting right on the cake and let it drip down the sides figuring it'll harden in the refrigerator while we are off enjoying a beach day.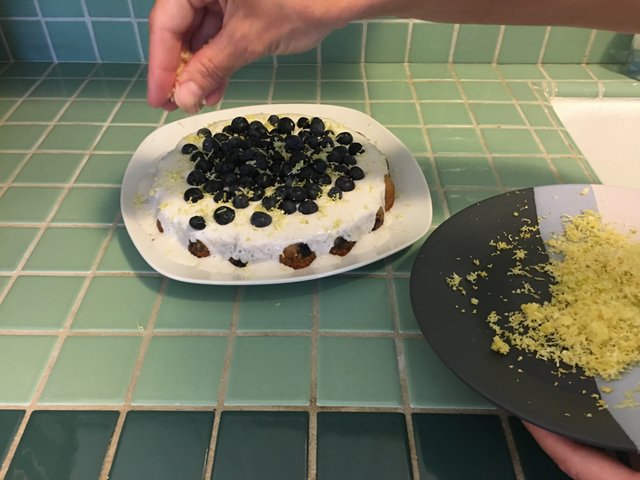 I added that set aside cup of blueberries and extra zest to finish it off. Even at this point I wasn't sure if the cake would turn out that well because the frosting was more like a liquid something, but I forged ahead staying positive.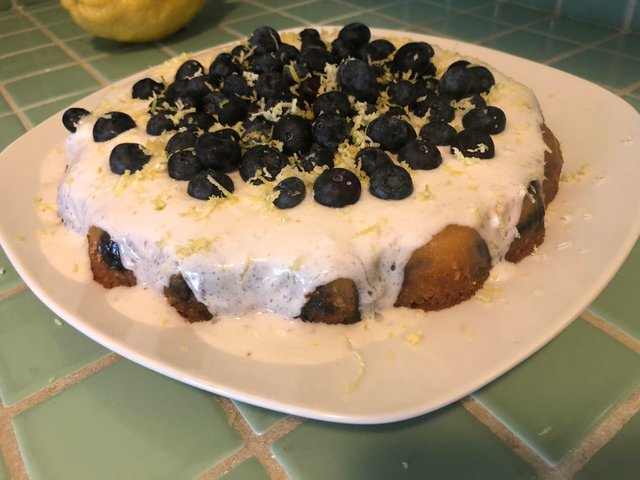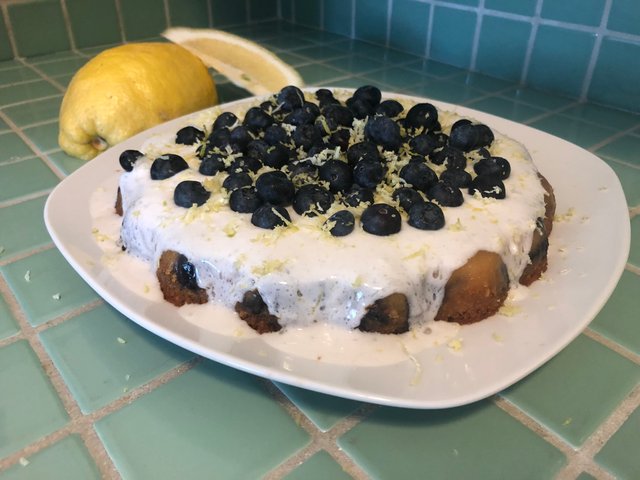 Yes the lemons were placed there for #foodfightfriday picture taking purposes 🤷🏼‍♀️
We went to the beach while the cake 'set' in the refrigerator. Playing smash ball, eating grapes and listening to the waves crashing back and forth took up our entire afternoon. Thai food was on the agenda for dinner and on our way home we stopped at our favorite ice-creamery where we picked up a few scoops of chocolate hazelnut almond chip ice cream (dairy free of course).
A few crackling pitchy notes and blown out candles later we enjoyed a piece of Lemon Blueberry Cake along side a scoop of ice cream.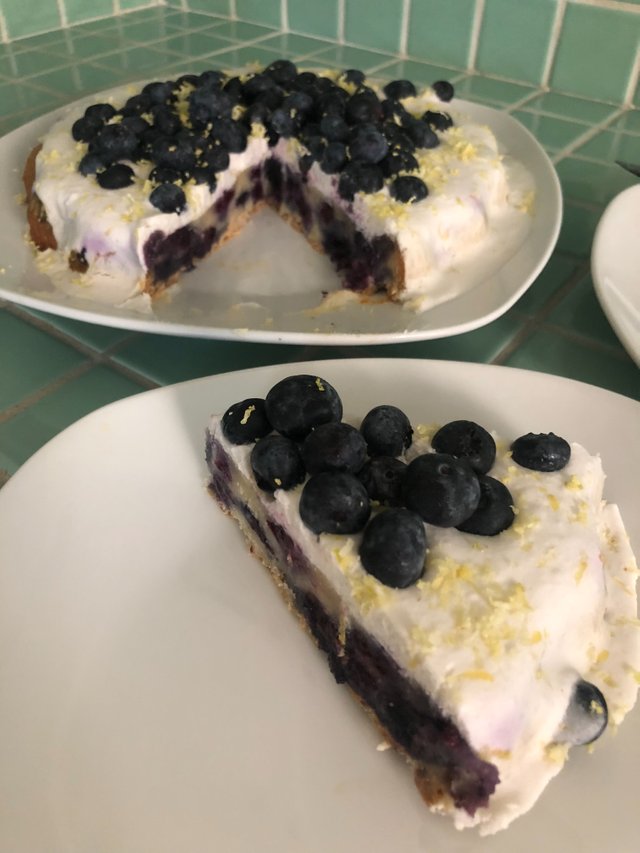 My very special birthday person pointed out that it wasn't so much a cake as it was a pie… I negotiated the "pie" into being called a tart… and I must say, he loved every bite of that "cake-tart". The best part to me is that it was gluten free, processed sugar free and dairy free, so pretty much it was basically a Buddha bowl or green smoothie or something. I didn't even get the least bit concerned when we ate some for breakfast the next day!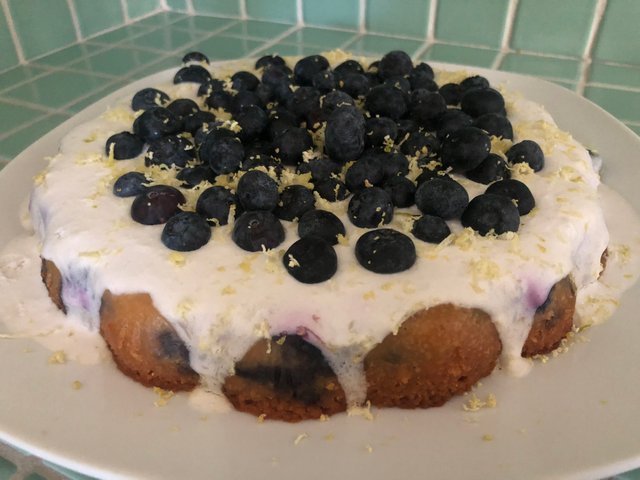 If you're still with me and want to try your hand at this cake, I say "go for it". It's much more tedious than difficult and I didn't use one single special tool to help me. I hope if you do make this then you share your results with me :)
Thank you for all of your support Food Fight Fam and I'm looking forward to today's food slingers.
Keep forging along & Pura Vida ✌️