We pulled into Golfito Bay earlier this week on Tuesday evening. We were supposed to arrive Monday afternoon but this is Costa Rica—intentions are on point and clocks are pointless.
We parked ourselves in the southern most point of Puntarenas Province for the next 30 days because we need to go to Panama by the 8th of next month. There's a strip of bureaucratic tape that expires our drivers licenses once we've extended our stay in the country beyond 90 days which means our vehicle insurance cancels. We avoid that by taking a bus to either Panama or Nicaragua once every three months. What happens is, each time we exit and re-enter the country, we receive a #new stamp on our passports at the border which extends our stay another 90 days—we chose Panama this time. We've since learned the produce and groceries cost substantially less down there compared to Costa Rica so, while we're in the area, we'll be doing our grocery shopping in Panama too.
After making the seven hour two day drive, somehow scoring a last minute Air B&B on Monday night before finally arriving in Golfito Tuesday evening, just before sunset, we were hungry. We went across the street to Banana Bay Restaurante and Resort for dinner.
Eh, what's up #steemit?! #Food fighters—happy Friday! I hope your week has been so perfect any better would be illegal like the ambient air temperature in Golfito Bay should be! Oh my goodness gracious ya'all, it's hot—welcome to @foodfightfriday!
Arroz con camarones, ensalada y aderezo italiano, agua y papas fritas: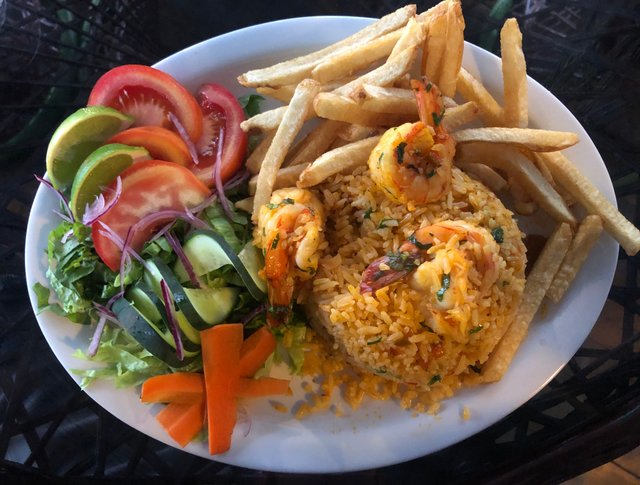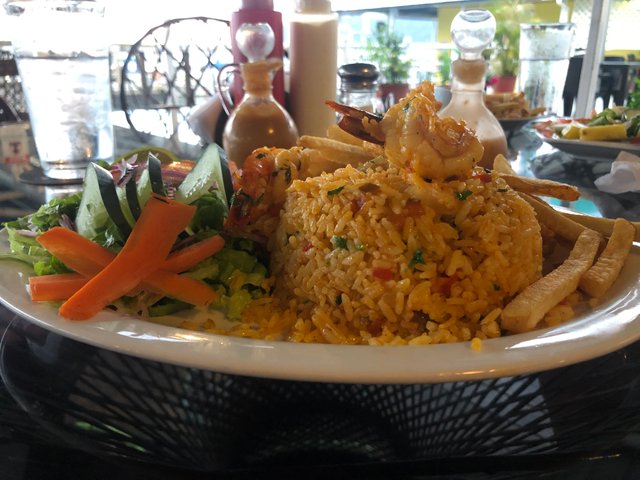 I usually order it the other way around: camarones con arroz which is shrimp with rice rather than arroz con camarones (rice with shrimp) but I didn't have that option this time—hence the plate full of rice with a couple of shrimps on it. Now about that drive: Google maps says seven hours but with road construction, 4-wheel drive, detours, sight seeing, one immigration check-point, an occasional stop to take in the views, one diesel top-off and a couple of incidentals—seven really means 36.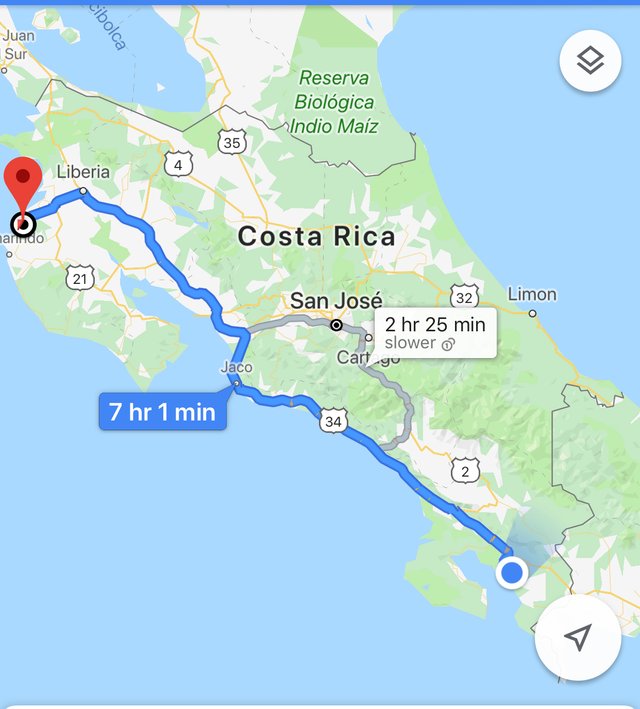 36 is the temperature down here, too, 36 Celsius which equates to 96 Fahrenheit—another United States conditioning tactic. It was between 33 C and 39 C at our previous location, it was comfortable and prime beach/pool weather, bike rides, adventurous drives, etc. The difference down here is humidity—unforsaken, inescapable humidity and a lot of it—about a thousand percent!
Pura Vida's worried about losing her tan this month because it's too miserable to go outside. I told her I wouldn't worry too much about her tan right now; it's her skin, hair, eyes, fingernails and everything else including internal organs that have the potential of evaporating should you choose to stand outside down here—I broke a sweat by opening and closing the blinds just now so I could show you our view!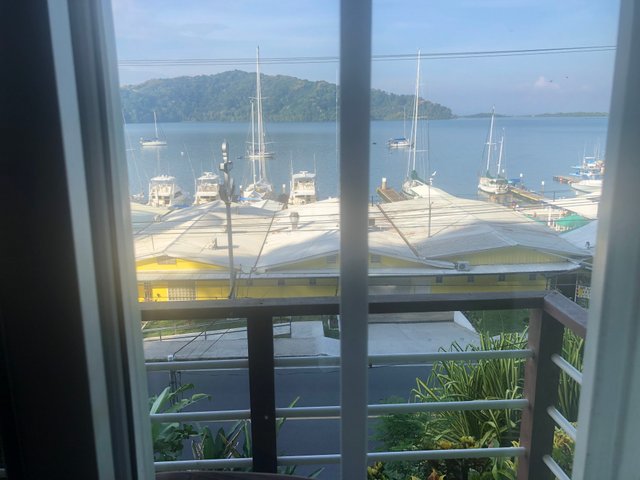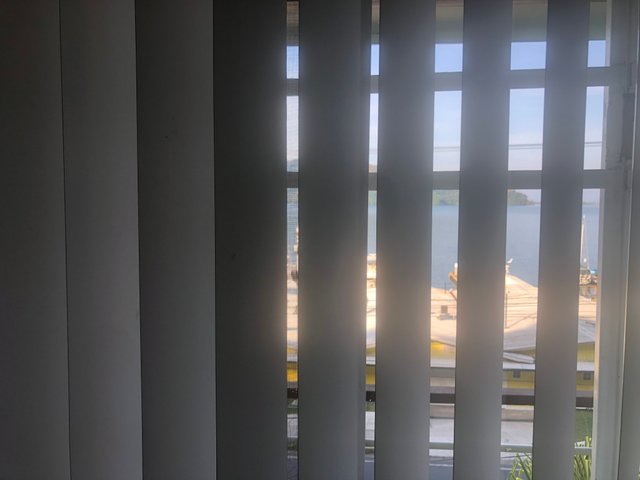 We didn't do any grocery shopping until yesterday so we improvised for dinner and a sunset on our second evening here. We went down to La Playa Restaurant Bar & Grill—an oceanfront restaurant in the marina of Golfito Bay.
Pescado y papas fritas servido en una canasta en forma de bote, tartar casero, limon mesino y un vaso de agua: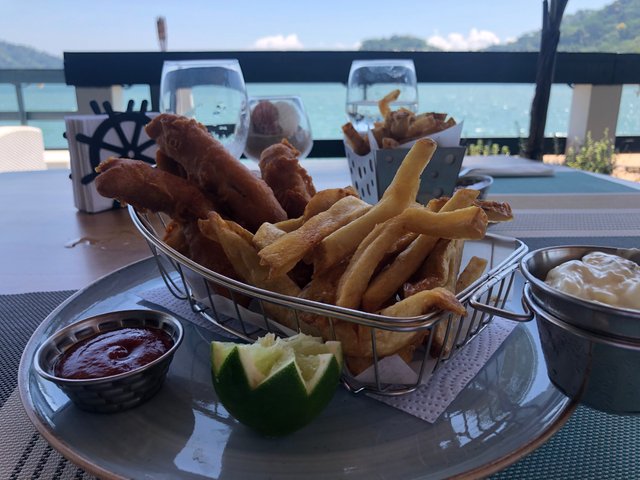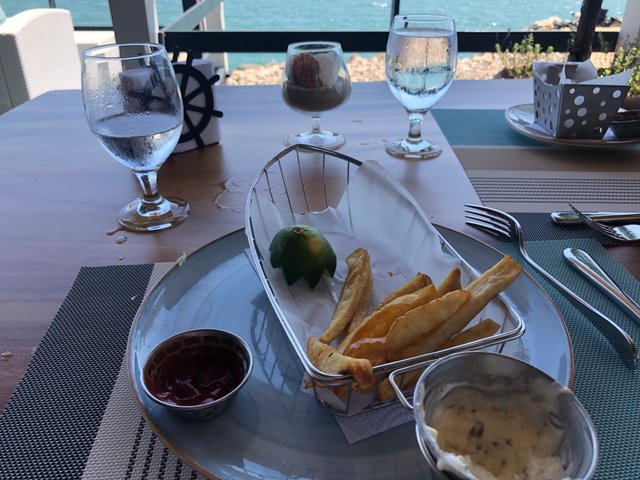 @puravidaville has began releasing the death grip on her crippling diet so she ordered falafel and hummus—it came with pita bread and a side salad. I'm the beneficiary of her salads because she doesn't like olives. She always asks to have them on the side and I make sure they get eaten.
Aceitunas negras y verdes libres en un tazón de aceite de oliva: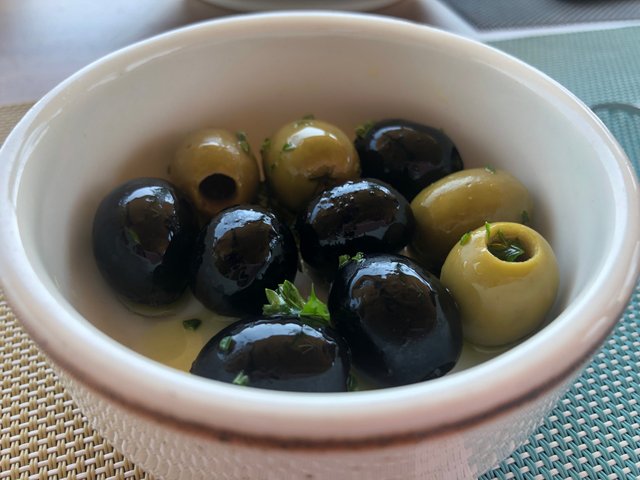 Have I mentioned how hot it is here? It's so hot down here, fires can't be extinguished. It's so hot, air conditioners began speaking, just this morning I heard ours say "this sucks!" It's so hot fish can't be caught on the surface of the water, paint never dries and birds won't fly in the daytime—yeah, it's that hot! When you can't ride a bicycle or enjoy the coastline, go for a walk, get in a decent work out or anything that exerts even the slightest fraction of energy, it's time to improvise—fruity umbrella drinks with the baddest chick in the whole got dang bay!
Batidos de frutas afrutados. ¿Ha estado traduciendo estas descripciones o es su primera vez?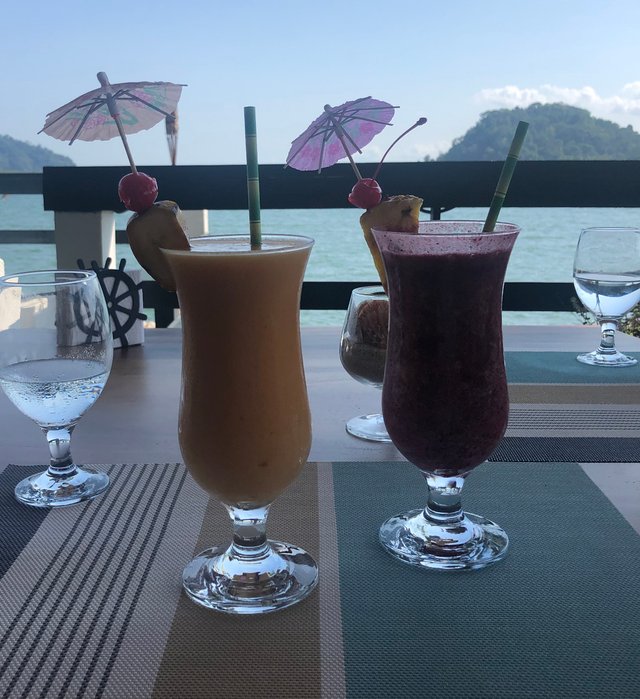 Same place next week, deal? Thanks for hanging out with me again on my favorite Friday of the week. Stop by and say hi on Discord—have a great weekend!





Click here for Monday.