Welcome to Triple F and triple digits - One Zero Zero. You clicked on my favorite Friday of the week and my 100th post at the same time. Yup - You're two-timing me right now! I'm expecting @steemitboard to stop by but they shouldn't be here until after I tell you about this falafel joint.
My wife and I are amateur falafel connoisseurs. (AFC) We've made it a point to try out a new spot whenever we're in a new city. But it doesn't matter where we go; there's a spot 20 minutes away from us
in Long Beach, California, called The Hip-Pea and they have the best falafel around. It's not just the best around, I take that back, it's substantially better compared to anywhere else: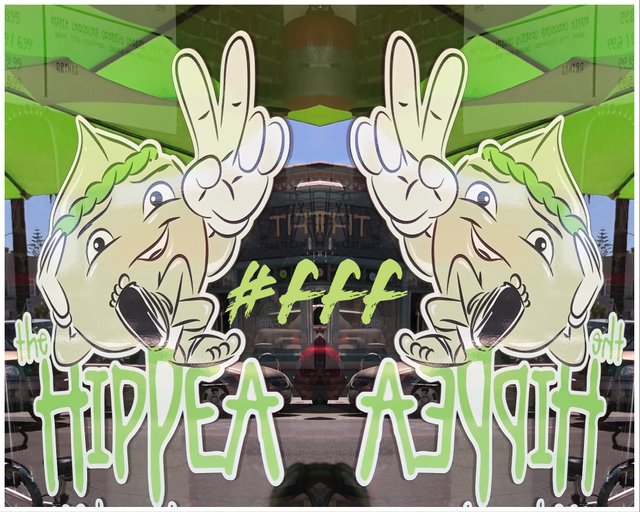 iPhone 8+ plus Photoshop
If you're in Los Angeles, California, cruise south along the coast for about a half hour and you'll run into Long Beach. If you just flew into LAX, hop in a cab and go east on US Highway 105, follow the road signs that say Queen Mary and you'll run into US Highway 710. Stay in the right lane and take the south off ramp, you're only a few exits away from Broadway now. Exit Broadway and cruise through down town Long Beach for about a mile. You can take your foot off the gas pedal now - Enjoy yourself! It's probably not a bad idea to find a place to put the car in park and hop on a bike. Look around, you're in LA County, take a look at all of the street art you're surrounded by and what was that? What did you say? Oh, the aroma? Welcome to California! Make a left on Cherry, a quick right on 4th Street and The Hip-Pea is on your immediate left but if I don't show you their store front, you'll blow right passed it: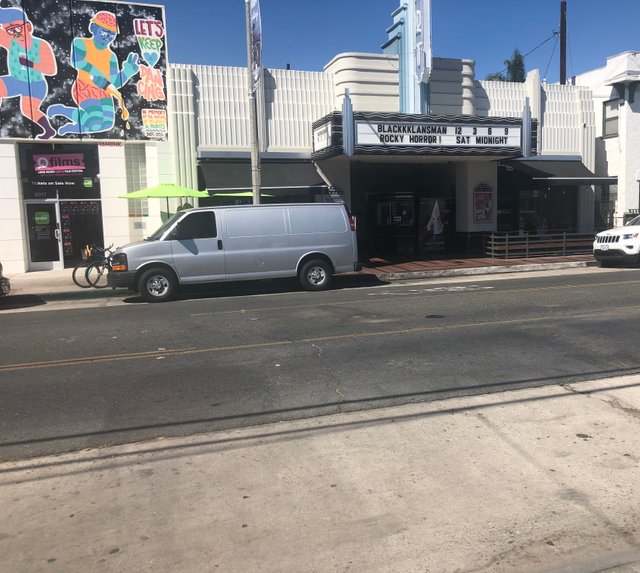 "Umm... excuse me, I was just going to snap a picture of The Hip-Pea for this Steemit.com article I'm working on, would you mind pulling your van forward real quick?" Without any hesitation "For Steemit?! Of course!" He moved his van and tada!! "Thanks van driver:"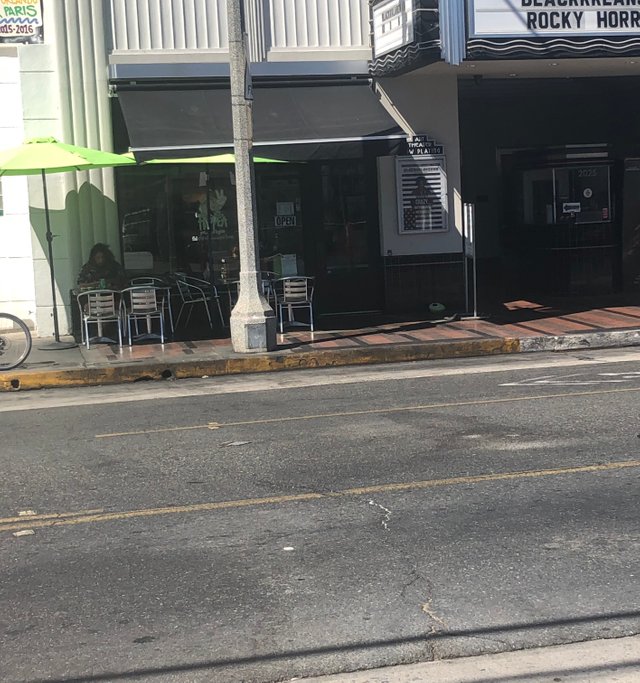 That's it! Just a couple of green umbrellas and some chairs. No neon, no lights, no booth seating and there's no seating inside the joint at all. There won't be anyone coming by your table while you're eating asking you if you need anything either, you're on your own. There's just enough room inside for a micro refrigerator full of cold water, some caramel color products and a tiny shelf with all of the sauces and napkins you'll need. Just take them outside. There's just enough room in there for two people to stand in one place and make an order, it's perfect. This is the only sign they have - A dry erase board that stands outside the door on the sidewalk daily: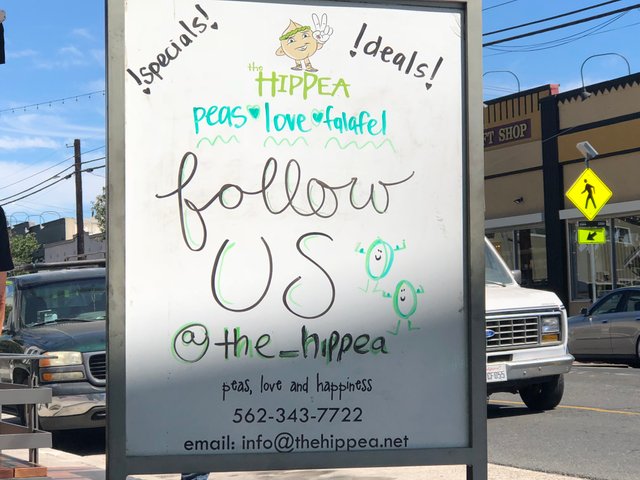 Front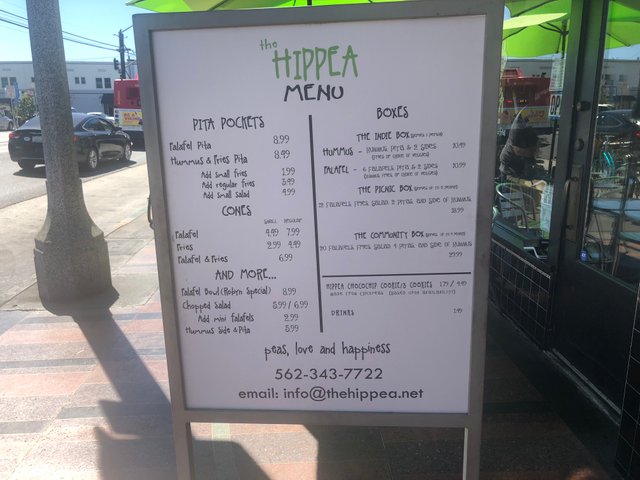 Back
As far as the menu goes - Two things: falafel pita's (not PITA, as in, Pain In The you know where) or falafel in a box with fries and hummus. Decisions... Decisions. The last couple of times we were here, we had them pack a couple of pitas, heavy on everything: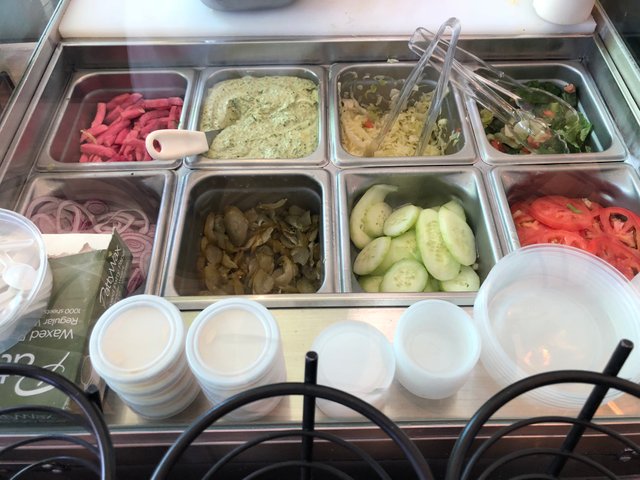 Not this time. We ordered falafel in a box with hummus and French fries, two waters and took some sauces outside. The tahini one with a touch of sriracha is how I roll, @puravidaville likes sriracha by itself: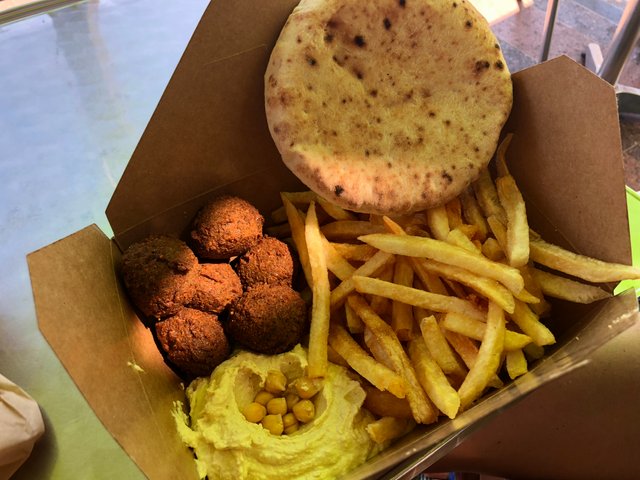 Falafel, French fries, hummus and pita bread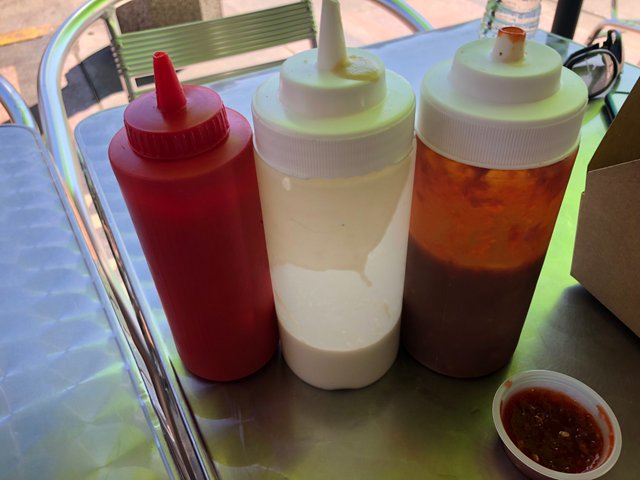 Ketchup, tahini, sriracha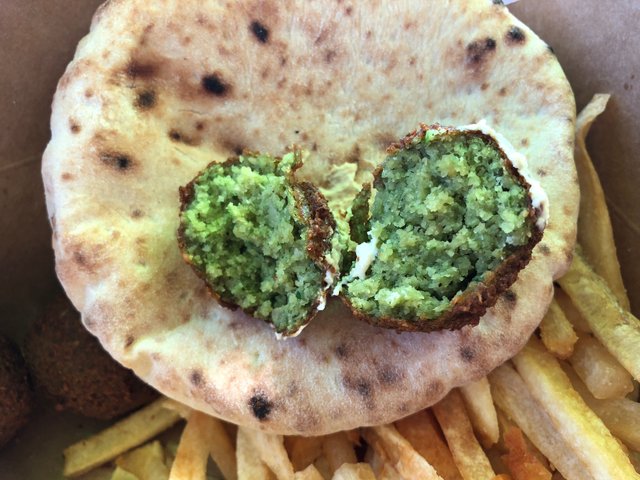 Falafel
I don't know exactly what's inside those little bite-size, deep fried, hand-rolled, perfectly crusted, green balls of deliciousness (she won't tell us!) but it's the best falafel I've had.
:No purchase necessary: There's a little logitech speaker by the door that echoes 70's and 80's music off the sidewalk as you're eating or just in the area. I've never heard a bad song played on that thing: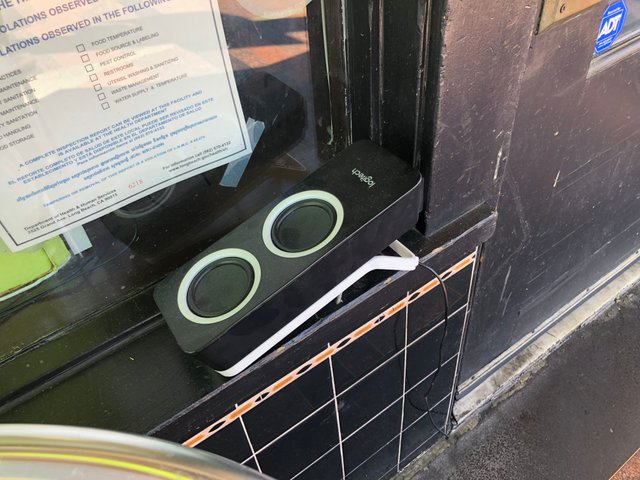 I wrote down the playlist we had the pleasure of enjoying during our lunch date. Click on any one of the following tracks for an instant feeling of food fight goodness. Happy Friday ya'all!
Burning Down The House - Talking Heads.
Whip It - Divo.
Blister In The Sun - Violent Femmes.
Money For Nothing - Dire Straits.
Same place next week, deal? You do eat, right? You do post blogs here at Steemit, right? Perfect! So do I - Follow @foodfightfriday and get down with the throw down.


Click Here if you missed @sivehead this week when he put the UP in Europe and one-UPped all of us by loading UP all four #fff winners with a share of #steembasicincome. Smooth moves sive.. or head.. or whatever the heck your mankini wearin, wanna-be comedian, blind as bat name is: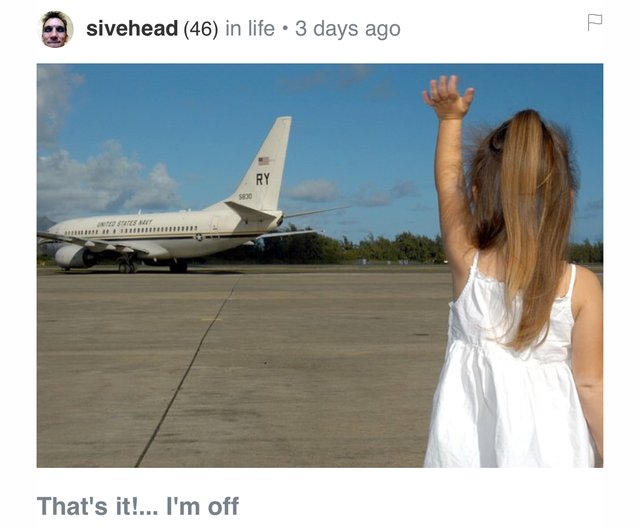 Click Here if we missed each other this week: