The Steemit-Chicken-Peppermint Connection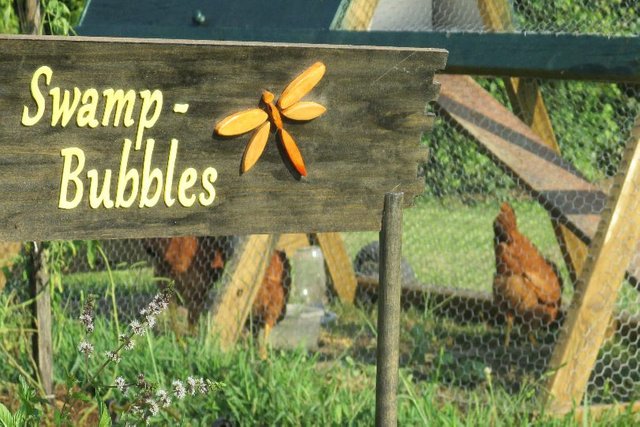 Okay...
So, yes, we live in an area known as Brown Marsh Swamp, and no, you are not likely to hear banjo's dueling. You are, however, likely to see plenty of whitetail deer, possums, raccoons, foxes, rabbits and wild turkeys. You will also see sign of coyote, black bear, bobcat, and cougar. There are plenty of snakes and gators, too. Saw a Bald Eagle flying around just the other day. After @erelas retired and we moved back home, this city girl got to learn what it's like to really live in a rural farmland area. Not just that it's beautiful out here and that you can see so many more stars at night than in the city, but that it pays dearly to remember, and be aware of, not just what you know is in your yard, but what could be in your yard. Especially if you have things that you like in your yard that are attractive to things that you don't like in your yard.

So here we are. I've learned that deer are lovingly referred to as supper on the hoof. Beavers stink. Spiders are EVERYWHERE. Bear burgers are awesome. Copperheads can jump roughly three times their body length. Wild turkeys are not that afraid of people (a trio of them actually let me get within three yards of them in full view to take a few pictures last fall). Gators think small dogs make great snacks (shudder). And though they may attract predators to your yard (no, not the kind with the tell-tale shimmer), chickens are truly some enjoyable, if odd, birds.

One of our family projects is the growing of peppermint, primarily for the distillation of the essential oil both for sale and in our all-natural soap-making. We like that our soaps aren't just made by hand, but that we only use natural ingredients. To that end, we have begun the process of tilling rows and planting the herbs and flowers we like in our soaps. Enter the grand thought process behind getting chickens.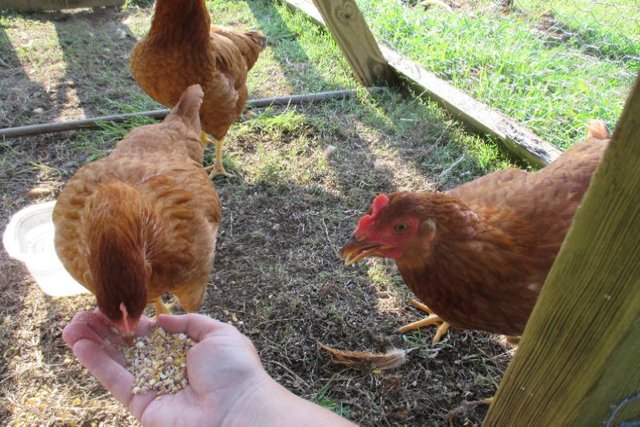 Chickens are marvelously versatile little critters. We eat them and their eggs, use their feathers, they poop wonderful fertilizer, and if you know how to do it, their bones can tell the future! Another thing they do is EAT! They love to eat grass, weeds, worms and all kinds of bugs – and, as many have had the unfortunate experience, ornamental flowers and plants are very much on the menu! (Now there's a reason to learn how to read dem bones!)
Not all plants appeal to them, though, and that's what we've been hoping for! We are only three people, one of whom is still in high school, and things grow fast here in the South, which is why we are hoping that our cluckers are not interested in eating the mint. Not all chickens will as it has such a strong scent and taste. Mint is a very aggressive plant that spreads like mad and will eventually choke out grasses and weeds, but since we need to be able to keep it controlled and weed-free to help keep the harvest pure and free of non-mint elements, we've been introducing our little trio to the mint field to eat away the bugs, grass and weeds. It's a big job to keep on top of, so if these girls can be our ace in the hole, YAY! We've got a lot of ground to cover, so yeah, these little ladies will be getting new accomplices too!
And so we come full circle to being aware of what visitors are in the yard – it's not just people who like to eat chickens. Our goal for a secure field is to eventually have it fenced in and over (hawks and eagles will swoop down and make off with a to-go order of nuggets in a heartbeat) which can be a significant investment.
So, LET'S GO STEEMIT!!!