What can the child in the position of victim
Hello everyone! In October, @taliakerch wrote about the terrible event, that happened in the city of Kerch - about terrorist attack. I don't know what really happened in Kerch. I am not an expert in shooting and explosions, so I can not refute the official version. And whether it is necessary? Fact: an 18-year-old boy killed his peers.
I haven't seen the results of this guy's psychiatric evaluation. Therefore, I will not make diagnoses either.
I only want to talk about one possible reason. Very possible. As soon as this terrible news reached us, my friend's daughter said: "we have such a boy in our class too." What is it?! A boy being bullied by his classmates. Which they mock and laugh at. And the daughter of a friend said, "what if he can do that, too?".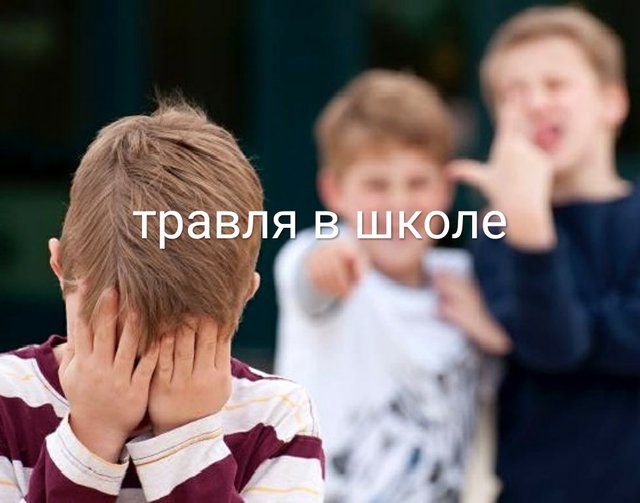 That's what I'm most afraid of right now. Not that they would ban Internet resources, that promote something, that makes children murderers. Not that near each school now there will be a regiment of police officers. Not that they'll stop the arms trade. And the fact, that boys and girls, who are bullied in school, will want to stop bullying in the same way. And the Internet with guns had nothing to do with it. In the mid-80s there was a case, when a boy with a gun came to school. He came to kill a classmate, who was mocking him. And killed. Back then, there was no Internet, no bomb-making manuals, no Columbine communities. Was just a boy, who bullied his classmate and who was unable to stop this harassment otherwise.
After this incident, schools in the classroom teachers conduct interviews with children, they were asked what, according to you guys, the reason for such atrocities. And they answered in chorus:"Persecution". They have no doubt. The question of who in the class is the person being bullied. Each class has at least one such student. And even worse from the fact, that the guys started to talk about the fact, that these very victims of persecution "themselves to blame". That's not how they behave. Can't communicate. Not respect the others (as it is necessary to show respect not say, do not know).This is a long and difficult conversation. None of the children did not come to mind to ask for help from the class teacher or school psychologist. Because: "They still do not have any business", "only it will be worse"," She already knows everything", "What will they do?»
None of the students is not ready to talk with classmates to express their position: it is impossible, it is mean. Because then you'll be the victim. One girl said, that a a victim in their class was " blackmailing everyone with suicide." On a question as they will live, if the threat is carried out, in shock I became silent. Then she said: "We didn't think about it." There were 3 people, who support the victim to the best of their ability. Because they were in such a situation. And climbed out, too, themselves. None helped parents: one decided not to appeal, two of the parents said, "mind yourself." Thank God they had the strength.
Conclusion: children are not ready to go to adults for help. Don't see the point. Not believe. This is the case when, as a result of the loss of confidence in those who are stronger and smarter, the weak and immature is trying to rely on the weak and immature. They are still small, despite their 13-14 years. They don't know there's always a way out.
I appeal to those, who have children of school age. Talk to children. Ask, if they have such a person in their class. With a high degree of probability, your child communicates with those, who baits. Because they are about 30 times more. Ask your child, what's going on. What position does he take? What he can do. How to help the victim. You don't have to be friends. Do not go by the hand and fight off the offenders together. You can just walk up and say, "I'm on your side. I sympathize with you and am ready to help." You can gather around a few classmates, who understand. One day you can stand up and say loudly: "you behave like sadists, because only sadists feel good when others feel bad." Find a way to talk to the victim's parents. They probably just don't know. Or they don't know, how to act. Or they think it's not serious. Or are confident that their child can not touch a priori.
Try to initiate a parent-teacher meeting. Insistently. Because it is better to prevent the situation. Invite a school psychologist, a specialist in children's conflictology, anyone, who can reach out to parents, who, like their children, are sure that the victim"is to blame". About how to behave parents of the victim, written a lot of useful. Basically, these are the rules of competent warfare. Sometimes it is really necessary to connect the heavy artillery.
Thanks for reading!
30% of earnings from this post (after curation) will be transferred to the community familyprotection
Link:
https://vk.com/feed?section=likes&z=photo148335829_456239390%2Fwall4378698_2392