Article written by @sharoonyasir
According to the findings of the National Center for Missing and Exploited Children, a whopping 800,000 children are reported as missing every year in the U.S. This is around 2,000 kids per day. 
Now these statistics just correspond to the missing children who have been reported to the authorities. There are many more that go missing but are never reported to the police or any investigative company. 

Imagine designed by @inthenow
These statistics are very upsetting. While it is upsetting to come across this fact, we cannot just feel dismayed by it and not do anything. What is more important than feeling frustrated by this huge number is the need to step up and play some part in finding them. Yes, even if we aren't private investigators or aren't in the authoritative position to actually find missing children, we can do a lot still. However, many of us need a push from someone to remind us of our duties towards the society so we can do whatever good we can to make this world a better and safer place to live in.
This is precisely why @olaat was created. It is an initiative to help find as many, hopefully all, missing children as possible, starting in the U.S. by spreading awareness among the masses about the need to stand up for these children, talk about the issue and play any part you can in locating these children and saving them from the many harms that befell them.
OLAAT stands for 'One Life At A Time' and is the brainchild of @inthenow with article and post support from @michellecarter.
OLAAT  has shared information about private investigators (PIs) spread across the country. It has collected information about the many private investigators working in different parts of the country and has systematically presented the data in different posts on its account. This way, if you want to find a PI in a particular region of the country, you can easily find him/ her through visiting the @olaat account and get connected to him/ her individually the information shared.
Tom (@inthenow) does regular posts, now in video format of missing children in various regions, to raise awareness in each region on the OLAAT account, where they can be resteemed by the community as many times as possible to give maximum exposure.
All the money generated from the posts goes into building up the initiative and expanding it so it can grow bigger and spread more awareness about this important issue. There are some new exciting developments coming up and soon  to be announced!
The children that go missing each day are from amongst us. They are a part of us. And since they are a part of us, we owe it to them to do whatever is possible to help find and rescue them.
@olaat is one amazing initiative that is trying to do all in its power to bring missing children back to their parents and home. While it is doing some really good work, it needs your support.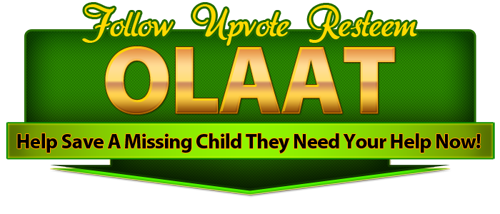 Imagine designed by @inthenow
Please Re-steem OLAAT's posts, donate to the cause, Upvote the posts and spread the word because everything you do for @olaat, you are actually doing it for the many children who yearn to hug their mommies and daddies and become happy again.
Many thanks to @sharoonyasir for writing this article to help OLAAT and create more awareness.