It's been super hectic days lately but I am enjoying it and loving it because this it is with my family. My Sister and her family has come down to Muscat to spend 2 weeks with me. It's just been 2 days that they have arrived and since they are here for a short period we are trying to make the most of it so that they can see as much as possible in this time and also that the kids can have some good time for their holidays.
Once a year we make it a point that the whole family meets up, that is my Sister, her Husband and 2 Children and My family and our Mom. My Mom and Son had arrived much before and now it's a house full. Thankfully my Sister is as particular as me when it comes to having things in place at home, so I am little relaxed on that front as there is not that mess around when you have guest at home.
My Happy Small Family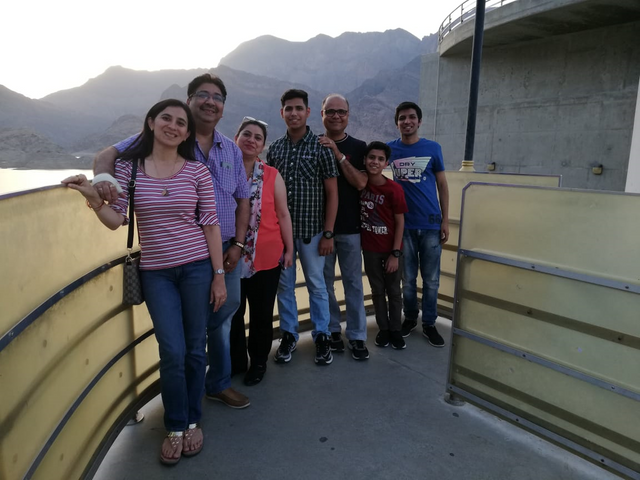 Me and my Sister, we have a love, hate relationship...hehehe. She is elder to me and like most of the elder sisters she also believes that I know nothing. Sometimes I just feel it is worthless to argue with her, as I know she will keep going on and on and never accept that she can be wrong in her thoughts as well, So I just say OK and move on. We are both poles apart when it comes to our personalities. It is said that the biggest critics in our life are our family members and that goes very apt with me in my family. My sister does not believe in my work, that is the Crystal and the Alternative Healing therapies that I work with. She believes all this is fake. Though many times her beliefs has been challenged but the ego is so high with her that she does not want to surrender and accept it. So now I have left it to nature that when the right time will come she will get her lessons.
Anyways now is the time for fun and enjoyment with the family. It's just 10 more days and then everyone will be gone. Though now I am looking forward to my quiet time. Since the last 5 months it's been a guest rally for me and I am feeling a little exhausted now attending everyone. More than anything I am missing my quiet time and my regular practices which is going all haywire. Also I have enrolled for some online healing programs which I am waiting to start. So once I get free by the end of this month my complete focus is just going to be on my work and the new learning's that I want to do. Till then the next few days is all just fun and play, travelling and exploring.
Thank you for visiting my blog.

GIF Courtesy
@enginewitty
😍😍
My other blogs of Interest
---
---
Member of
---
| | |
| --- | --- |
| Supporting People Who Help Make The World A Better Place @ecoTrain | |
---