Fake News -- Alt-Media is Working!
Out of nowhere everyone is talking about Fake News! Why would anyone spend their own time and money to make us aware of Fake News? Do they really care about our well-being enough to give up resources to do this?
Let's take a quick look at our corporate media, much of the same media that is running the Fake News campaign. Clearly, they are being told what to say. If they are warning of Fake News, that must make this the real news right?
Media is Scripted ( the so called "Real News" )
This is serious stuff
Fake News
One Fake News story tactic is as follows: a reporter admits they make a lot of money selling fake news as real facts, that news story is probably very truthful and verifiable. A Fake News story will probably be well done, well funded, professional, and likely truthful, verifiable, and believable. However, in light of the big picture this is very deceitful. It conditions us to generalize this uncertainty and doubt and apply it to our other news sources. It works really well unless the victims know how they are being tricked; they will be tricked.
Fear Uncertainty and Doubt (FUD)
The essence of the Fake News campaign is FUD (fear uncertainty doubt). Alt-Media is often the one to blow the whistle on high-profit illegal or unethical corporate and government agendas. Unlike corporate media, Alt-Media reporters are less likely to have their jobs threatened by topics that are considered carrier-suicide. It makes since, Alt-Media is more independent these individuals are working directly for their audience. Their audience decides if they will be successful and there is little outside of that to silence them. So, this FUD campaign should target the Alt-Media.
Tail tail signs
This well-funded publicity stunt was easy to spot even if you already unplugged from the cable. This is easy to spot because everyone just started talking about it at the same time without any unusual event taking place. Sometimes these campaigns come out after an event takes place (it may have been staged) but the event does not hold up scientifically (Zika virus for example). It can be really easy to see these things if you're looking for them. If it takes a lot of money and propaganda to spread the message then it is highly suspect.. It becomes really clear what types of topics are subject to the Fake News attacks too. The same things come up over and over just with some re-branding.
Solutions
Be brave and explore alt-media news sources. Learn how to filter the news yourself. This still is essential to our survival, our environment, and our health. In my experience this is the best way to get real news. These small news sources don't have millions of dollars to flood us with the same story over and over (thankfully!). But we do need to learn to: pick up on things, verify them, and decide if it should or not should not be viral. The process gets easier as one develops trusted news sources. This can't be done for us though, we must do this ourselfs and the highest point of decentralization (everyone participates).
Always give this special attention: Loose the Fear. That should be the priority, being free from unreasonable fear empowers us to do what needs to be done.
Share what you have learned in a positive light. It is really positive to clean up and gain freedom even if the message contains an unfortunate event. If you hear people talking about Fake News they might change their mind if approached in the right way. Always treat someone who was tricked with lots of respect, we all get tricked and your basically treating them like you will treat yourself.
And Beyond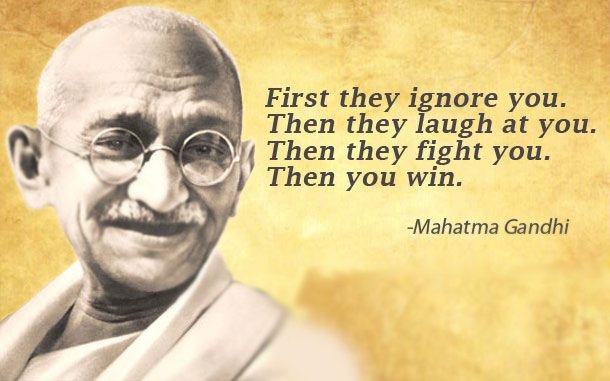 I use patients and remain professional when I see someone inadvertently spreading the propaganda side of the campaign but I always say something. Just warning someone about their cable TV is not enough. It basically takes a village. So, I'm going to offer suggestions and continue to watch out for those that may have gotten side-tracked and I'm going to keep trying to reach them. If nothing else I will learn something from them doing this. I do this out of necessity though, it really does fall on me to do this.
Realize it is often a life-time of programming one must overcome so we must be patient but also be persistent. People will lash out, they need to go through stages of grief in order to really get it. The world may not be what they thought it was. Priorities have to change, assumptions are destroyed and new ones must develop. This can take 6 months for a hard-worker or this can take 10 years or more; we can't know. Many times we move on and pick new friends giving the old friends time and space and free up our attention to someone that is showing progress.
---
A healthy mind is a mind that accepts all evidence regardless of how unpleasant it may be.