Interesting Facts Of Dubai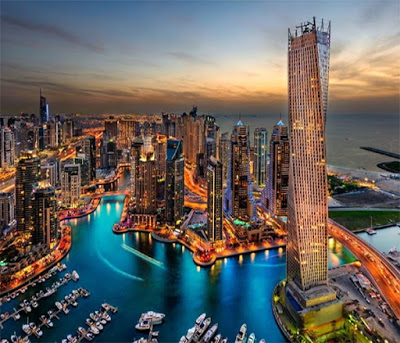 Amazing Facts of Dubai:
There are many countries in the world where strange laws have been made. People have to follow them, otherwise they are partners of punishment. One such country is the United Arab Emirates (UAE). UAE is made up of seven emirates, and all of them have different laws. Its a major emirate Dubai. Dubai attracts people due to its luxurious buildings, nightlife. Today, in this article, we are telling you Dubai's 7 strange and poor Facts.
There are address systems in all the cities around the world, through which people reach some place easily, but this is not the case in Dubai. In this case if you have to go to an address, then there should be information about nearby houses or hotels or any other place.
Can not make a relationship before marriage
It is illegal to create a relationship between women and men before marriage in Dubai. If you are caught doing this, then besides being arrested, you can also be deported. However, the government has nothing to do with what is happening behind closed doors. But before marriage, openly holding hands and walking can be in jail even after being caught.
Crime graph zero in Dubai
Crime incidents are increasing day by day in most cities around the world, but this is not so in Dubai. You will be surprised to know, but let's say the number of crimes in Dubai is zero percent. The reason for this is the stringent laws there. Due to not being a crime, Dubai is considered to be the world's safest city.
Most Indians in Dubai
17% of the total population of Dubai is of the population of Dubai and 50% of the population belongs to Indians. The remaining 33 percent of the population belong to people from different countries around the world.
Do not think income tax
People in India, including India, have to pay an income tax, but this is not the case in Dubai. The people here do not need to pay an income tax.
20% of world cranes in Dubai
You would be surprised to know but 20 percent of the world's cranes are in Dubai only, which have been planted in the construction work of buildings built there.
World's longest gold chain in Dubai
The world's longest gold chain is in Dubai, which has a length of 4.2 kilometers. It weighs 22 kg and it is bought by 9600 people
####### Gold coins coming out of ATM
There are also ATMs in Dubai, out of which the gold bars (gold biscuits) and gold coins get out. There is also a thickness of gold bed on this machine and here customers get 24 carat Gold Coin and Gold Biscuit options.
It is also necessary to drink alcohol at home.
License is required to keep alcohol in your home in Dubai. No liquor is allowed in your home without license.
Thanks for reading.
Please follow me @magicbot