In recent weeks the kings of social media have all come out with very damaging FUD in an effort to kill crypto.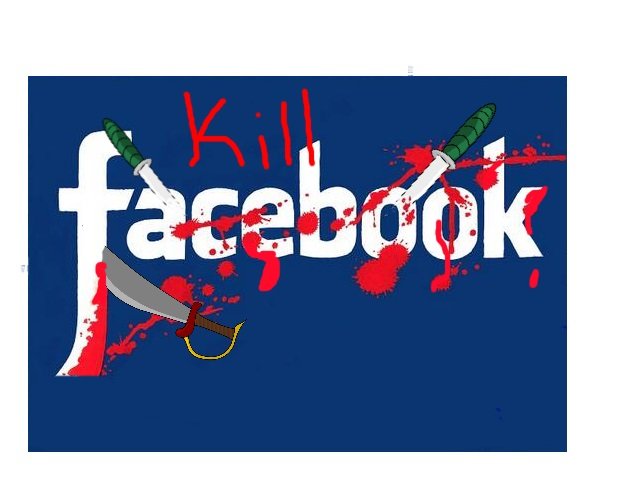 With the announcement by Facebook to band all Cryptocurrency and ICO advertising (https://www.digitaltrends.com/computing/twitter-to-ban-cryptocurrency-ads-joining-facebook-and-google/) Google soon followed suit and now Twitter is hinting they may do the same. Whats going on here people, to me its clear that they are threaten by blockchain and the cryptocurrency movement in general. They are fully aware that this could be the catalyst or the beginning of the end for them. They know that blockchain social media startups are gaining momentum, just like here on Steemit. Here is a link to other Blockchain social media sites that are up and coming and will someday replace the Kings of the hill. https://www.cryptomorrow.com/2017/12/09/blockchain-based-social-media/
Here is a video on Wildspark by Synereo

it looks a lot like Dtube to me.
We need to unite as a community for all of us that know that this new blockchain technology should not be allowed to be snuffed out by the social media Superpowers of today. In the book "The Four" by Scott Galloway https://books.google.ae/books?id=_eTACwAAQBAJ&printsec=frontcover&dq=the+four+scott+galloway&hl=en&sa=X&ved=0ahUKEwjFxbmU5fzZAhWDthQKHZEwCVYQ6AEIJzAA#v=onepage&q=the%20four%20scott%20galloway&f=false he explains and examines Amazon, Google, Facebook and Apple. All of these companies are in a war to get all of our personal data, that billions of people around the world give to them freely. These companies hate each other, but now are aligning together to stamp out the cryptocurrency, ICO and Blockchian threat to their world dominance.
We need to implore the leaders in the crypto world to help unite us all and speak out against this obvious effort by these social media giants to close all avenues for blockchain startups to secure funds for their projects. The claims they are making is common and the same every time. They are claiming that they are making these policy changes in order to "protect" their user base from fraud and misleading cryptocurrency projects. I don't believe them for one second that this is the main reason for the measures they are taking. I'm not sure about you all, but i have seen thousands of scams and misleading ads on Face book and Twitter over the last 10 years, but now they are so interested in protecting us all.
In today's news Facebook is said to have sold user data to a company Cambridge Analytica for the 2016 Presidential election, helping the Trump campaign to unfair advantage and winning the election. Here is the story reported by the New York times - https://www.nytimes.com/2018/03/18/us/cambridge-analytica-facebook-privacy-data.html
I believe that if we unite the crypto community as a whole, we can have the power to fight back, make our voices and concerns heard by all of the Kings of social Media. The team at Blockvisory Dubai has created a Telegram group(https://t.me/joinchat/GjX_LBLmtKHTViY_7aIT4Q) - The United Republic of Crypto in an effort to start a grassroots effort to united crypto and Blockchain communities and then reach out to our Blockchain influencers worldwide to speak out in one voice to the kings of the hill and let them know that we are on to them, and will not be stand by idle and watch them pull the plug on the ICO and crypto space.
In recent weeks Snapchat has taken a couple of BIG hits to their bottom line by allowing questionable content on their site aimed at Kylie Jenner (https://www.irishtimes.com/culture/film/did-kylie-jenner-really-cost-snapchat-1-billion-1.34113520 and Rihanna more recently (http://money.cnn.com/2018/03/16/technology/snapchat-stock-rihanna/index.html0. This show that we can fight back where it hurts, the crypto community is fast approaching 100 million people strong, we can affect the bottom line on all of these companies who are trying to kill crypto.
Our telegram group in looking to grow to 1 million strong in a short time and are inviting every one to join and voice their ideals and opinions on how we should fight back.
should we get the backing of all of the top blockchain leaders such as Roger Ver, Vitalik Buterin, Tim Draper,Max Keiser,Don Tapscott,Marc Andreessen,Gilles Babinet,Thomas Power,Jim Marous and Charlie Lee to name a few.
we can then look at policing our own industry from within and not wait around for governments to install very strict regulations that will in effect eliminate all of the smaller groups and projects that may have very good blockchain ideals and concepts to help improve the lives of everyone on the planet.
If a Tweet on Tuesday from Brian Acton CEO of WhatsApp, he is calling for and promoting #DeleteFacebook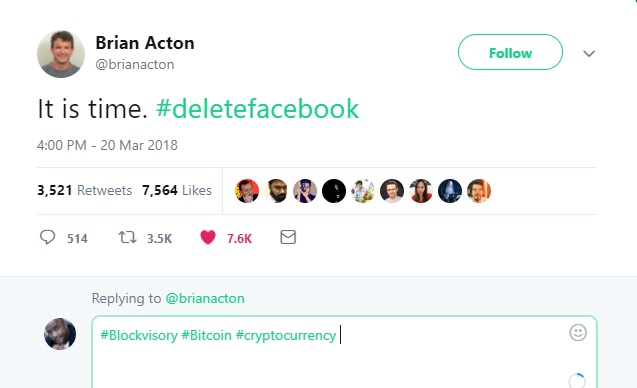 Help spread the word and let's start our fight today..
Thanks
Jonathan Lane
CEO Blockvisory Dubai
(Https://Blockvisory.com)