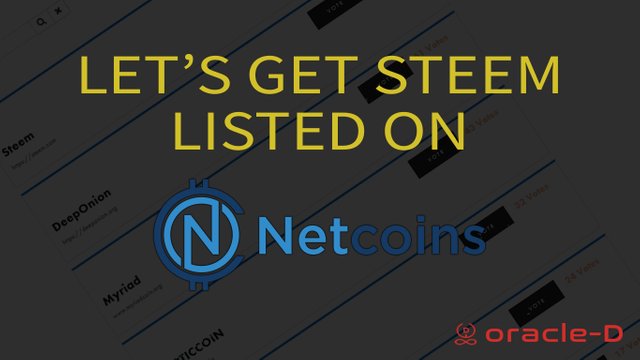 Please take 1 minute of your time to get Steem listed here.
Netcoins is running a competition to allow one altcoin to be listed for free on their platform.
We at @oracle-d support initiatives that get Steem out there in the marketplace, as this helps towards increasing the popularity of the Steem token. This is good for business, and helps us to attract new investors into the ecosystem.
For 7 days, anyone can nominate and vote for their favourite coin to be listed. Steem has already now been nominated, so all you really need to do is vote now.
---
How to vote for Steem to be listed on Netcoins
scroll down to the middle of the page where it says "Voting begins on 13 October 2018" and type Steem into the search box as shown below:


Take a screenshot before voting - this is your BEFORE screenshot

Now click vote (the first time you do this, you will need to enter and confirm your email address)

Take another screenshot showing you've voted (it should say "you can vote again in xxxx hours") this is your AFTER screenshot.
Something Like this.....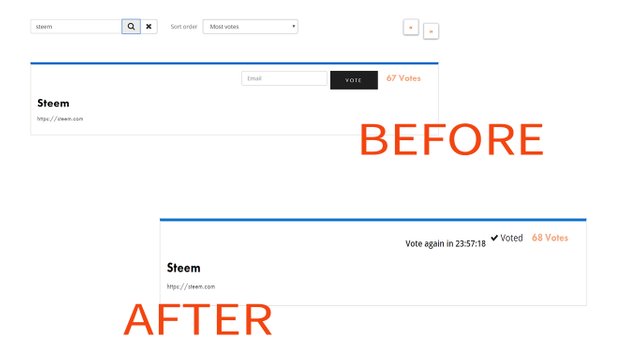 thanks to @trumpman for the proof idea and image, kindly reproduced with his permission
Now write a Steem blog showing you've voted. Paste your proof (your before and after picture) and tag it #exchange-blast and #gonetcoins
@oracle-d will support this initiative with upvotes.
Best of all, you can do this all week. Every day you can vote again!!!
This is a great way for us to show what our community can do. We have the biggest active community anywhere, and we should be able to make this happen easily. I mean, we have about 60,000 daily active users!!!
And to be able to show what we can do means that we can explain to businesses what a community of this sort can be mobilised to get involved in. This is gold dust when you're explaining the power of the Blockchain to potential clients and investors (as we at @oracle-d are every day!)
So please, take 1 minute of your time to do this, for yourself and the whole blockchain community right now!
Thanks
Love light and laughter
Anarcotech
x