Ethereum users to 'brick' ASIC miners
I just had to do a quick post about this. Bitmain had recently announced an Ethereum ASIC miner to be released later this year and today there was a development. Some of my followers may have picked up that I don't like ASICs already. I'm very much devoted to GPU mining and ASICs are constantly giving me a headache.
One twitter user (who I follow) Vlad Zamfir, has conducted the following poll: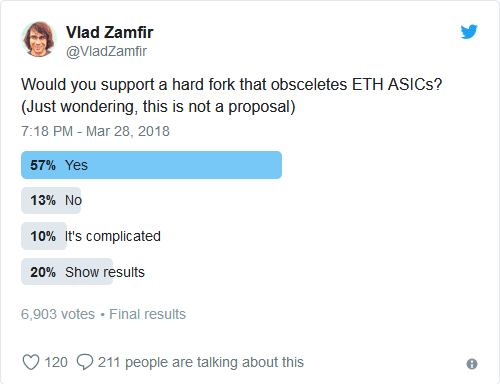 I would fully support too! Let's take down these nasty ASICs!
I hope it is enforced by the Ethereum community, just like it was by the Monero community when Bitmain announced their cryptonite miner. Monero have vowed to stay ASIC resistant and it's vital in keeping currencies decentralized.
Do what you have to do Ethereum community!
Thanks for reading. If you liked my post then please upvote, resteem and/or comment.