Twitch Funds? Ethereum Digital Assest Marketplace?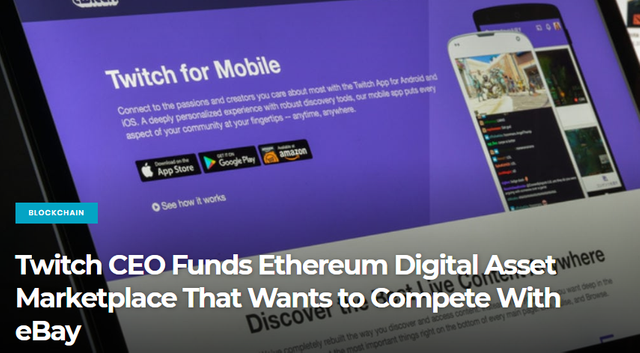 VBucks(fortnite), Gold + Items (WoW), Skins (Overwatch).
All great use case's., for digital assets. But why dont we see implementation?
We need a new business model! These companies hate the secondary market. Why would they want you to profit from selling your skins/gold to another player? When they can profit by buying them directly from the game!
This is where we need the change. New Game, Players UX at the Core. Secondary market AH.
Step in Twitch!
"During an interview with CNBC, Ethereum-based digital asset marketplace Rare Bits co-founder Ammit Mahajan, who also co-created the popular social network game FarmVille, has disclosed that the company raised $6 million in a Series A funding round led by Spark Capital, Twitch CEO Emmett Shear and founder Justin Kan."
You can read the full article here:
https://www.newsbtc.com/2018/06/25/337460/
Thanks for reading, would you like to buy , sell and own your digital assets? in the games you play.
Disclaimer : All investing is speculative. This isn't financial advice. Just one man's opinion of a complex fractal world with infinite variables, affecting the system, at exactly the same time.
Buy Alt coins on Binance
https://www.binance.com/?ref=10773605
Buy alt coin on Kucoin
https://www.kucoin.com/#/signup?r=E3JRU-
Buy Bitcoin on Coinbase
https://www.coinbase.com/join/596f38a30e3bd600a463232d
Save 10% on Ledger Nano S
https://www.ledgerwallet.com/r/2b2d!