I thought it appropriate to try posting from eSteem while attending the rather bombastically named "Blockchain Global Expo" - co-hosted with the "AI Global Expo" and the "IoT Global Expo"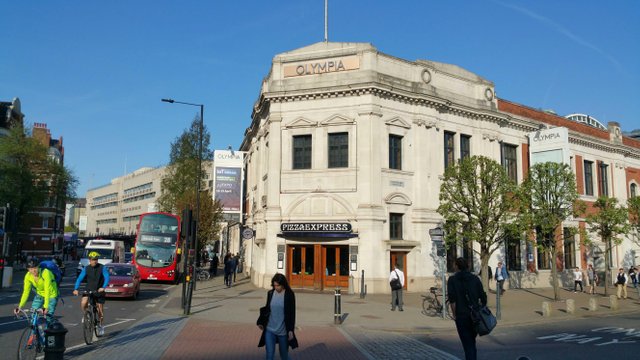 No, the expo is not hosted by Pizza Express ...
This was the first day - lots of people and my first impression is that in the real world (outside our "steam cookers " choke-full of crypto hotheads), "blockchain" is still a largely misunderstood technology and value proposition.
Stratis
Consider this - probably the "highest profile" exhibitors from the blockchain world are Stratis. Their main selling point is that on the Stratis blockchain you can develop smart contracts using C# (and other .Net languages) instead of Solidity. Does that sound revolutionary to you? It sounds like tech people addressing the gripes of ... other tech people.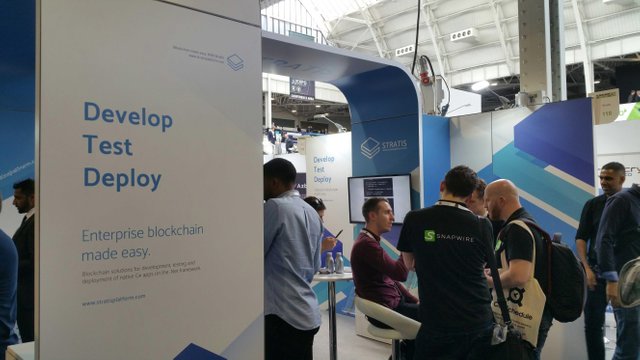 One thing that I wanted to know, given the .Net - Microsoft connection, was whether they were incorporating one of the most interesting innovation in blockchain coming from MS, the "cryptlets". Turns out the guy from Stratis had not heard about them.
The Chasm and the Bull's eye
An interesting presentation was given by a guy called Alex Mashinsky about yet-another-lending platform on blockchain, called Celsius. He admitted Celsius was not alone and presented a slide comparing it to better known SALT (SALT) and ETHLend (LEND). Of course Celsius was better in his slide but it wasn't clear what exactly prevented Salt and Ethlend from copying the features that Alex thought were making Celsius a better proposition.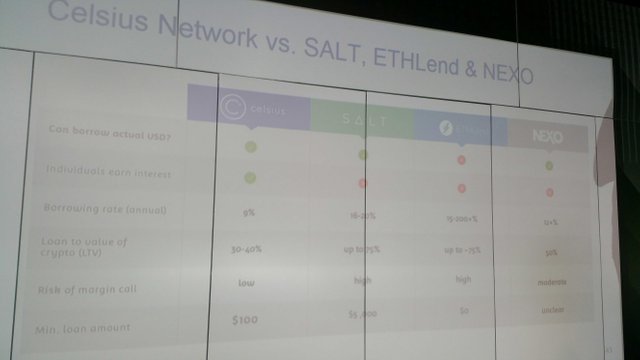 More interesting than that, his deck hold two good insights:
the crypto world is still very small (about 50 million people). We need projects that help more people (the other 7 billion) cross "the chasm" and adopt crypto. I believe Steemit is precisely such a project !
there are a lot of projects that have added "blockchain" because of the hype but which do not really belong to the new economic paradigm that blockchain opens. Either they do not need decentralization or they do not need token-based incentives. He had a good Venn diagram that blockchain projects might want to use in order to check they fall in the middle where the 3 circles overlap (what he called "the Bull's eye".
They said they are going to share those slides, if they send them over I'll update the post.
Of course I was most excited about checking out the Appics booth and meeting @mrs.steemit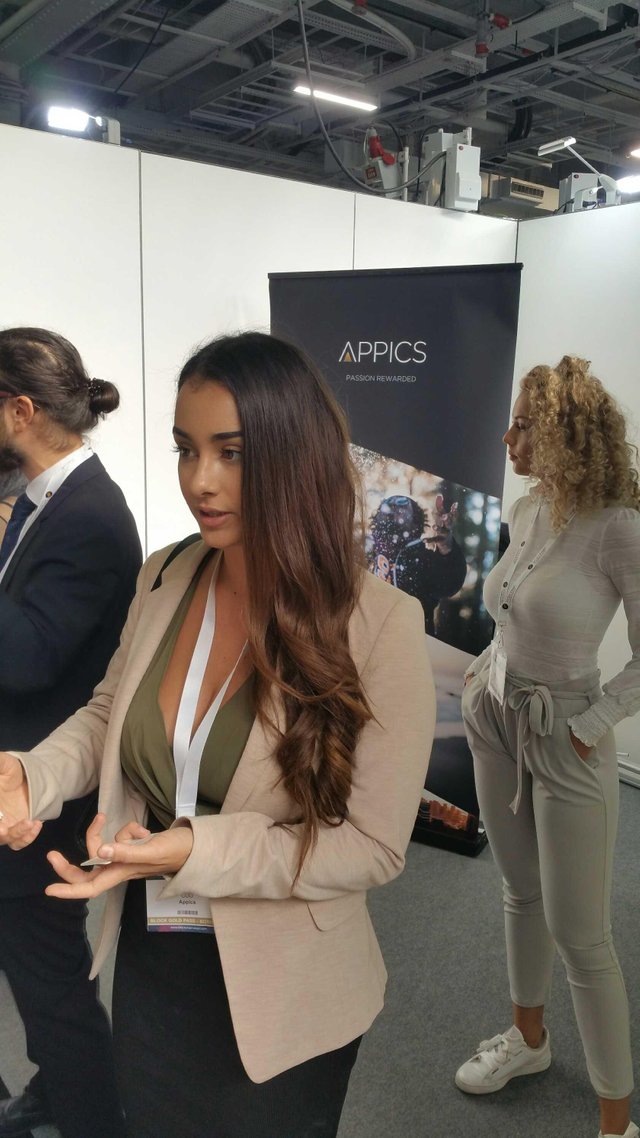 However I am primarily interested in technology and I hoped to learn more about where Steemit.Inc is in developing the SMT hard fork. Turns out the Appics booth was primarily about promoting the on-going ICO so I didn't learn much about how @theoretical and @ned are advancing on SMT.
European anti-counterfeiting blockchain
The most inspiring project I've seen in the first day comes from the Netherlands and is a European answer to VeChain and other Chinese projects to fight counterfeit goods (did I hear "asking the wolf to guard the sheep"?). Check out seal.network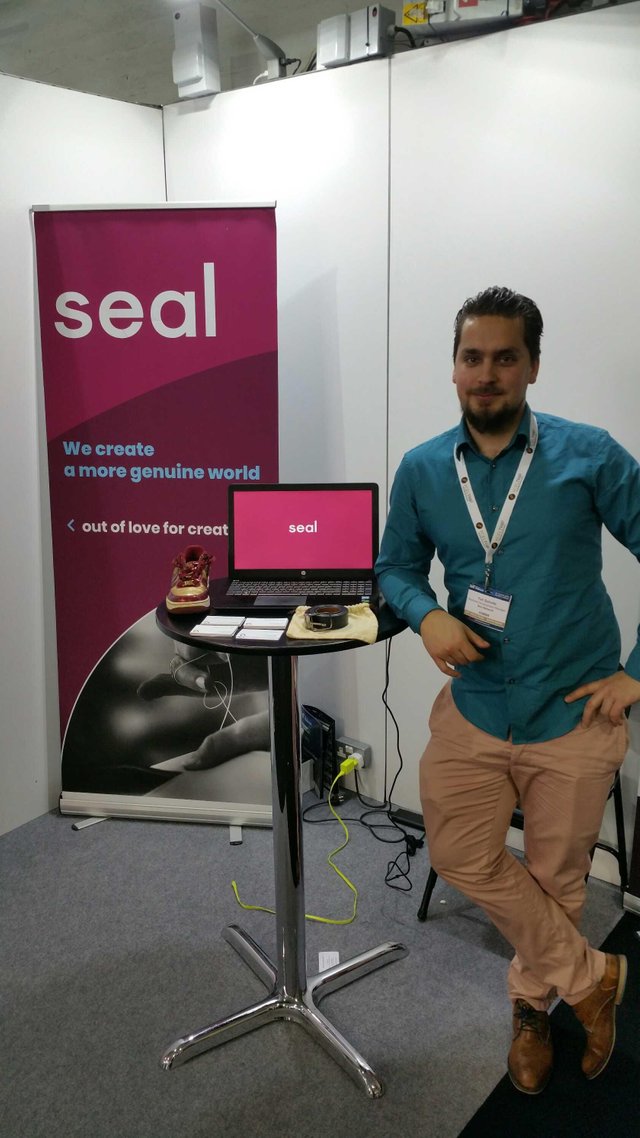 They combine IoT and blockchain by having a NFC chip attaching a unique ID to high-value luxury goods (such as a Louis Vuitton belt or a high-end Nike sneaker you see in the picture above). If they manage to have one of these brands openly commit to embedding the Seal chip in ALL their products (from a certain line) then you can imagine customs officers at the Paris "Charles de Gaulle" airport using a mobile app to scan say Louis Vuitton belts in the luggage of travellers inbound from, say Shanghai and detect those attempting to introduce fake, counterfeit Louis Vuitton products in Europe.
Big corporate
I was pleasantly surprised by the presentation given by a representative from BP (the oil and gas giant). BP seems to have put some brainy people in the right positions where they can think about the areas where blockchain might impact the BP business areas.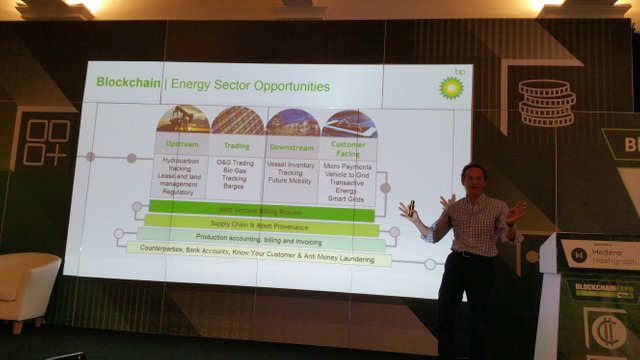 I'll stop here because posting from eSteem is really not that convenient. I managed to escape the dreaded "broadcast error" ...