SPRING ZUCCHINI BOATS 🥒🥜🌿🍅
Hello my Dearest Foodies,
For this recipe you need nice chubby zucchini like I found in our organic section. I was surprised, because they are not in season yet and usually they are very thin at this time of year. Well I was happy to see them, so I grab them thinking I will make zoodless, but then I changed my mind. Zoodless are better for later when it's really hot and this choice is just perfect for now. However, you can still make them at summertime as well. They are delicious and if you are quinoa lover, you will be very satisfy. Not to forget the tangy pesto gives an additional kick to this wonderful meal.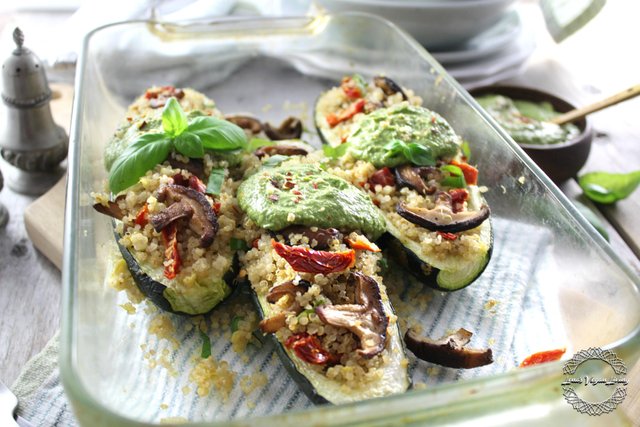 SPRING ZUCCHINI BOATS
Oven Roasted Zucchini stuffed with Quinoa & Shiitake Mushrooms; served with Pesto
Vegan – Gluten Free
Author: Lena's Vegan Living
INGREDIENTS for 4
• Zucchini 2
• Quinoa 1 cup (follow the cooking instructions on the package)
• Shiitake mushrooms 120gr or 4oz (sliced)
• Sundried tomatoes 120gr or 4oz (sliced)
• Garlic powder to taste
• Garlic two cloves (minced)
• Fresh basil laves 5 to 6 diced
• Black pepper to taste
• Dried chili peppers to taste
• Himalayan pink salt to taste
• Oil ¼ cup
PROCESS
• Wash and cut the ends of each zucchini.
• Cut them lengthwise and carefully remove the inside of each piece using a spoon.
• Diced the inner flesh and set aside.
• Preheat the oven to 375F.
• Place the zucchini halves into a casserole dish with ½ cup of water.
• Brush them lightly with oil, add salt with garlic powder and bake for 15min and broil for another 7min.
• In the meantime, sauté the shiitake with salt and pepper and set aside.
• Sauté also, but separately the zucchini flesh with garlic, salt and chili flakes.
• When ready, mix with quinoa, shiitake, sun dried tomatoes, basil.
• Toss all ell and adjust the taste.
• Fill your zucchini shells and serve with pesto.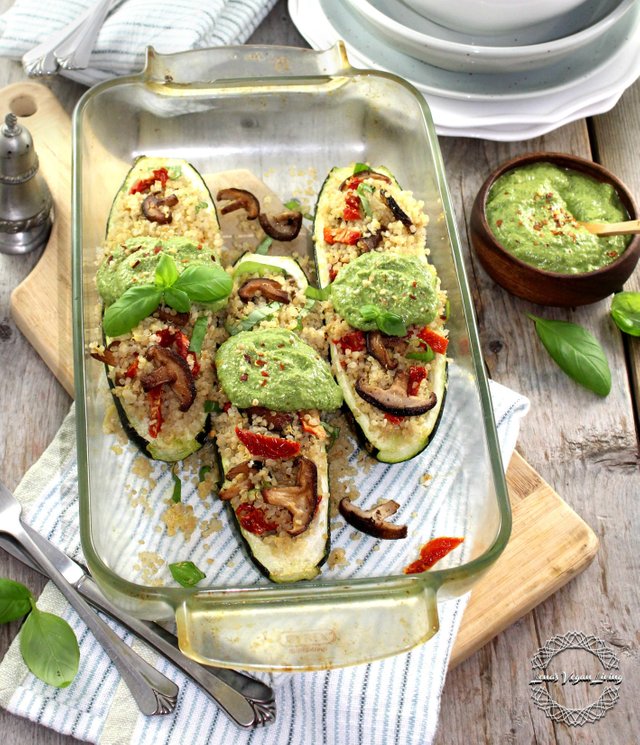 PESTO
• Arugula 2 cups
• Fresh basil leaves 1 cup
• Avocado 1 small or ½ large
• Juice from ½ lemon
• Pine nuts ¼ cup (or walnuts)
• Nutritional yeast 2tbs
• Garlic powder to taste
• Black pepper to taste
• Himalayan pink salt to taste
• Water ¼ cup (you may add more if needed)
Blend all in a blender until smooth.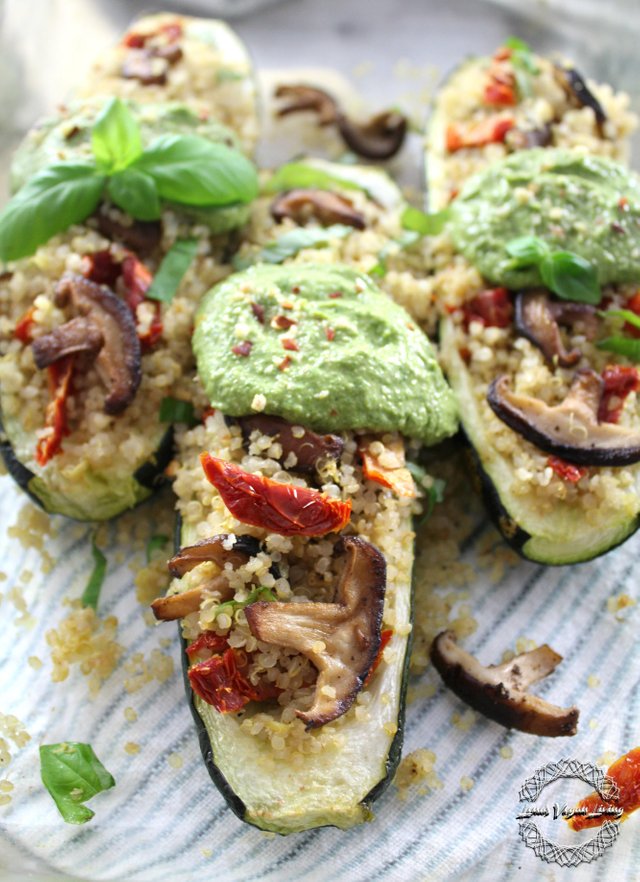 THANK YOU FOR VISITING & BON APPETIT
FOR RECIPES PLEASE VISIT MY Lena's Vegan Living Blog


|