Hello my Dearest Foodies,
Raise your hand if you like pizza!!! I am sure it would be lots of hands up, because I never met anyone who doesn't, lol. The only problem is, most of the pizza sold here in North America is very unhealthy. Luckily, there are many ways how to make healthy pizza, although I am not sure if the kids would like it, lol.
This is not my first healthy pizza recipe attempt and the first one I actually made was for our boys. They were very young at that time and more flexible compare to now, so they were wiling to try. Sadly, they were not crazy about it, so now I am wondering how they would feel about this one. Well, I really liked it hence I will be making it again for sure. If they won't like it I will eat it myself, lol.
By the way, the original recipe for the CRUST is from this WEBSITE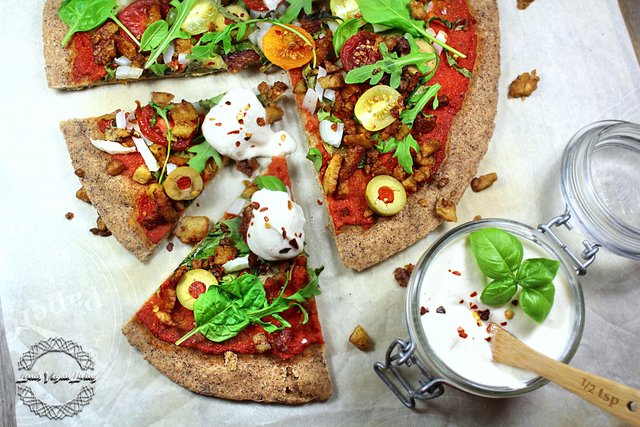 RUSTIC SPELT PIZZA
Thin Crust Spelt Pizza with Homemade Tomato Sauce, Tempeh Bacon & Cashew Garlic Dip
Vegan – Cholesterol Free
Author: Lena's Vegan Living
INGREDIENTS
• Whole grain spelt 1 1/3 cup
• Baking Powder 1tsp
• Himalayan pink salt 1 tsp
• Olive oil 2tbs
• Water 6tbs
PROCESS
• Blend all the dry ingredients then add the oil.
• Gradually keep adding water, while kneeling the dough for about 1 minute, until is nice and smooth.
• Cover the dough with towel in the bowl and let it sit for 15min.
• Preheat the oven to 400 °F/200 °C.
• Flour your working surface and roll the dough to your desired sized and thickness. I like my thin, so I did it all the way to 14inch diameter.
• Transfer it to the baking sheet lined with parchment paper and prick the surface with fork or toothpick few times to prevent from bubbling.
• Bake for 12min.
• When ready, apply the tomato sauce and your favorite toppings. Bake for another 15 to 20minutes.
• Serve with smoked Tempeh Bacon and cashew Garlick Dip.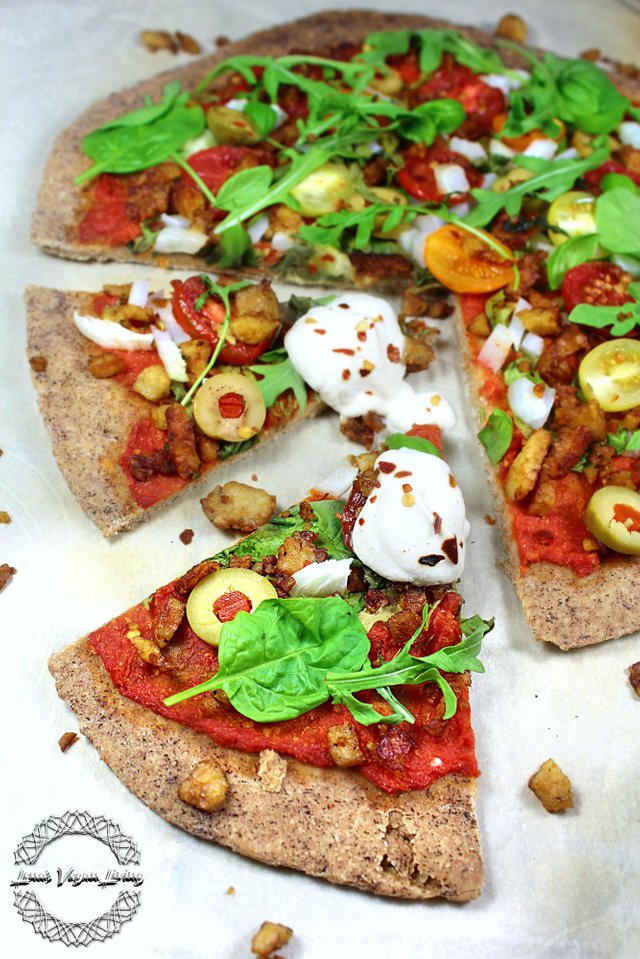 TOMATO SAUCE
• Sundried tomatoes ½ cup (oil free, soaked for 15min)
• Water ½ cup
• Garlic powder to taste
• Himalayan pink salt to taste
Blend all in the blender until smooth.
TEMPEH BACON
• Tempeh 125gr (diced)
• Low sodium tamari 1tbs
• Garlic powder to taste
• Smoke liquid
• Grape seed oil ¼ cup
PROCESS
• On hot oil, sauté the tempeh bits until golden.
• Add tamari, smoke liquid and garlic and sauté for few more seconds.
CASHEW GARLIC DIP
• Cashew 1 /2 cup (soaked for 4 hours)
• Juice form 1 lemon
• Garlic powder to taste
• Himalayan pink salt to taste
• Water ½ cup
Blend all in the blender until smooth.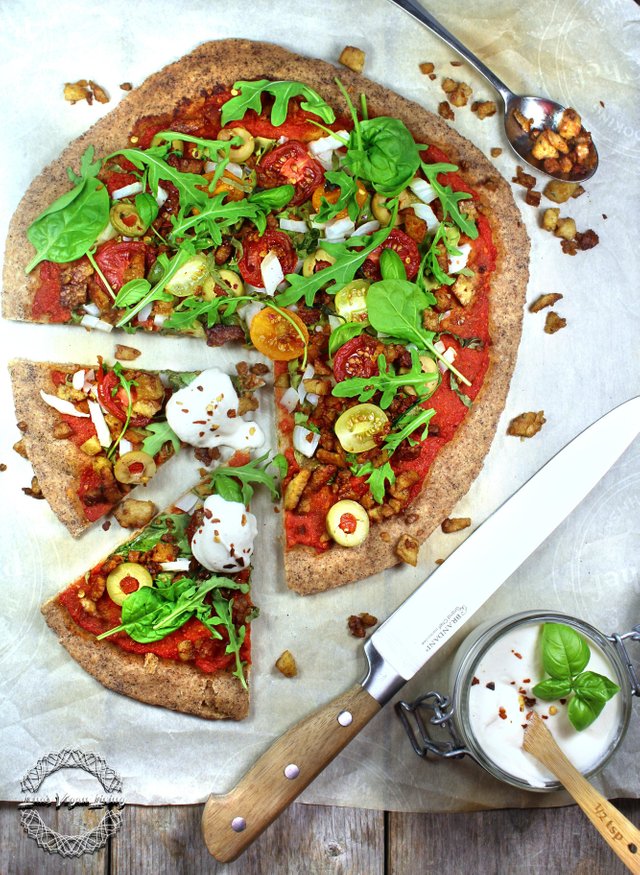 THANK YOU FOR VISITING & BON APPETIT
FOR RECIPES PLEASE VISIT MY Lena's Vegan Living Blog


|