Hello my Dearest Foodies,
Friday is almost here and pizza might be just the perfect idea for your weekend menu. Especially, delicious and highly nutritious one like this! And of course, easy to make! There for, keep that in mind when you do your grocery shopping!
Although, feel free to try different toppings and even vegan cheese, such as Daiya! I am sure it will be all delicious. You may also like to try the toppings I used in my previous SPELT PIZZA.
The most important is that this pizza crust is extremely healthy, since buckwheat is not only gluten free, but it has many other health benefits. You can read about them HERE.
Wish you a happy Friday and wonderful weekend 💚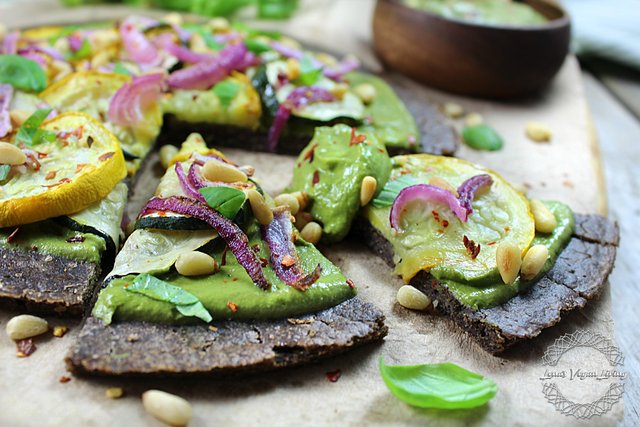 RUSTIC BUCKWHEAT PIZZA
Thin Crust Buckwheat Pizza with Zucchini, Pesto & Pine Nuts
Vegan – Gluten Free
Author: Lena's Vegan Living
INGREDIENTS
• Buckwheat flour mix 1 1/3 cup
• Baking Powder 1tsp
• Himalayan pink salt 1 tsp
• Olive oil 2tbs
• Warm water 1 1/3 cup
• Pie form 9inch (or other form of your choice)
• Parchment paper
PROCESS
• Line your form with parchment paper.
• Preheat the oven to 400 °F/200 °C.
• Blend all the dry ingredients then add the oil.
• Gradually keep adding water, while mixing the for until smooth. The consistency will be similar to pancake batter.
• Pour batter into your form and bake for 30min.
• Using toothpick, pierce the centre, making sure it's ready. If the toothpick comes dry, it is, if not, leave it in the oven for another 10min.
• When ready, remove carefully from the form, add pesto, veggies & pine nuts. Serve immediately.
Note: This pizza can be stored in the freezer without the toppings if properly sealed. With toppings must be consumed right away. Especially, with this type of pesto is not good if heated.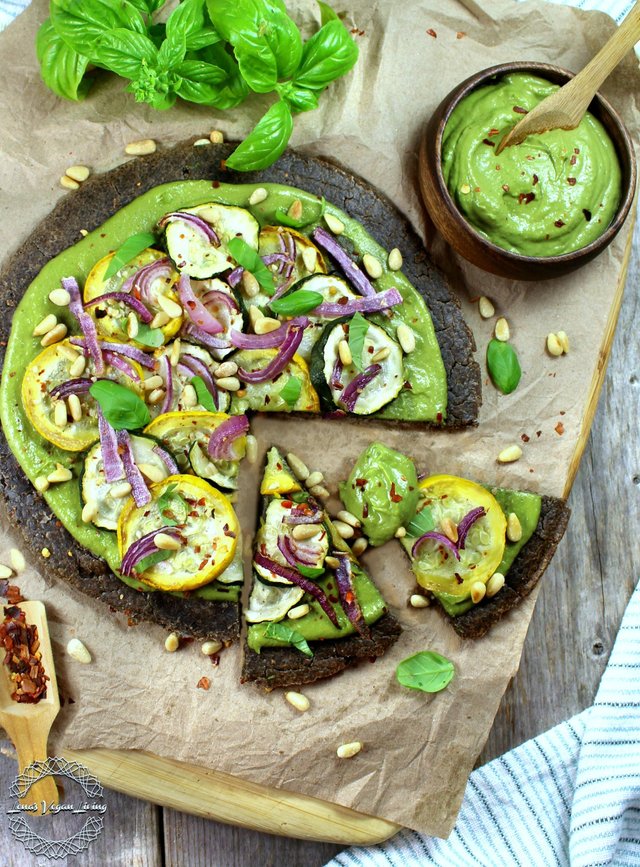 BUCKWHEAT FLOUR BLEND
• Buckwheat flour 1 ½ cup
• Quinoa or rice flour ¼ cup
• Almond flour ¼ cup
• Potato starch ½ cup
• Tapioca flour ¼ cup
Mix thoroughly
PESTO
• Fresh basil leaves 2 cups
• Avocado 1 small or ½ large
• Juice from ½ lemon
• Pine nuts ¼ cup
• Nutritional yeast 2tbs
• Garlic powder to taste
• Black pepper to taste
• Himalayan pink salt to taste
• Water ¼ cup (you may add more if needed)
Blend all in a blender until smooth.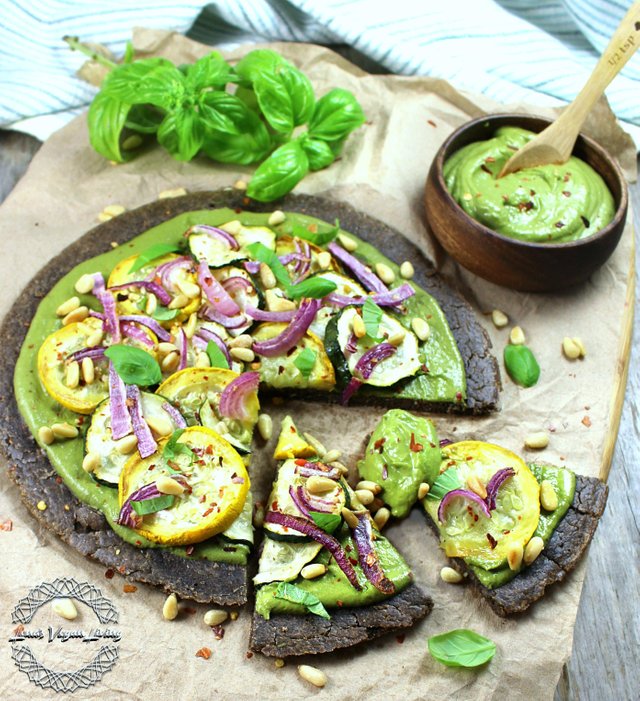 VEGGIES
• Green zucchini ¼ (thinly sliced)
• Yellow zucchini ¼ (thinly sliced)
• Red onion ¼ (thinly sliced)
• Pine nuts ¼ cup
• Garlic powder to taste
• Himalayan pink slat to taste
• Dried chili pepper flakes to taste (optional)
• Fresh basil leaves ¼ cup (whole or sliced)
• Baking sheet lined with parchment paper
PROCESS
• • Spread your zucchini and onion slices your baking sheet. You may brush lightly with oil and add salt with. garlic
• Place them in the oven while you are baking your pizza.
• Bake for 30min, same time as pizza.
• In the meantime, roast your pine nuts on hot frying pan until golden brown. You may reduce the heat and stir with spatula. It takes only couple of minutes. Make sure they do not burn.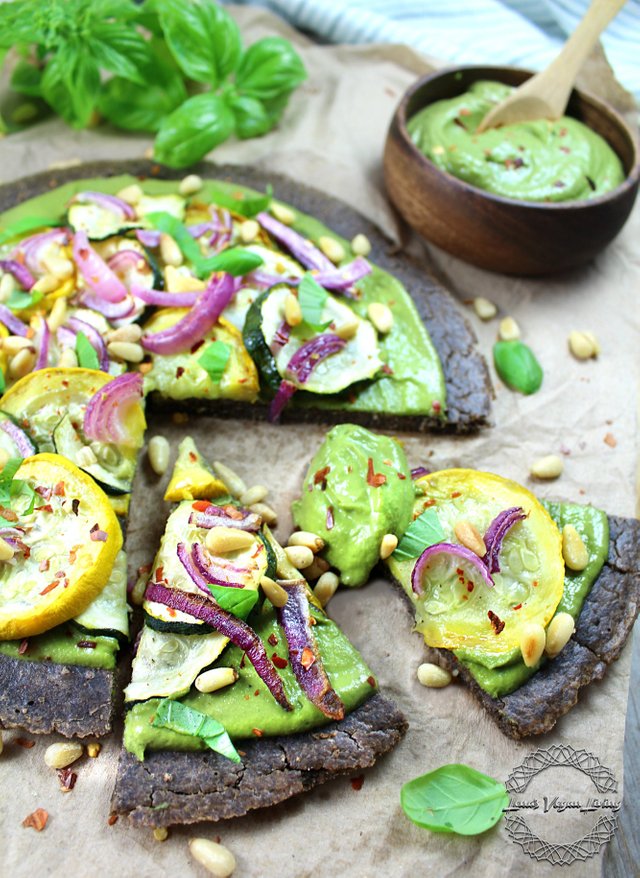 THANK YOU FOR VISITING & BON APPETIT
FOR RECIPES PLEASE VISIT MY Lena's Vegan Living Blog


|