RASPBERRY MARBLE CAKE 🌸💖🌸
Hello my Dearest Foodies,
We are having long weekend here in Canada and the last days before kids go back to schools, which calls for a special dessert.
Well, we don't have anyone who goes to school in the family yet, but it will be soon. Time flies and our boys are growing fast. Nevertheless, this cake is perfect for any occasion and again, totally guilt free, delicious, rich, creamy and full of nutrients.
I wish you a fabulous summer weekend until it lasts 🌸💖🌸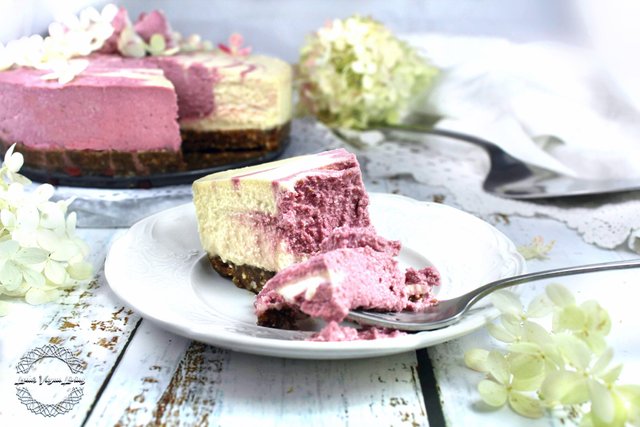 RASPBERRY MARBLE CAKE
Raspberry. Lemon, Vanilla Cashew Cheese Cake
Raw - Vegan – Gluten Free – Refined Sugar Free
Author: Lena's Vegan Living
INGREDIENTS
THE CRUST
• Dates 1 1/2 cup (pitted & soaked 15min)
• Raw Almonds 1/2 cup
• Raw Pecans 1/2 cup
• Raw Brazilian nuts 1/2 cup
• Pure Vanilla extract 1tbs
• Coconut oil ¼ cup (melted above the steam)
• Pinch of Himalayan pink salt
• Parchment paper
• Plastic wrap
• Glass with flat bottom
• Spring form (7inch diam)
• Oil
• Brush
PROCESS
• Brush bottom of the spring form with little bit of oil; cut a circle out of parchment paper and apply on the bottom. The oil will help the paper to stick to the bottom.
• Blend all ingredients in a food processor by pressing pulse button until you get semi smooth texture.
• Transfer the mixture onto your working surface and create long enough shape into a ball.
• Place the ball in the centre of your form and start pressing down with your fingers until you reach edges.
• Apply plastic wrap on top of the surface and with the glass to make it evenly flat.
• Use your fingers to smooth out the details and carefully peel off the plastic wrap.
• Place it in the refrigerator for couple at least one hour.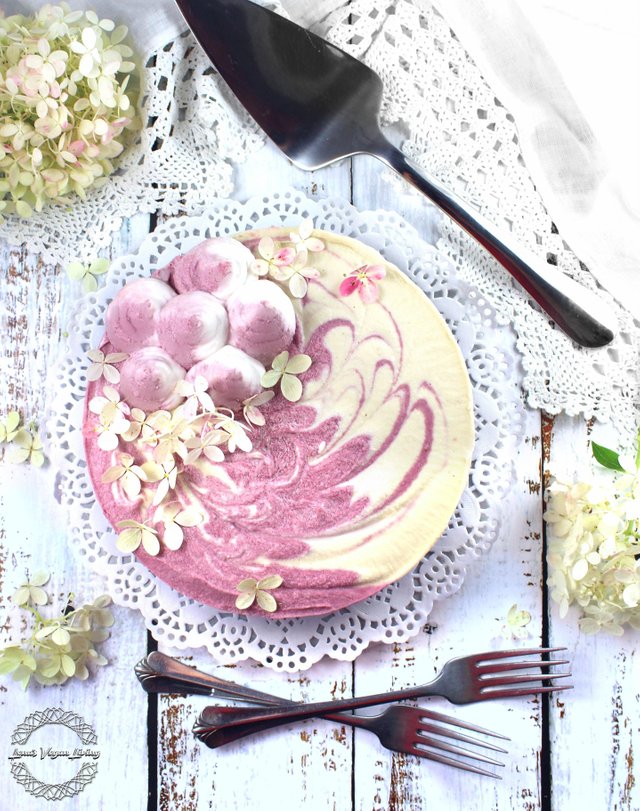 THE FILLING
• Cashews 2 1/2 cups (soaked for at least 4 hours and rinsed)
• Maple syrup 1/2 cup (you may add more if you like)
• Raspberries 1 cup (preferably fresh, but if you are using frozen, you may defrost them first and reduce some of the liquid by straining them trough the sifter).
• Red beet powder 1tbs (for color, it will not change the taste)
• Juice from one lemon
• Canned coconut cream 1/2 cup
• Coconut water ¼ cup (from the can)
• Coconut oil ¼ cup (melted above the steam)
• Pure vanilla extract 2tsp
• Himalayan pink salt 1tsp
• Chopstick
PROCESS
• Blend all, except blueberries and lemon juice in a food processor by pressing pulse slowly and gradually first, and then on full speed until you get completely smooth texture.
• Remove half of the mixture into a bowl, add lemon juice and mix toughly, then set aside.
• Add the raspberries and beet powder into the blender and blend until smooth.
• Transfer the mixture into a bowl and place into a refrigerator.
• When ready, pour slowly lemon mixture into half of your cake form and raspberry mixture into the other half.
• Let it settle, by shaking the form lightly side to side.
• By using chopstick, create swirly marble pattern.
• When ready, place in the freezer for minimum 4 hours, or over night.
• To remove the form, leave outside on your working surface for about 15min.
• You can also decorate by using piping bag filled with half of the pink cream and half with white, but until you remove the cake from the from.
• Place back into the freezer or refrigerator.
• If you are planning to serve, the most ideal is for the cake to defrost in the refrigerator, which can take about 4hours. However, if you don't have time you can leave it outside to speed up the process.
Note: This cake can last very long time in a freezer if properly sealed; otherwise it must be always kept in a refrigerator.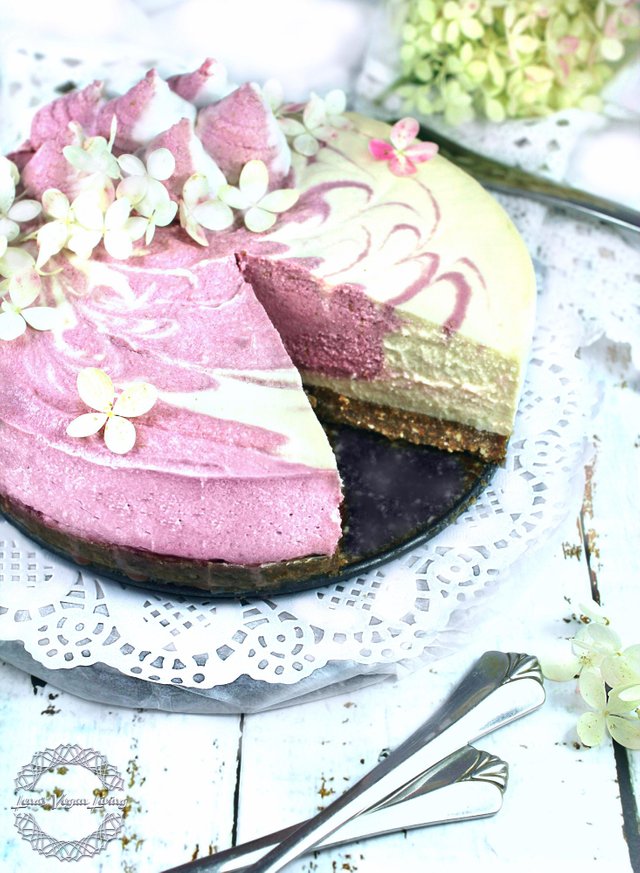 THANK YOU FOR VISITING & BON APPETIT
FOR RECIPES PLEASE VISIT MY Lena's Vegan Living Blog


|