MINI KEBABS 🍅🌿🍅
Hello my Dearest Foodies,
Summer is far from over yet and these MINI TEMPEH KEBABS are perfect for BBQ party although I grilled them in oven. They are marinated in my special BBQ sauce made from scratch.
Although, I prepared these many times before, because they are delicious and everyone loves them, this recipe is improved. In the past, I was always using organic ketchup as a base for the BBQ sauce, however, in this case I am using sundried tomatoes instead. And even though they are store bought, you can make them yourself, especially if you grow your own tomatoes. Also, you can grill these kebabs on outdoor grill if you prefer. I bet they will be incredibly delicious!
I wish you fabulous summer week 💖😊💖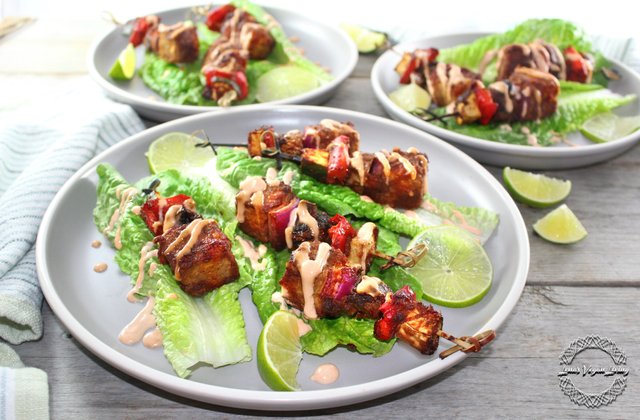 MINI KEBABS
Mini Tempeh Kebabs with Wholesome BBQ Sauce
Vegan – Gluten Free- Refined Sugar Free- Oil Free
Author: Lena's Vegan Living
INGREDIENTS for 20 pc
• Tempeh 120gr (evenly cubed)
• Mushrooms 10 (cut in half)
• Small zucchini (cut into quarters)
• Shepherd or bell red pepper (cut into squares)
• Red onion (cut into quarters)
• Small skewers 20
• Brush
• Parchment paper
PROCESS
• Make your kebabs by piercing veggies first and tempeh last. I started with zucchini, pepper next, mushroom and onion before tempeh. However, you can do it in different order if you like, just make sure the tempeh is always last.
• When ready, dip each one carefully in a bowl filled with BBQ sauce while supporting the bottom with spoon.
• Place it on a plate and remove excess sauce with a brush.
• Place them into a refrigerator in a sealed container for couple of hours or overnight to marinade.
• Preheat the oven to 400F.
• When ready, arrange them on baking sheet lined with parchment paper and bake for 30min.
• Reset the oven to broil and bake for 5 to 7 min. You may brush them lightly with oil if you like.
• Serve with creamy dressing.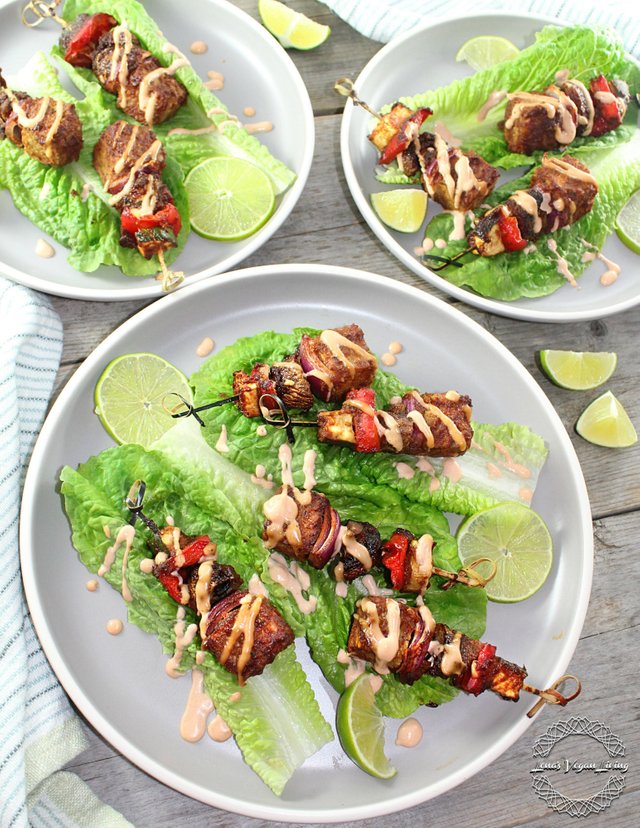 BBQ SAUCE
• Sundried tomatoes 1 cup (oil free, soaked for 15min)
• Water 1 ½ cup
• Juice from 1 lime
• Organic molasses 2 tbs
• Low sodium Tamari 1 tbs
• Smoke liquid 1tsp
• Garlic 3 cloves diced
• Maple syrup 1 tbs
• Cayenne pepper to taste
• Black pepper to taste
• Himalayan pink salt to taste
Blend all in a blender, until smooth. You may add little bit more water if needed.
CREAMY SPICY DRESSING
• Vegan Mayo ½ cup (store bough or homemade)
• Sriracha 2 tbs (you can add more if you like spicy)
Mix well and drizzle on your kebabs
VEGAN MAYO
• Raw cashews 1/2 cup (soaked 4 to 6 hours)
• Juice from 1 lemon
• Organic yellow mustard 1tsp
• Himalayan pink salt to taste
• Filtered water ¼ cup (you can add more if needed)
Blend all in a high-power blender until smooth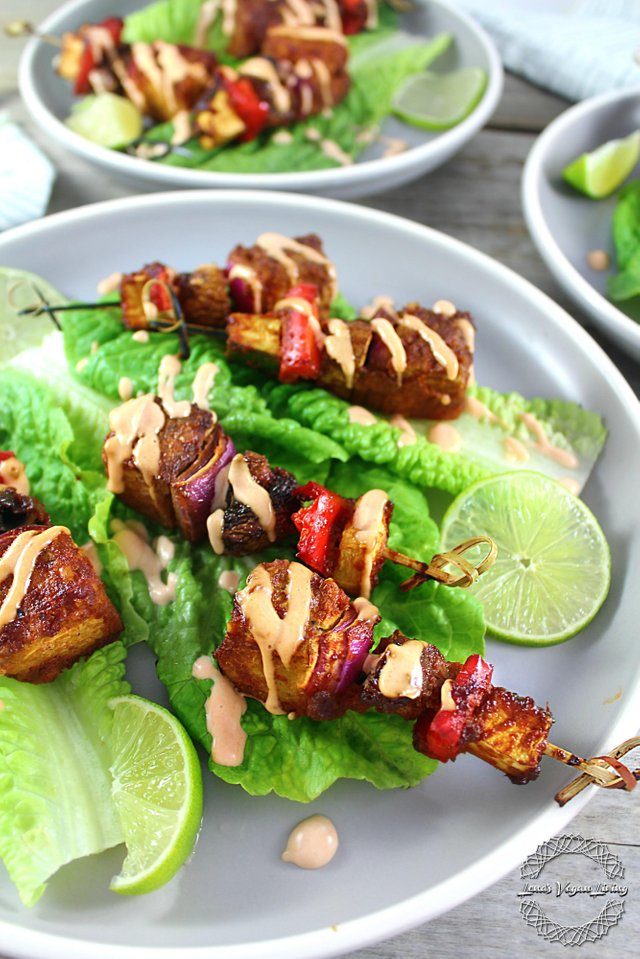 THANK YOU FOR VISITING & BON APPETIT
FOR RECIPES PLEASE VISIT MY Lena's Vegan Living Blog


|