Hello my Dearest Foodies,
Last week I discovered these MINI SWEET POTATOES in our supermarket. I don't know if you ever stumble up on them, but it was first time for me. They taste exactly like regular size sweet potatoes, but I like them being so small, not only because they are cute, but they are also easier to eat.
Nevertheless, you can make this recipe with regular sweet potatoes, it will be just fine. Simple, yet delicious and healthy. Make sure you have a nice big salad too 💚😉💚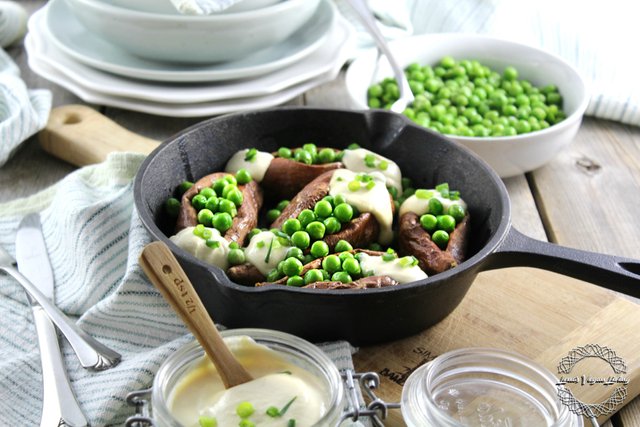 EASY PEASY
Roasted Mini Sweet Potatoes Loaded with Green Peas and Topped with Cashew Sour Cream
Vegan – Gluten Free
Author: Lena's Vegan Living
INGREDIENTS for 2
• Mini sweet potatoes 6 to 8 (depending on the size)
• Frozen green peas 1 ½ cup
• Garlic power to taste
• Black pepper to taste
• Himalayan pink salt to taste
• Grapeseed oil 2 tsp (or oil of your choice, optional)
• Chives to garnish.
PROCESS
• Preheat the oven to 425F.
• Wash the potatoes and make incision along side of each one of them.
• Place them on baking sheet liked with parchment paper and bake for 40min.
• In the meantime, place the peas into small pot with ¼ cup of water on low heat.
• Add salt and cook covered with lid for about 7min.
• When ready, take the potatoes out of the oven and make the opening slightly bigger with two forks, pulling each side into opposite direction.
• If you like, you can brush lightly with oil, add salt, pepper and fill with peas.
• Top with sour cream, garnish with chives and serve.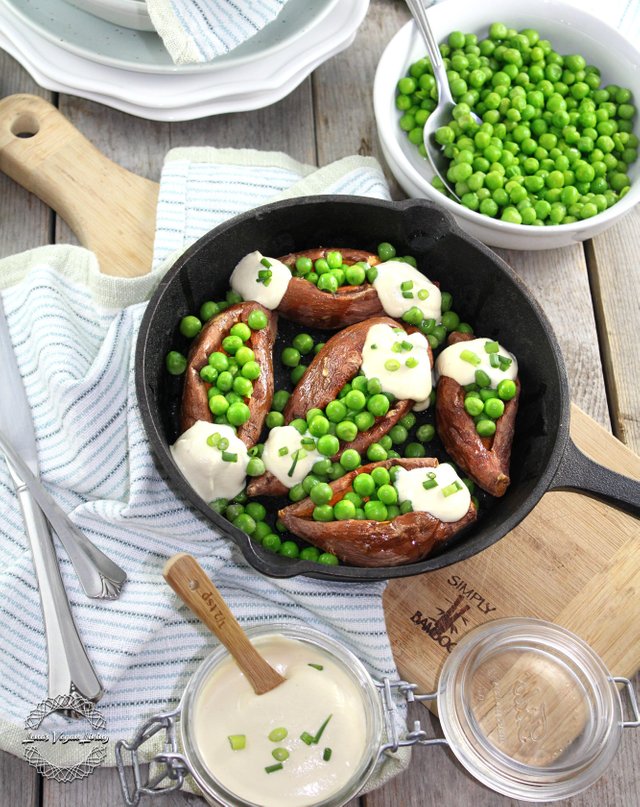 CASHEW SOUR CREAM RECIPE
• Cashews 1 cup (soaked for six hours and rinsed)
• Juice from 1 lemon
• Garlic powder 1 tsp
• Nutritional yeast 1 tbs
• Water ¼ cup
• Himalayan pink salt to taste
Blend all in a blender until smooth.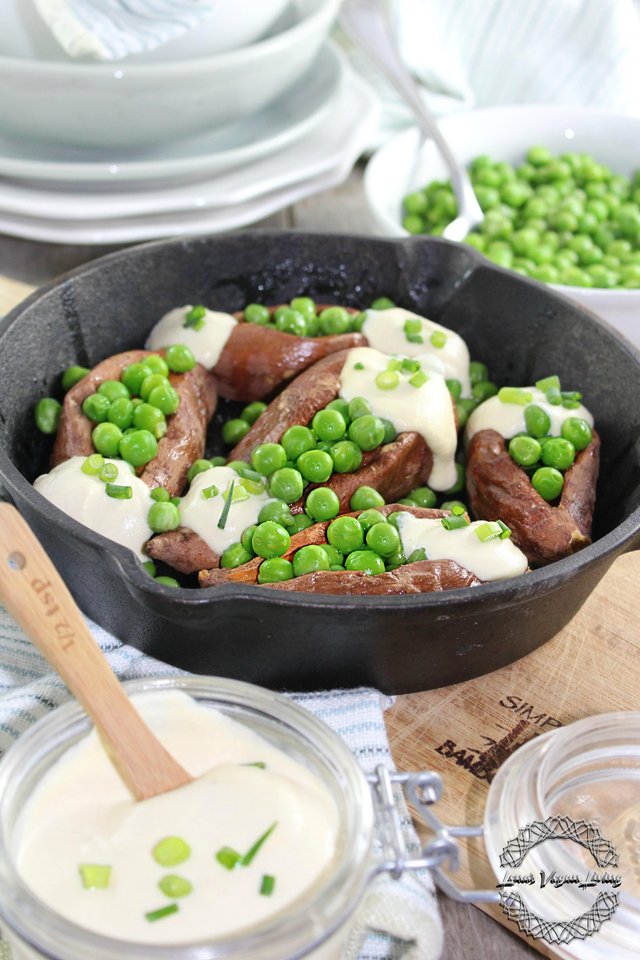 THANK YOU FOR VISITING & BON APPETIT
FOR RECIPES PLEASE VISIT MY Lena's Vegan Living Blog


|