I often say that I am not on this platform for the $$$ (money) and just somewhat content on sharing some random stuffs I am personally interested in but like everybody I still do deeply care about what Steem's value is on the market. XD
For months, I've been using the CoinMarketApp app to see how Steem/SBD and other cryptocurrencies have been faring and today I'm thinking of uninstalling it.
The reason is actually quite childish. Lol You see CoinMarketApp has this nice "alert" feature wherein they notify you whenever one of your set(ted) cryptocurrency is above or below the price one have set.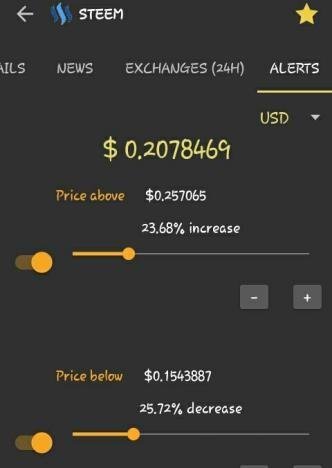 Like the image above, the current market value of Steem (at the moment of writing this post) is only at $0.20. I have set it to notify me when the price is above $0.257 and below $0.154 USD.
Prior to that, these past weeks I have been constantly getting worrying and depressing notifications. I remember Steem around $0.40 USD 2 months ago and so I've set the app to notify me when Steem goes below $0.35 (and then it really did went down $0.35) so I've set it again at $0.30 then $0.25 then now below $0.20. T_T
Point is the depressing notification about Steem's plunging market value is somewhat depressing so I'm temporarily uninstalling this app so I can stay motivated in doing my daily blog posts.