I was watching "Knowing Bros" today (a korean variety tv show) and I might have learned that Korea has a different color code representation for the rainbow.
In my country Philippines (and possibly most of the world) the initialism goes ROYGBIV (Red, Orange, Yellow, Green, Blue, Indigo and Violet). However in Korea, it seems they go by the initialism ROYGBNP (Red, Orange, Yellow, Green, Blue, Navy then Purple).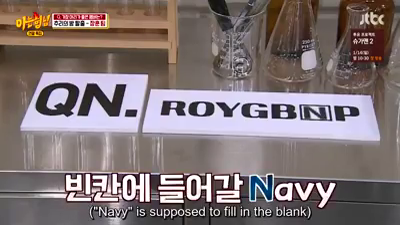 Not sure if Navy and Indigo is really 100% the same or if Purple really equals Indigo but the reason why I was quite bothered by it is because the concept for that episode was an "escape-room situation".
It's like one of those games wherein a group of people are locked inside a room and their goal is to escape the room but in order to do so they must first FIND and SOLVE the hidden codes, brain teasers or riddles hidden in the room.
If I were to solve the problem above I would have gotten "I" for Indigo and will not get "N" for Navy. This is somewhat important because the next thing to do is look up at the Atomic Number for the Element abbreviation above. So I would have gotten 53 (atomic number for Iodine (I)) instead of the correct answer "7" for Nitrogen (N). XD