Some of you (eSteem users) might have noticed there was few seconds of down time for notifications today due to server maintenance updates.
Image upload
For the last few days there is overwhelming usage of eSteem app and feedbacks, suggestions, which I am quite excited about... And image uploads exceeded its limits causing intermittent issues.
It was time we move uploads to custom server so that it can help us to scale. Image upload issue should be fixed and working with better reliability.
Thank you for those who reported this and many other issues on #esteem-feedback posts. Please keep them coming, even if I don't reply to every suggestion, know that I am putting them down and working on them.
Notifications update
While fixing the image upload issue and setting up custom server, I have also improved notifications. Now, every user automatically gets notification for transfers (out, in).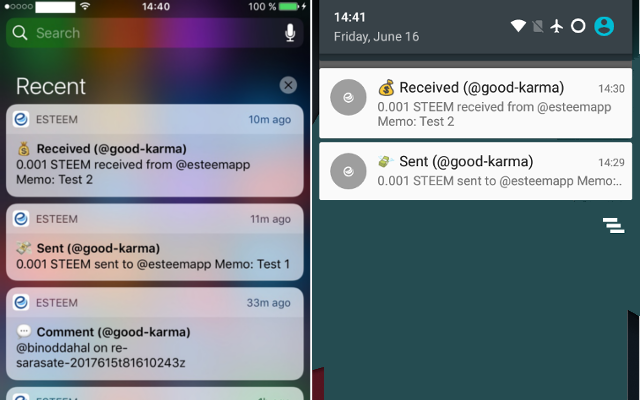 As of today, eSteem users are receiving notifications on their mobile phone for new Comments, Mentions, Follow, Unfollow, Reblog, Transfers in and out.
New release
Work on new release is continuing and instead of making release this weekend, I think it is wise to postpone new release right after HF19. This will give us time to test changes on hardfork as well as implement new ones.
Thank you
I would just like to say a big thank you to all the users who are using eSteem daily and providing feedback #esteem-feedback.
eSteem over the last few days representing average ~3% of all posts happening on the Steem blockchain! That's an incredible growth and milestone! Couldn't have done it without you and your support!
---
vote, reblog, follow, vote witness good-karma