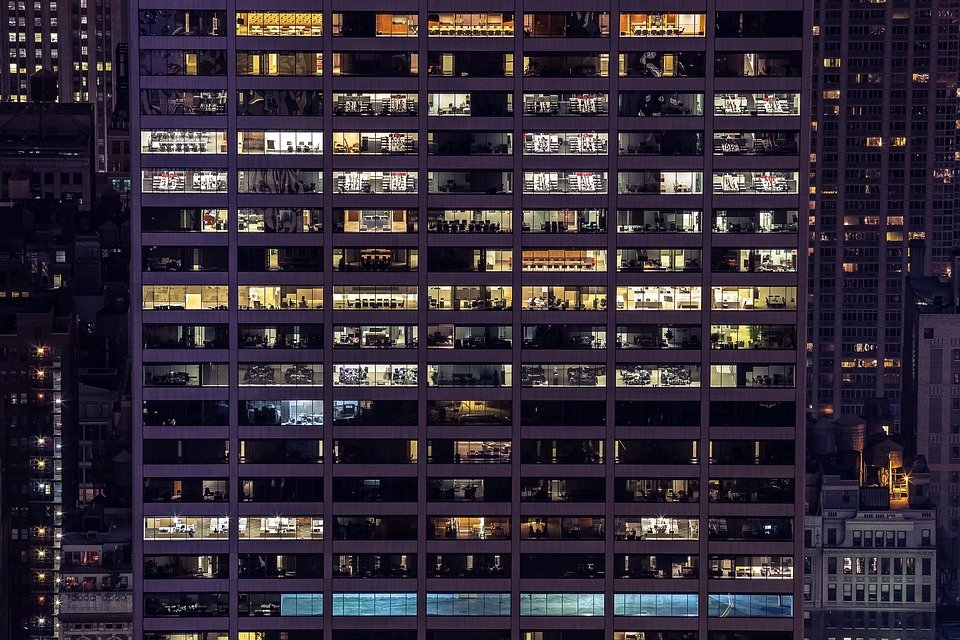 I often work late. I admit it. I spend way too much time in my office, chained to my computer screen, scrutinizing patterns and numbers that appear indecipherable to most. I dedicate far too much time to a company that really doesn't appreciate the work that I do or the time that I spend doing it. But I suppose I'm not the only one. I guess we all put in a little overtime every once in a while...only lately my entire life has become one big long shift! There's a nameplate on the front of my desk that says "secretary". A little outdated, maybe, but it's a hat that fits well, I guess.
On the plate today, or rather tonight, was a payroll that my assistant fucked up earlier this afternoon right before she left. Payday is tomorrow and my eyes were starting to sting from the dry high-rise air. My watch beeped again.. 2 am. Time was flying and I was getting nowhere. The city lights sparkled through my panel blinds 15 floors up and it was bloody distracting. My hair had been pulled into a tight bun for about 15 hours straight and my scalp felt like it might peel off.
I'd been texting with Emma, my assistant, to try to figure this out. I should have reported her to my supervisor for taking off and leaving this mess for me to clean up, but I haven't yet. I was hoping I could get it solved before anyone noticed.
Or didn't get paid.
It was about time for the security guard to show up again. He does rounds on the 11th to 15th floors every hour, on the hour, checking every single door to make sure they're all locked, over and over again. He was a fit young fellow, with a naive, dimpled smile that made my hips warm and my face flush, and dark stubble framing his chin that drew my eyes downward. He always leaves the top button of his uniform undone to reveal a soft tuft of brown hair, and generally does a poor job of tucking his shirt into his pants, like most young men do. He usually greets me with a smile and a hello that unveils a smooth, masculine voice untainted by cigarettes. I often catch myself eying the way his fingers flourish on the flashlight strapped to his belt, which he always, without fail, has a hand on or close to. His company shirt has "Alexander" embroidered onto the right upper chest, but I don't know if that's his real name. Perhaps I should ask. Not that it matters.
When he found me still at my desk after his third set of rounds he was kind enough to ask me if everything was okay or if there was anything he could do to help. I said no, of course, but that wasn't what I was thinking...I was thinking how much better I'd probably feel if he'd bend me over my desk and fuck me. God knows, I could use a bit of man in my life at the moment.
But that's not how payrolls get finished, is it?
There was coffee left in the karaf at the drink station so I headed over to refill my mug for the fifth time. I could hear the elevator descending through its shaft towards the lobby, which is odd at this hour, but it was probably "Alexander". I rushed back to my desk so I could watch him from afar when he comes up for rounds, and so he couldn't see me squeeze my thighs together under my desk, as I always did when I got a glimpse of his chassis… the squeezing made my panties rub back and forth against my nub and I actually enjoyed being at work, for a fleeting moment. (Try it, you'll thank me later.)
Back at my desk, the coffee I just poured tasted like piss and was lukewarm, to boot. I dropped it, mug and all, into the garbage. I was suddenly aware of a massive headache brewing in my forehead. Was it my tight bun, stress, or exhaustion? A guessing game I play more often than I'd prefer.
I was startled by the sound of approaching footsteps in the stairwell, but it was just "Alexander". I squeezed and rubbed my thighs together when I caught a glimpse of how tight his ass looked in those ill-fitting cargo pants and then turned my attention back to the computer screen, where the numbers were actually starting to add up. Thank God. I might actually be able to finish this payroll sooner than later, maybe even before the sun comes up. I was sure I would be too wired to sleep after all this coffee, but maybe I'd have a little bit of home time with my vibrator and my showerhead instead. I'd need it… I could already feel my clit swell against the black lace thong I always wear under this pencil skirt. Another glance at "Alexander" through the dimly lit doorway made me bite my lip and I felt my honeypot tingling. Jerusalem. I'd give up filling out this god damn spreadsheet if it meant I could be filled by that cock instead. Just the thought of his manhood sliding into me was enough to make my cunt pulse and grip lawlessy in my pelvis, aching to be released from my skirt.
Without checking any doors, "Alexander" initialed the rounds clipboard and placed it back on the wall. His shadow lead the way to the door of my office, where he stood leaning against the door frame with one arm up and his dimpled smile plastered on his face like he was in some sort of calendar.
Which, in my opinion, he should be.
"You don't get paid enough, do you Miss?", he drawled with a grin as he approached my desk. His voice echoed faintly around the stark walls of my office. One of his pant legs was tucked into the tongue of a tactical boot, the other hung loosely about his ankle. My hips started to warm as he placed his tan hands down across from me on my desk and leaned down to my level. I could smell his cologne cascading from the coils of brown hair beneath his throat.
"You look frustrated", he added.
"You're an observant fellow, eh?" I countered wearily. I could feel his eyes on my breasts, his gaze tickling my flesh and showering me in goosebumps. "Alexander" bit his lip and met my gaze, his eyes sparkling with… lust? I shifted my weight in my chair and felt the wetness growing between my thighs. My computer chair squeaked in protest.
Striding around my desk to stand beside me, "Alexander" took my chin in his hand and turned my face away from the screen. Relief filled me as he brought those smiling, supple lips down to meet mine, the fingers of his other hand weaving into my hair and releasing my updo. Bobbypins fell to the floor as I stood up and kicked my chair behind me, my nipples pushing into my bra. His tongue moved skillfully around my lips, making my knees weak with anticipation. I heard a button pop off his shirt and roll across the tile floor as we tugged at each other's clothing, but neither one of us seemed to care. He leaned into me, making my ass push into the desk, my back arching as he brushed nibbles and kisses down my neck. I could feel his length rub my thigh through those awful canvas pants and I reached down to unzip his fly and take his shaft in my hand to stroke it, base to tip, making him moan, his warm breath tickling the flesh of my throat.
He grabbed my buttocks and lifted me up to sit on my desk and wiggled my skirt up to my waist, exposing those black lace panties that had made my clit fill with glee as I squeezed my thighs together only a few minutes before. I pushed the waistband of his pants over his ass and down his muscular thighs, his manhood bulging through the thin cloth of his underwear. His big flashlight hit the floor and illuminated, casting an eerie, yet beautiful, shadow of our bodies on the opposite wall. In the blink of an eye our intimates were down around our ankles, his left hand behind my head as he urged me onto my back on the desk, his right middle and index fingers embedded between my thighs, skillfully finding their way into my folds. I gasped as his fingers entered my wetness, his thumb rubbing against my nub as he licked and sucked my nipples.
Is his name actually Alexander? I thought as I wordlessly urged him to merge our bodies into one, satisfying my ache to be filled. I felt the tip of his cock meet my inner lips and his length slide into me in one smooth motion, both of us moaning with pleasurable fervor. Finding his rhythm, his cock surged in and out of my femininity as he gripped my hips and worshiped my skin with his soft lips. Our arms intertwined like lovers, sans love. I wondered if my name was as unknown to him as his was to me.
The city lights glinting through the high-rise windows made "Alexander" look like a Greek god, his muscular torso chiseled to perfection, his face masculine and sharp, the shadows on his glutes dancing ethereally with each thrust he indulged me. Our bodies fit perfectly together. I squeezed my cunt around his cock as my right hand rubbed my clit in self-servitude. His crown hit my g-spot with each beat of his cadence, drawing me to climax as my body spasmed under him in rapture. I could feel his breathing get deep and impassioned… his thrusts more urgent as he got closer to his own summit. His muscles trembled as he came, his gaze burrowed deep into my own, his hot seed spreading into my femininity. Collapsing onto me, our bodies heaving and sweating, he tickled my nose with his and gave me a soft, lingering kiss before pulling away from me with a smile.
We dressed in silence. I could feel his essence mix with my nectar and fill my panties with warmth, not unpleasantly. I heard his flashlight hit his leg as he left my office, but I didn't watch him leave. I instead faced the large windows and whipped my hair up into a messy bun before taking a seat once again in my squeaky computer chair to finish fixing what I was here to fix.
I could see the small sliver of sunlight just breaching the horizon when I finally hit "save" on the payroll and gathered my things to head home. I figured I'd probably skip the self-pleasure session and head for a nap instead. I glanced at the rounds clipboard on my way into the elevator. Each slot was signed "Brett".
As I walked out of the building towards my car and lit the first cigarette of the day, I couldn't help but wonder if Emma might fuck up next week's payroll too.
It would be a sin if she did, wouldn't it?
---
~Written by WildAmy