When it comes to Wikipedia, you can't trust it to get much of a complete picture. If there is something controversial, you can bet someone will be restricting information about it. If they don't want information to be known, they can edit the page and remove it.
This is what has happened once again with the page for Jeffrey Epstein.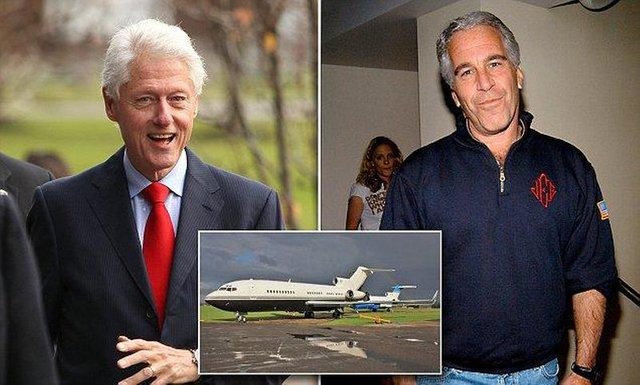 Source
Since Wikipedia is heavily left-leaning, these "editors" decided to remove more damning connection between Epstein and famous Democrats. A twitter user detailed to the changes that took place after last weekends arrest of Epstein.
Seems Wikipedia has altered Epstein's bio already. First screenshot of Epstein's bio was at 8:27 a.m. The 2nd was at 10:30 a.m. omitting Bill Clinton & Spacy yet leaving Trump! That is frightening. Same exact bio of Epstein, different times.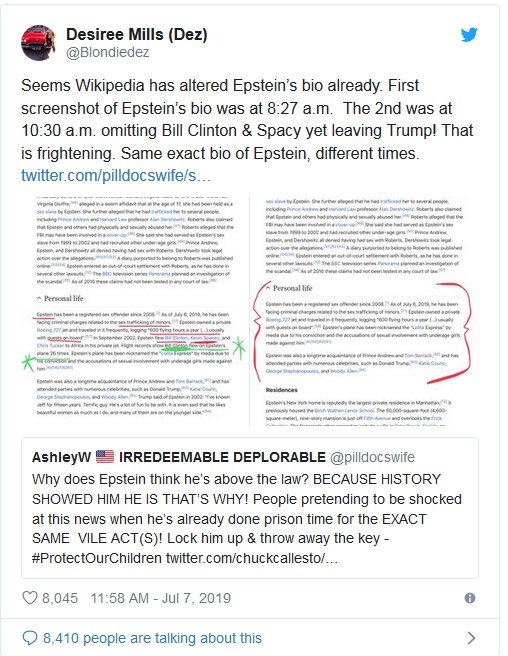 Source
This Wiki "Editor" apparently removed all mention of Democrats from the billionaire's page. Specifically, scrubbing the names of Democrats that flew on Epstein's "Lolita Express". This is a nickname given to Epstein's private Boeing 727 jet plane.
Demonstrating the political inclinations of the "editor" if the fact that references to dems/leftists were removed, like Bill CLinton, while the mention of Donald Trump attending parties was left.
Is this just a leftist who can't handle having his ideologies challenges, and seeks to protect the image of favored democrats? Or maybe they are trying to hide theinformation about politicians being involved with Epstein from the public. At least, leftist politicians, since implicating Trump was not a concern.
Daughter of Speaker of the House Nancy Pelosi, Christine Pelosi, mentioned on the weekend that there may be shocking revelations to come forth about politicians being involved, even "some of our faves", which could reference Bill Clinton among others.
This Epstein case is horrific and the young women deserve justice. It is quite likely that some of our faves are implicated but we must follow the facts and let the chips fall where they may - whether on Republicans or Democrats.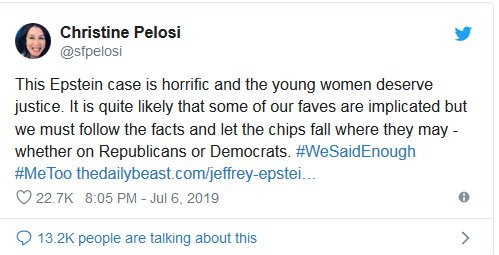 Source
If this case moves forward, who knows what will be unveiled. I doubt too much that will blow the lid on the rampant pedophilia and sex trafficking in the U.S. But you never know. This could be a game changer to shock the nation and the world awake to what's going on in our societies at "higher" levels.
---
Thank you for your time and attention. Peace.
---
If you appreciate and value the content, please consider: Upvoting, Sharing or Reblogging below.


me for more content to come!
---
Like what I do? Then consider giving me a vote on the Witness page :) Thanks!

My goal is to share knowledge, truth and moral understanding in order to help change the world for the better. If you appreciate and value what I do, please consider supporting me as a Steem Witness by voting for me at the bottom of the Witness page.
---
Posted from KURE