Binance & Bitfinex will take away your EOS airdrops
If you holding your EOS in any of those two exchanges at the snapshot moment, you will lose at lease 50% of your invesment (if not more).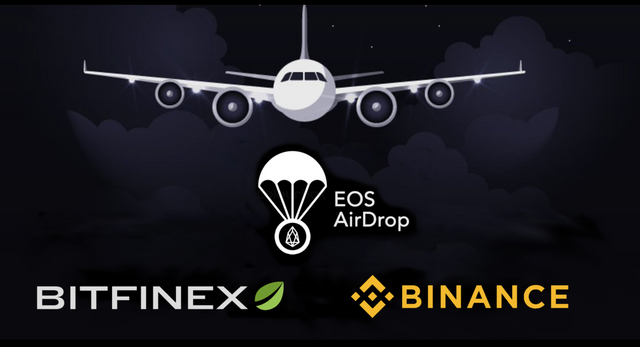 Hi every one, I'm the team leader behind Cards & Tokens and I need to warn you about this.
I'm preparing the details to successfully perform our
CNT token airdrop
over EOS token holders that will take place in late july. We recently
announced that wi will performing a second airdrop
for registered users (who controls their private keys, like Metamask or MyEtherWallet users). In the comments I was asked a lot about how to participate in the second airdrop if someone holds the EOS tokens in Binance or Bitfinex, so I had to make my research and I got to say that
those two companies are going to SCAM YOU ALL.
I'll explain
Everyone is talking about the EOS blockchain as if there would be only one chain. The software is open and there are many candidates who will not reach to be block producers, so it is expected that in the next month there will be several chain launches (with different names).
Let's suppose that you have 100 EOS tokens. That means that you should get 100 EOS coins in the "main chain", but also 100 EOSx coins on each of the other blockchains.
On the other hand there are more than 20 projects that plan to perform airdrops. Which means that you should receive airdrops from at least 20 different tokens (each with its own policy of how many tokens correspond for each 100 EOS).
Metamask, MyEtherWallet or Exodus
If you you have your EOS in one of these wallets that means you control your private keys.
You will get:
Same amount of EOS coins in the main net
Same amount of EOSx coins on each other blockchain (if they honor the snapshot)
More than 20 Airdrops of different tokens
Binance or Bitfinex
If you have your EOS tokens in one of those exchanges that means you don't control your private keys.
You will get:
JUST Same amount of EOS coins in the main net
NONE of EOSx coins on each other blockchain
NONE of the Airdrops of different tokens
They are going to keep your (non-EOS) for themselves
Please warn every one you can before this happens. There's no much time!!!
---
Note: Exodus wallet
In Exodus you can export your EOS private key (EOS-key) and your Ethereum private key (ETH-key). So you can claim all your tokens using those keys.