Endless Dice on EOS amazing dividends
Hello folks, today i want you show another really nice gaming project based on the EOS block-chain. The endless dice gaming platform.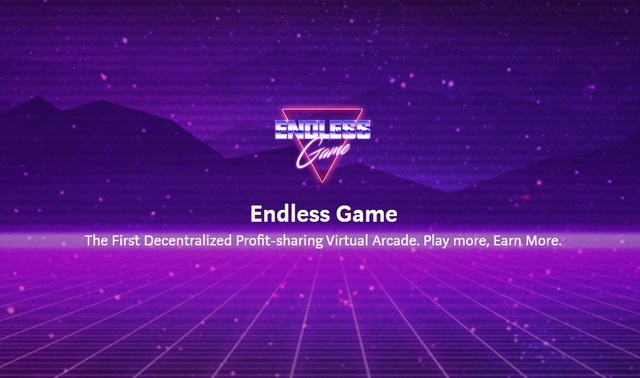 Following key features are currently in place:
The highest-yeilding profit-sharing game (at least 40% of the daily profit) on EOS
Provable Fairness Randomness generated by BM approved algorithm and user-feed random seeds
No Loser Here place bet and earn ET. Lifetime daily dividend to all ET holders.
More Fun with Friends For each friend invited, you can earn 10% of your friend's ET earnings lifetime.
For the players
Here are some core features of the first game on Endless DICE
Up to 8000 EOS payout for the first 10 players. The more EOS is wagered the more EOS will be in the circulating pot.

Super fast auto bet with low CPU consumption. I tried the auto-bet and i was able to do 2 bets in one second this is super fast.

A very nice UI. Gives me some Casino feeling.

Mine ET tokens and Lottery tickets. For every EOS wagered you will get 2.5 times ET tokens. Its a perfect opportunity to mine ET tokens. Of course the tokens can be bought on an EOS exchange as well.
A casino that shares its dividend with their token holders
With a daily share of at least of 40% ENDLESS TOKEN is one of the highest payout tokens which exists at the moment.
Currently a dividend of ~ 0.7 - 1% EOS each day is possible.
Every player can stake their ET in order to receive the shared dividends.

Currently the payout each 10k ET is 0.17 EOS 10k ET costs currently 25 EOS so if you do the math its almost 0,7% currently for each day. If more players will play it will increase a lot.
The token price (0.00237 EOS)
The graph and the history of the token price looks like that the dapp is not performing very well. But the opposite is the case. Whales tried to manipulate the price and sold much tokens dumping and decreasing the value of the token.
Currently i think that its a very good opportunity to buy into the token as its still very cheap. A good development will help ET to rise and you need to imagine that ET is in an early stage as DICE was.
For me its amazing that its possible to be a part of that gaming system. And this is way better than any strange snowball ponzies which does not have any real value.
The chest
Each round you are able to participate on a lucky chest opening event everyday FOR FREE .
Here are the chest rules:
Team Endless is giving away 100 EOS via the Endless Chest everyday.
Every player will have 1 free shot to participate in the lucky draw.
There is:
98.85% chance to win a 0.0005 EOS prize; 1.00% chance to win a 0.0050 EOS prize;
0.08% chance to win a 0.0500 EOS prize; 0.04% chance to win a 0.5000 EOS prize;
0.02% chance to win a 5.0000 EOS prize; 0.01% chance to win a 50.0000 EOS prize.
So if you even dont have some EOS to spare in order to play some dice games you can always try the luck chest.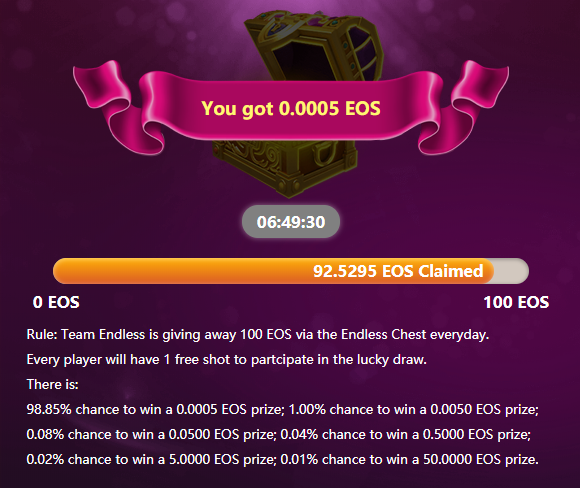 The contracts
Feel free to check the contracts on your own to see that all works properly.
endlessbank1
endlessdicex
endlesshouse
endlesslogs1
endlesstoken
endlessdivdn
Be a referral
If you like my article and endless dice please play through my ref link:
https://dice.endless.game/?invite=pegapegapega
For every player you invite you can earn 10% of the players earnings additionally.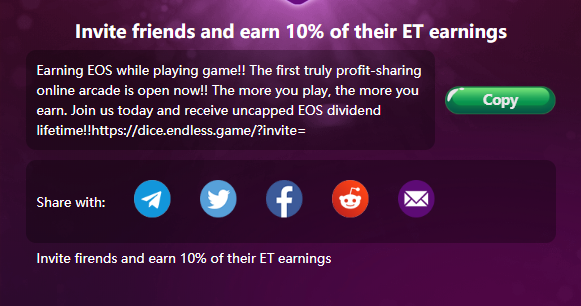 Inpage exchange
If you want to buy or sell some tokens you can use the inline exchange on the website via newdex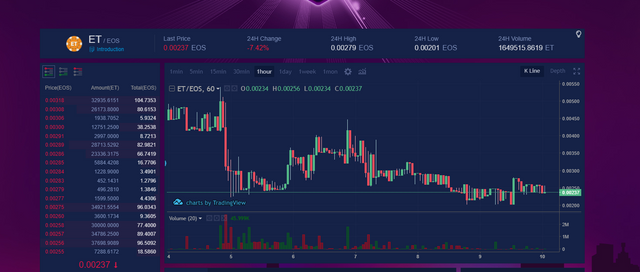 The future
The dev team is very active and tries to implement new ideas of participating players.
You can follow their medium account https://medium.com/endless-game
Latest news are among others :
Endless Millions is a lottery game that designs to bring all the Powerball fun onto EOS blockchain. Endless Millions is the first decentralized lottery game on EOS blockchain with pari-mutuel prizes. Winners of the game will be drawn every day.
Special about this lottery is that not whales can dominate the pool. We saw that some EOS based competitor DAPPS play in the hand of whales because they can earn most of the lottery tickets.
If you want to know more you can read here in that article:
https://medium.com/endless-game/nov-9-2018-team-update-c3cf60e24cb9
Endless Millions Ticket Airdrop
In this event, players can get free Endless Millions Ticket for the first game (Nov 12, 2018). Players will be able to see the tickets they earned in the Endless Millions game after the release.
More games to come Looking forward into.
Thank you
If you like my article please leave me a comment or visit endless dice through my referral link.