Building the EOS community in Brazil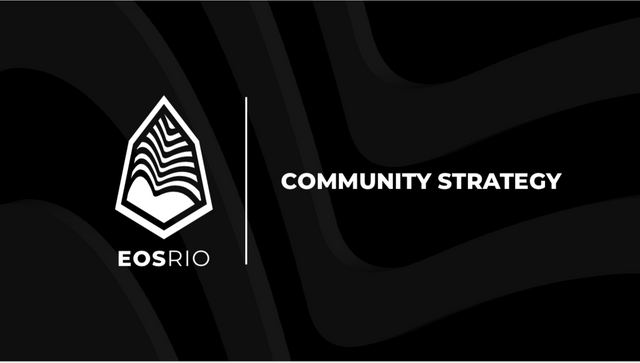 At EOS Rio, our vision is to maintain a secure, robust and scalable EOS mainnet, build tools to empower our community and grow EOS adoption through education and business development.
Our team is based in Brazil, the biggest country in Latin America with 208M people. Since April 2018, we started our efforts to foster the Brazilian EOS community.
And today, 14/12/2018 as it marks 6 months of EOS mainnet activation, we would like to share how these efforts went so far.
We organized and participated in several meetups, hackathons & workshops all over the country, in cities that are known for being regional tech hubs, like Rio, São Paulo, Campinas, Recife, Florianópolis, and Santa Rita do Sapucaí.
In this post, we'll share a bit of our journey over the past few months. For more details, check the event post.
We'll tell more details on the latest events we participated and didn't write a post until now — Florianópolis, Campinas, and Recife :)
Before EOS mainnet launch, we hosted 2 meetups in Rio. The first one on April 17th and the second on the May 5th.
The first meetup was when we found out that Rio had a community of EOS enthusiasts, with a full house and lots of engagement from the audience.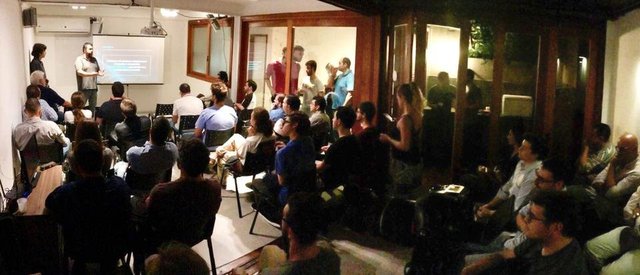 First EOS Rio meetup @ Rio
The second meetup had more than 100 people! This event definitely proved that we had enough EOS enthusiasts in Brazil to support our candidature and that the dream of being a top 21 Block Producer could become a reality.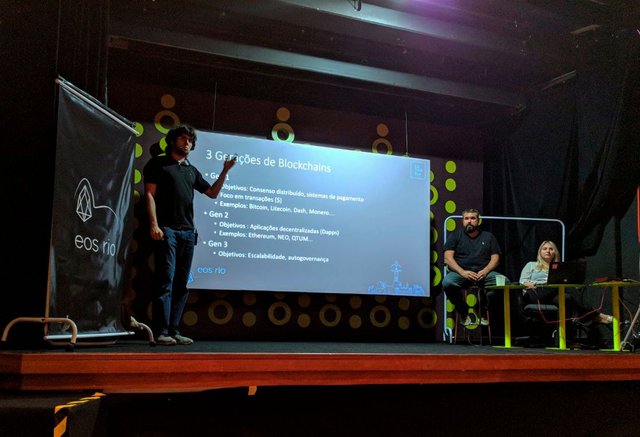 Igor Lins e Silva, Thiago Canellas, and Dominique Deschatre during the second EOS Rio meetup @ Rio
After that, we took a break from organizing events due to the mainnet launch. We were busy working on SimplEOS and developing Hyperion, two of our main projects.
When we finished some crucial development, we organized our first meetup in São Paulo, on August 28th.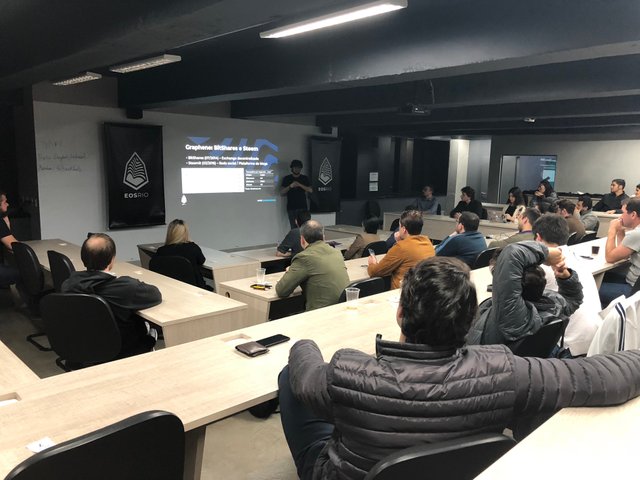 Igos Lins e Silva presenting at the EOS Rio meetup @ São Paulo
It was a very nice interaction with the EOS community in São Paulo. We met the Huobi Brasil, Bluchain and BeSpiral teams. From there on, we started collaborating to foster the EOS ecosystem.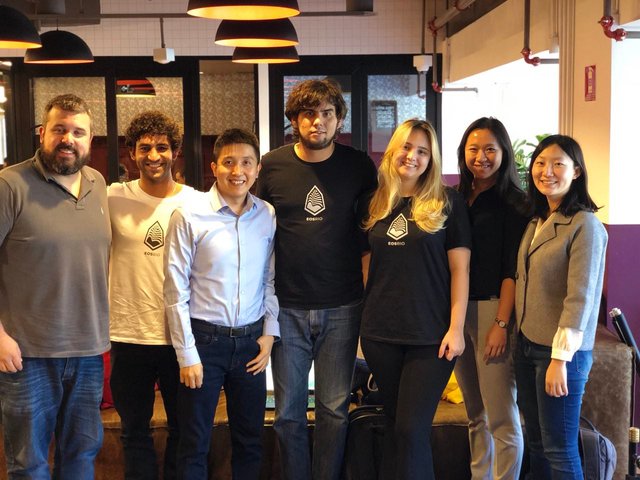 EOS Rio and Huobi Brasil team @ São Paulo
Understanding that Brazil already had EOS initiatives and that many people in the blockchain community were curious about it led us to participate in many other events throughout the year.
As we said before, our strategy was to visit Brazil's main tech hubs, talk about EOS and get more people using it. We focused our efforts on educational events, such as meetups, workshops & hackathons.
Going for a personal approach has made all the difference. As people say on the startup world "to start, do things that don't scale". We were able to meet personally key influencers in Brazil's blockchain scene. They were all willing to learn about EOS.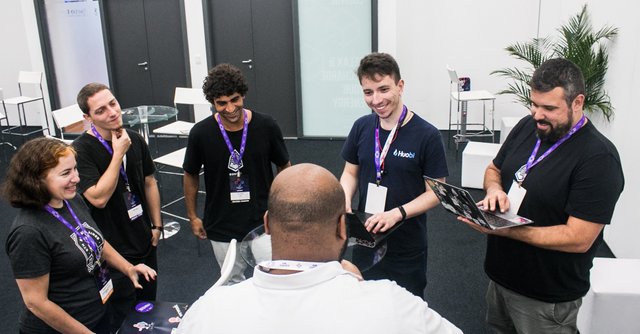 Solange Gueiros, André Salem, Luiz Hadad, Avelino Morganti, and Thiago Canellas @ São Paulo
By reaching out to them personally, understanding their background and being collaborative, we were able to create relationships that allow us to grow the community exponentially by having contact with blockchain influencers in Brazil's tech hubs.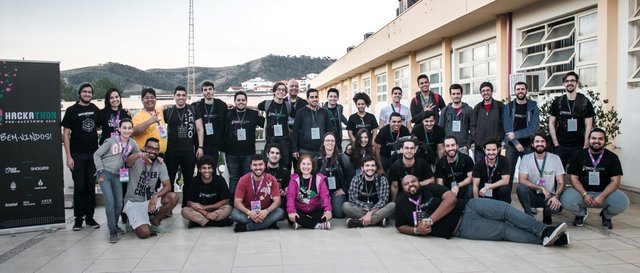 Teams from the HackTown hackathon :) @ Santa Rita do Sapucaí
At the beginning of September, two weeks after the São Paulo meetup, we sponsored a hackathon and held a workshop on blockchain & governance at HackTown, a festival that gathered more than 5.000 people in Santa Rita do Sapucaí, Minas Gerais, considered by many people the "Brazilian SXSW".
Huge thanks to BlockSpace organizer Courtnay Guimaraes and Shawee for the amazing effort during the Hackathon and workshops.
Following the HackTown event, we organized a hackathon in collaboration with the BlockCrypto Conference at the end of September, sponsored by GitHub and Huobi Brasil.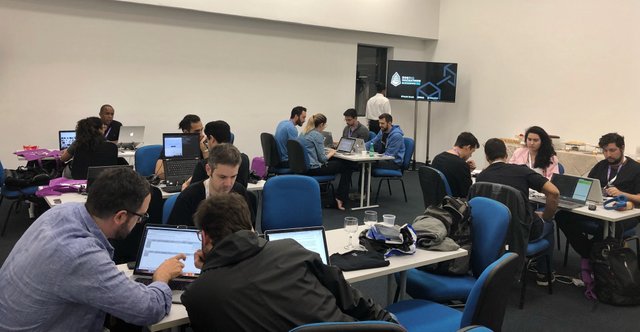 Teams working at the EOS Rio + BlockCrypto hackathon @ São Paulo
The outcome of both hackathons was very good. We had many members from the EOS community helping us on this, participating online and offline.
Special thanks to our mentors and judges Sungjae Chung (@HKEOS), Pete Cheyne (@blockmatrix), Eric Björk (@eossweden), Gustavo Mickiewicz & Carlos Fernández (@EOSArgentina), Michael Yeates (@eosDAC), Charles Holtzkampf (@EOS42) , Solange Gueiros, André Salem, Avelino Morganti (@HuobiBrasill), Karla Córdoba-Brenes , Ranulfo Paiva Sobrinho and Julien Lucca from BeSpiral.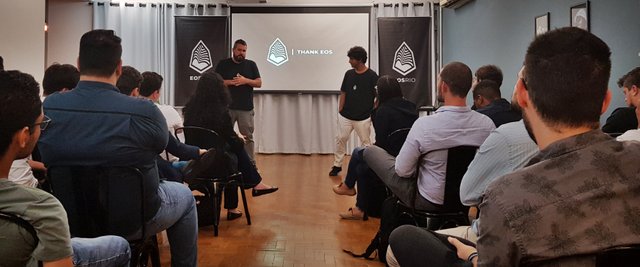 Thiago Canellas and Luiz Hadad at the AMA session at the Blockchain Academy meetup @ São Paulo
We also co-created a meetup with Blockchain Academy, Brazil's most prestigious blockchain learning centers.
After that, we collaborated for their Blockchain for Business course, preparing an online class about EOS with extra material for people to know more about it. Huge thanks to Thiago Padovan and Rosine Kadamani for the invite!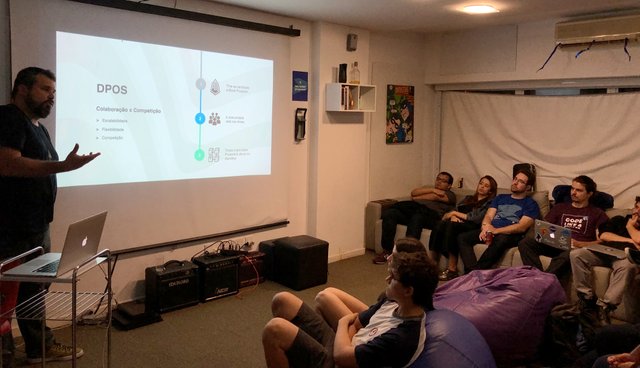 Thiago Canellas explaining how DPOS works at the Floripa Meetup @ Florianópolis
In October we went to Florianopolis to participate in a meetup organized by a movement called Blockchain4devs, at Cheesecake Labs. Thanks to Rubens Hardt Junior for organizing the event and gathering the community from Floripa!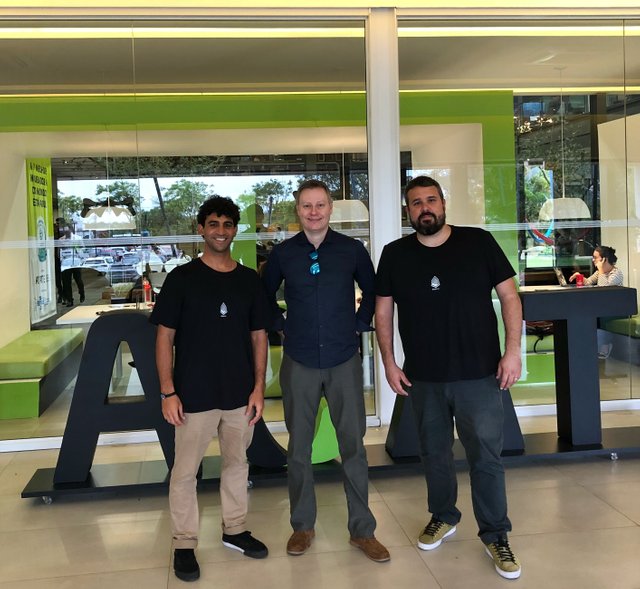 Luiz Hadad, Ricardo May (Founder of Cianet) and Thiago Canellas visiting ACATE — Center for innovation and startups @ Florianopolis
We also got to know the startup ecosystem and met some very cool blockchain projects. As an outcome from this trip, we found a very engaged community with both developers and entrepreneurs willing to build projects on EOS.
After Floripa, our next stop was Campinas. Considered Brazil's Silicon Valley, Campinas now has 15 R&D centers, 18 higher education institutions, five technology parks, and a great blockchain community.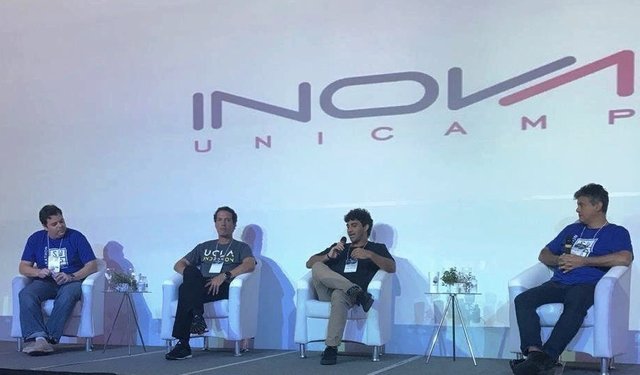 Luiz Hadad participating on a blockchain panel @ Campinas
We went there to participate at the Inova Unicamp event and mentor the SWXP Hackathon. Check out how it was on the video below:
SWXP Blockchain Hackathon at InovaCamp @ Campinas
To finish the EOS Rio Brazil "tour", we organized a workshop in Recife, the largest urban agglomeration of the North/Northeast Regions, Pernambuco's capital and largest city. Recife also hosts Brazil's biggest technological park: Porto Digital.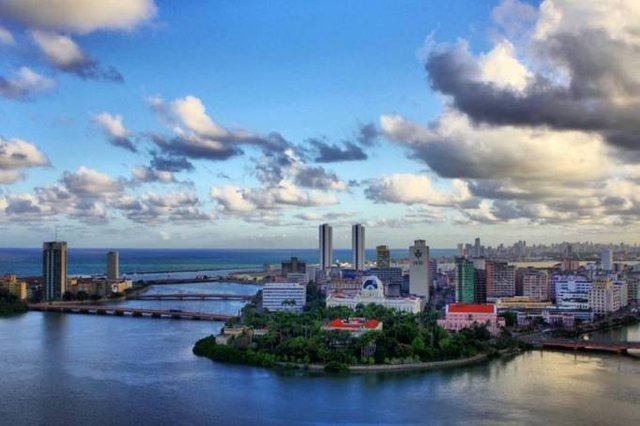 Porto Digital @ Recife
This initiative has 267 organizations in the fields of Information Technology and Communication, Creative Industries and Urban Technologies. The park has two business incubators, two business accelerators, two research institutions, and several government agencies.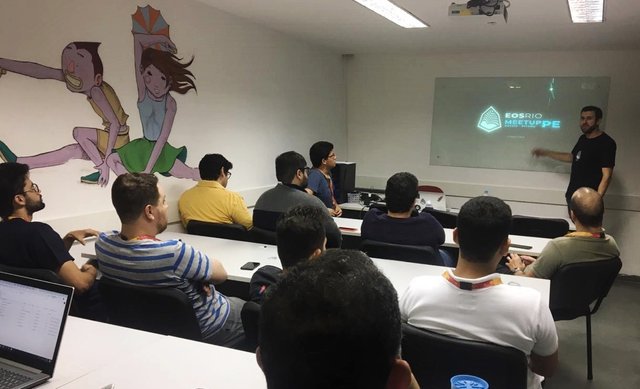 Felipe Faria at the EOS Rio meetup @ Recife
There is an amazing startup ecosystem around it Porto Digital, like CESAR, a private innovation center that creates products, services, and businesses involving Communication and IT.
The EOS community is also present and active in Recife. The Bonnum Network initiative started there. They are responsible for the FamilyEOS, a Universal Basic Income (UBI) experiment in Venezuela.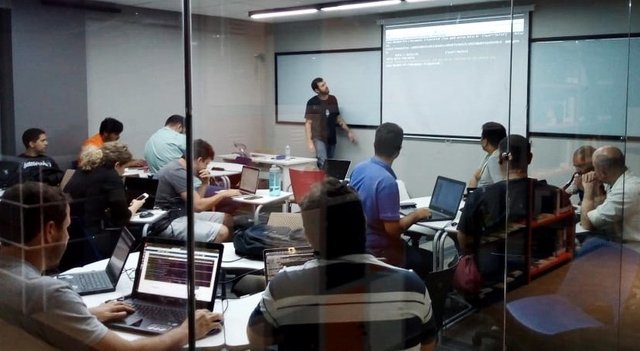 Felipe Faria during an EOS workshop for developers @ Recife
We should be back to Recife soon for more meetups and workshops, it was a pleasure to be there!
It was an intense year with many events all over the country.
We believe this grassroots work was necessary to foster the EOS community in Brazil. Now, after personal contact, our relationship got closer from blockchain & EOS enthusiasts.
It's time to reflect on the work done during 2018 and plan our community efforts for 2019. If you have any feedback or suggestions please let us know :)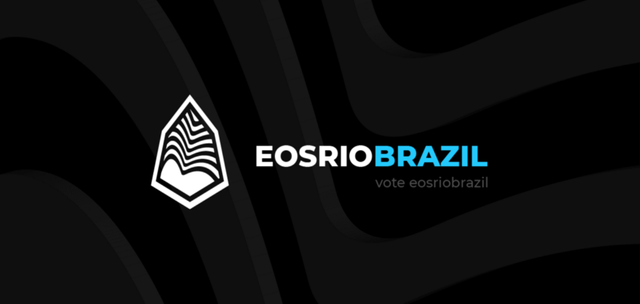 We are a Block Producer on the EOS Mainnet & WORBLI network