'EOS Voter' Web Voting Portal Community Endorsement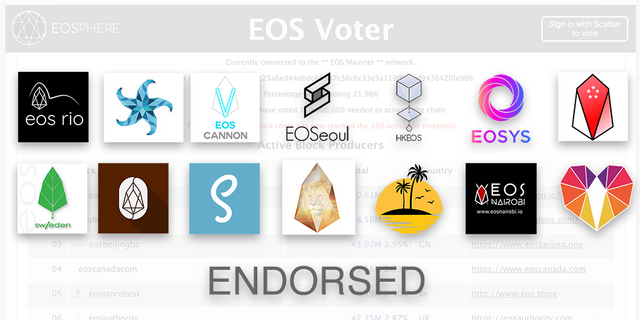 A few days ago, we announced  the latest version of EOS Voter – the online voting and monitoring portal using scatter which now includes end-to-end SSL and basic anti-spoofing.
Although there are and will be numerous feature rich voting portals and applications available, we have initially set out to create functionality built on top of a foundation of security.
We take the security of the EOS community's private keys very seriously and wanted to ensure that we did as much as possible to give EOS Community Members using our portal piece of mind. That is why we utilise scatter as our sites interface to the EOS blockchain.
Your keys are stored securely through encryption on your local pc by Scatter and will never be sent over the internet or be visible to our website for that matter.
We also knew that we needed end-to-end SSL encryption to make sure all communication to and from our website is encrypted. Importantly to ensure our site wasn't spoofed we were audited and approved for Extended Validation (EV) SSL certificates meaning when you land on the portal EOSPHERE PTY LTD [AU] is shown next to the padlock so you know you are accessing the official voting portal.
After the EOS community has now had some time to use our portal and review our freely available open source code we reached out to other Block Producers and respected EOS Community Members and asked for their feedback and endorsement.
The 'EOS Voter' code has been reviewed and endorsed by:
And our voting and monitor portal endorsed by:
Thank-you to our fellow Block Producers and to nsjames from Scatter for taking the time to review EOS Voter we really appreciate it as well as the work you do for the EOS Community.
EOSphere provide the EOS Voter online voting and monitoring portal as an EOS Community service and rely on EOS voter support to qualify for block producer rewards in order to fund continuous development and operation. If you like what we do be sure to cast one of your 30 votes for "eosphereiobp".
Furthermore, if there are any suggestions for improvement we would love to hear your feedback either in the comments below or in our help and discussion telegram group.
---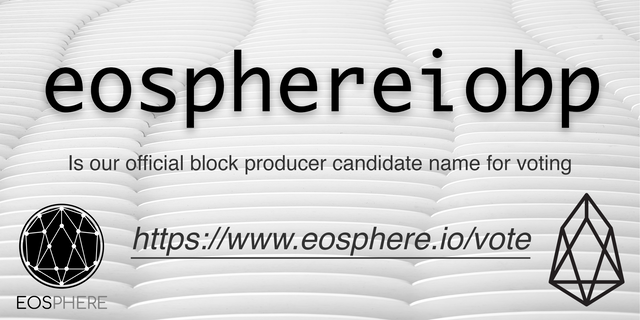 Website https://www.eosphere.io
EOSphere are a passionate group of EOS enthusiasts and data centre professionals campaigning for election as founding block producers for the EOS mainnet.
Based in Australia, EOSphere are focussed on bootstrapping the EOS community and serving the entire EOSphere through provision of infrastructure, governance and community benefit initiatives.
Follow us @eosphere - twitter @eosphere_io - YouTube EOSphere - Facebook EOSphere