EOS Rap Battle Winners Announcement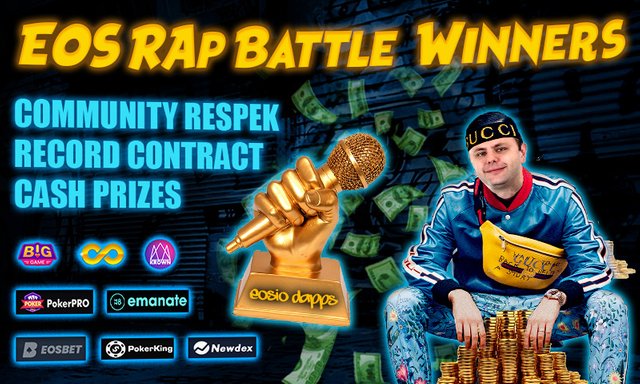 It's time to announce the winners of the EOS Rap Battles!
We've been completely blown away by all the amazing raps submitted to our Telegram competition. Unfortunately, we cannot reward everyone who participated, even though we feel that all the raps were worthy of being finalists. Clearly, a lot of effort went into the submissions, so a big thanks to everyone that took the time to write or record something.
You can check out all the rap battle submissions in our previous post, which includes audio and video entries.
The Sponsors:
The Rap Battle prizes come straight from the dapps that were generous enough to support a totally grassroots community event. Of special note, in addition to supplying token prizes, Emanate and DJ Lethal Skillz will take the winner's rap and professionally produce a music track from it!
Thanks to all the sponsors for filling the prize pool and making this a contest worth winning. Let's support projects that support the community, and hope they will agree to more win-win promotions like this in the future.
Community members also chipped in 9 EOS and ~4100 SOV via tips. Thank you guys!
Also, thanks to Syed of Bloks.io for setting up his Tip Bot, which has spurred something of a tipping culture in the chat, making these contests even more rewarding!
Notable Participants:
The founders of three EOS-related projects submitted raps to the contest, but we've decided to exclude them from winning prizes, as the tokens are intended for regular community members. Having said that, each founder's rap would have definitely made the short list to become a finalist!
Thanks to these heavyweight community members for representin' at the rap battles.
Rap Battle Winners:
#1 Kevin envadr to max moon
#2 Chris Henery
#3 Modern Liberty
#4 LaNgwenya
#5 Jerry
It took multiple days of back-and-forth debate to get thru the judging. Congrats to our five finalists. It was a close battle!

The token prizes will be distributed according to the table above, with first place getting his rap produced by Emanate (which will also supply the vocal talent, if required).
If you've won prizes, please contact da lexx in chat to have your winnings transferred to your EOS account.
Runner up:
Marcin
This OG community member will receive admin status for his sick diss of Rob Finch.
Final Words
Congratulations to the winners of the first EOS Rap Battle competition!
If you weren't on the winner's list, you probably were at some point -- it was very difficult (and seemingly unfair) to whittle down the entries to just the top five.
Of note, Raegwyn, Bonz Manifest, Brouhahahaha and Rudemudcrab all had amazing raps and were serious contenders as finalists. So throw them some tips if you see them in chat!
What's next for EOSIO Dapps Telegram?
We hope to host regular events in our channel. Stay tuned for more contests and challenges!