EOS Amsterdam Blockproducer Roadmap
EOS Amsterdam is committed to become a reference Block Producer with regard to Security, Block Quality, Governance, knowledge on the GDPR (EU law on privacy with global effect) and transparency. To reach mass adoption of EOS it is important that all Block Producers add value in their regions. We aim to be the go to knowledge hub in Europe regarding crypto related and specifically EOS related topic. Ranging from legislation, governance, technical, and human interest.

The position in the ranking or the voting results determines the Block Producer's power to make an impact. Low on the list means only the ability to perform the core activity and higher on the BPs list means that more of the Roadmap gets executed.
The value of the EOS network depends on the quality and transaction speeds of the block producers. With the expected grow and new functionality (like EOS Storage later this year) more capital investment is needed.

We have written a Code of Conduct and will abide by it.

See our founding members:
Community projects
The EOS community needs to grow significantly in Europe. The Netherlands is leading the EU when it comes to the introduction of innovations. We were competing with the UK in that respect but Brexit probably ended that competition.

The first steps on our roadmap will be evangelizing EOS to the European application developers. We will pay special attention to the GDPR, that will come into effect May 26th. EOS Amsterdam will produce content and best practices in respect of EOS and the GDPR.

Meetups
EOS Amsterdam was the first and only one to organise meetups at the moment of writing this document. We chose to VLOG these meetups and choose to work together a broader group of crypto people. We noticed that is was very beneficial for the understanding to include experienced people from the steemit community. For an overview of our past activity see: https://www.meetup.com/EOS-Amsterdam/.

EOS Amsterdam will increase the frequency and size of the meetups. At the moment of writing we have 62 members in the meetup and are growing fast.
Presentations
EOS Amsterdam is and will continue to take an active role in creating awareness of the EOS technology stack, and the new business models this technology allows. At the time of writing we have talked at The Hague Tech, are going to talk tomorrow at the Pension Tech Summit. Another presentation will be held at the The Future Group a collective of ICT professionals.
dApp development
EOS Amsterdam will reserve part of its income to build a distributed team of crypto professionals. This distributed team will create and work on worker proposals, and EOS Amsterdam has some interesting DAO ideas and already participates in an advisory role with VC partner representing a large network of users waiting to be onboarded.
GDPR awareness and tooling
We will inform dApp developers that they should take the GDPR and other applicable laws, if any, into account. We will inform them that, should the scale and/or nature of the dApp require so, conduct a privacy impact assessment and further to apply privacy by design development techniques. We will provide the tools and knowhow to help them. We will cooperate with the other BPs to develop guidelines and criteria in this respect.
Dante Stress Net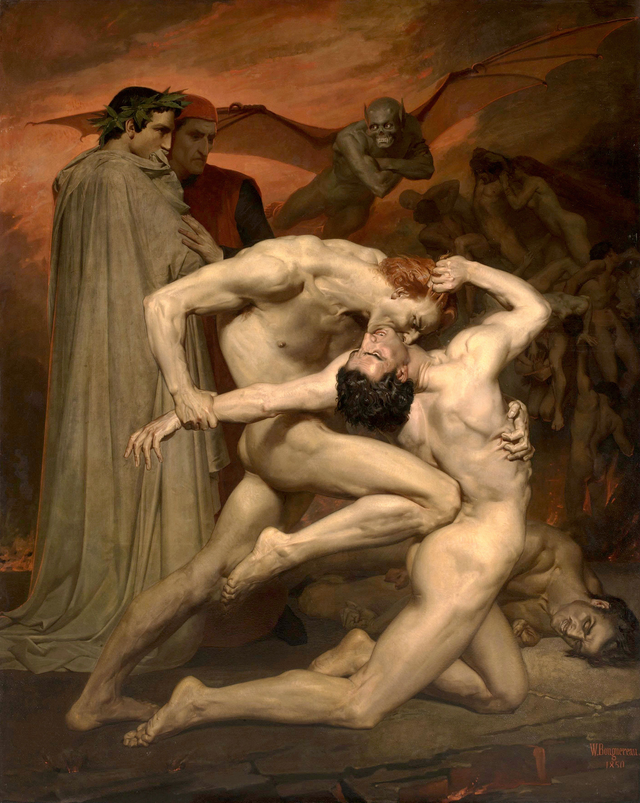 EOS Amsterdam is working on a stress net concept, where anti-DDOS and pentesting are automated. This testnet will test participating BPS on different levels of stress, symbolised by circles of hell, a reference to Dantes Inferno. We will be reaching out to other block producers to participate. 
Finance & Transparency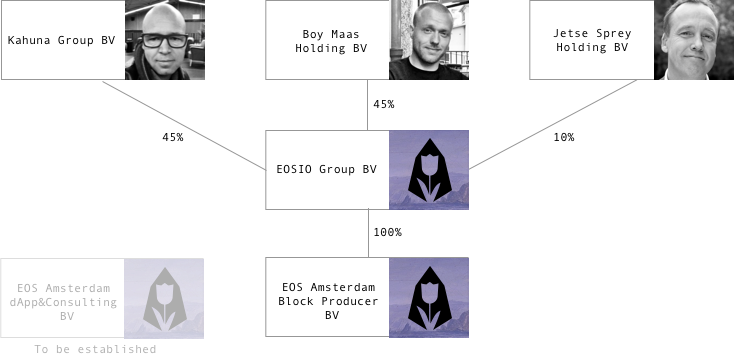 Transparency is one of the core values of EOS Amsterdam, as such we will give complete transparency on business structure and financial reports. EOS Amsterdam will work closely with the dutch tax authorities to conform to all regulations.
EOS Amsterdam Block Producer BV is a working company from EOSIO Group BV. EOSIO Group BV holds the 3 founding shareholders:
45% Kahuna Group BV, 
45% Boy Maas Holding BV,
10% Jetse Sprey Holding BV.
MTH Accountants will publish quarterly a financial report of EOS Amsterdam Block Producer BV. Our estimation is that the first months of operating our Block Producer infrastructure EOS Amsterdam will reserve the block producing EOS Tokens rewards in a reserve fund. This reserve fund will be used to adapt to the changing hardware requirements which will surface as we gain experience operating the infrastructure. Also EOS Storage plans will unfold in the next months.

We expect that further on we can get a clearer picture of the income EOS Amsterdam may be rewarded. Currently the reward range between BP number 1 and 63 is huge and roadmap budgeting difficult of not impossible.